Wedding Flower Tips And Ideas To Choose A Perfect Bridal Bouquet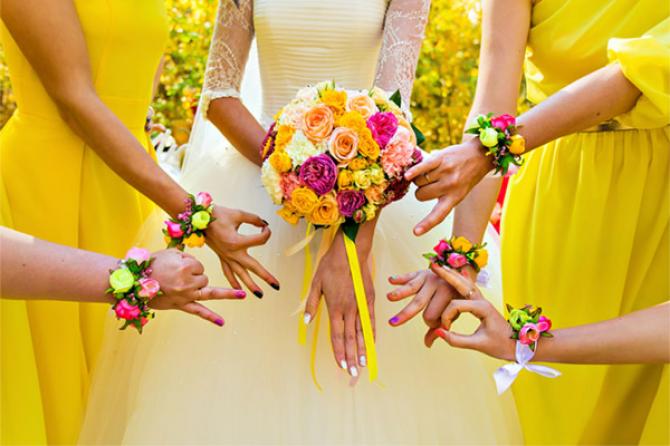 The essential part of each and every wedding plan is choosing the right wedding flowers. Flowers will carry your wedding theme from style and mood to fragrance and colour in a great way. Wedding flowers form an integral part of your wedding ceremony, and they will also serve as the most precious memory of those special moments in your wedding photographs.
There are various ways in which your wedding flower arrangements can complement your ceremony venue. So, how can you organize the wedding flowers so that they look elegant and perfectly blend with your wedding theme.
In this post, I've shared some of the wedding flower ideas on how to choose your perfect wedding flower arrangement, and a few tips on choosing the flowers that blend well with the theme of your wedding.
Traditionally, floral bouquets were carried by bridesmaids and brides. There are many different ways of arranging wedding flower bouquets so as to achieve that fascinating wedding look that you might have usually dreamed of. Here are some, checkout:
Composite Bouquets:
Composite bouquets present a huge flower image, and they can be made by arranging many types of blooms together to form a single large floral bouquet. These types of bouquets are normally developed by with the aim of preparing a unique appearance.
Round Shaped Bouquets:
Another way is arranging the flowers in a globe or round shape. The round type of bouquet is preferred by brides because it provides an exclusive, neat look that is very attractive and eye-catching. These type of wedding bouquets are more versatile as they can be arrangedby using any type of flowers in a round shape. This design looks graceful and perfectly suits in both unofficial and elegant occasions.
Smart tips to choose your wedding flowers
Concept of your Wedding
It's vital to focus on the wedding theme when choosing your flowers. Make sure that the shades, designs and form of arrangements blend well with the theme of your wedding. Keep in mind the colourand design of your wedding gown, colour of your attires; your bridesmaids' outfits, the groom and bridegroom's attires and the basic subject of your wedding's environment. For example, if you've planned a beach wedding, a bridal bouquet including some shells can create a whole new perfect look.
Season and the Budget
Although common wedding flowers like lilies, orchids and roses can be purchased throughout the year, many flowers are still seasonal. And for this reason, flower prices can fluctuate depending on their availability. Many flowers will be imported, so buying them would often be a costly affair. It is advisable to choose the flowers which are readily available so as to keep within yourwedding budget or you can easily overspend on a lovely floral arrangement.
When your selected flowers are low cost it doesn't necessarily mean they have to appear to be cheap wedding flowers, with careful selection you will find some wonderful arrangements which can satisfy even the tightest budget. So why don't you get online now and initiate your search for that appropriate floral arrangement?If you are really struggling whilst your wedding day is coming close, choose the same day flower delivery UK and get your flowers done.
Besides, you can always go through bridal photographs, magazinesfrom other wedding ceremonies or search a variety of wedding flowers and bouquets online, before purchasing the perfect wedding flower arrangement for you personally. Then simply visit an online store to select the wedding flower bouquet designs that caught your attention.