Top Tips To Save Money On Your Food Shopping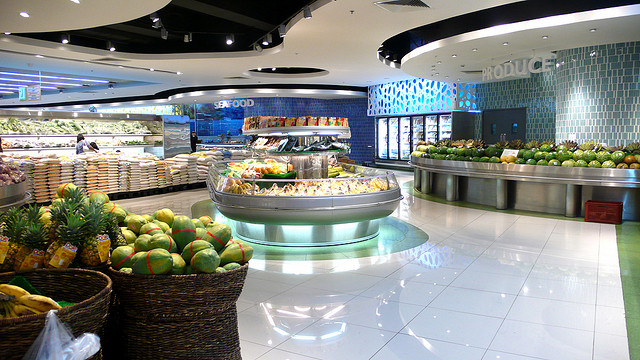 It's that time of the week; the weekly food shopping is due again. The arduous task of trawling the never ending aisles and shelves of the local supermarket for the best deals and bargains you can find for you and your family can be a tiresome and expensive process.
But the weekly shopping trip doesn't have to be as expensive as you would imagine. Here are some great tips you can use to avoid overspending on your next trip to the supermarket.
Have A Look Around
A great, easy tip to save a few extra pounds on your shop is to take a few minutes to really look around the store for the best price. Often the cheaper brands are hidden at the very top and very bottom of supermarket shelves, while the more expensive brands are placed at eye level to try to entice the purchase.
Take a few minutes to browse the shelves and see if you can find the same product at a cheaper price.
Don't be fooled by the number 99
You will often find in supermarkets and other shops all over the world that prices frequently end in '.99'. This is known as psychological pricing.
It is an extremely common and effective sales tactic used by shops to make customers think that they are spending less than they really are. When customers see .99 on the end of a price they will often round it down to the nearest whole price and associate it with the smaller amount. For example someone may see a price of '£3.99' and would then round that down to £3, giving the illusion that the item is cheaper than it is.
Be wary of this tactic and make sure you understand the price and take it for what it is.
Pay by Card
A really simple method of saving a few extra pounds is to pay by card whenever you can. If something costs £7.56 and you pay by card this is the exact amount of money which will be coming out of your account.
However, if you pay by cash, you will be taking more money out of the cashpoint than you need. You will end up with spare change rattling around in your pocket, which usually gets frittered away on non-essential things.
This tactic may only save you a few pounds each time, but eventually those pounds will stack up and you will be saving big time!
Sweets and magazines placed by the till
Once you are done shopping and get to the checkouts you will be bombarded with sweets, chewing gum, drinks and/or magazines in almost every supermarket.
This is a tactic, which shops employ to try and squeeze those few extra pounds out of your pockets by placing them where you are likely to make an impulse purchase. Try not to be lured in by this strategic placing of tempting items, as it will only add to your already high total bill.
Remember, it is a supermarkets job to make money not save you money.
Make a list and stick to it!
Making a shopping list is easy, sticking to it is an entirely different matter! We are all prone to buying ourselves a little treat here and there that isn't on the shopping list. This is okay for one or two items, but if you stray too far from your list those extra pounds and pennies are going to sneak up on you without you realising.
Try to be disciplined when you visit the supermarket. If you have to treat yourself, make sure keep it to a minimum.
The cheapest time to shop
If you live near a supermarket, there is a really simple way of saving money on items. Just before the store closes, many items will get reduced to a fraction of their original price.
This happens to perishable goods, which have a short sell by date and the shop wants to shift them. Have a look and see if you can find any bargains. Even if you don't intend on using these goods by the time they go off, you can always pop them in the freezer and use them another day. Bargain!
Featured images:
License: Creative Commons
image source
Estelle Page is a savvy shopper, who uses her skills to carry out frugal weekly shops for her young family. She has recently been working on this food calculator to help you become money saving experts.