In 2013, it was recorded that 109 cyclists were killed on Britain's roads, as well as a total of 19,438 people injured, and these figures only include claims that were brought forward to the police, many casualties do not report their accident to the police, despite some being seriously injured. The statistics of cyclist casualties are continuing to increase annually, especially with the increased amount of people now commuting to work on a bicycle.
Advice for Drivers:
Always remember to check for cyclists before you open your car door, as cyclists are not always easily visible.
Always give cyclists plenty of space when over-taking them, it is suggested that you leave as much room as you would if you were over-taking a car. If you feel that there is not enough time or space to overtake, then hold back and wait.
Always signal as early as possible, so you give the cyclist plenty of warning of what your driving intentions are going to be, therefore they have the necessary amount of time to react.
If you can, make sure you have eye-to-eye contact with cyclists whenever possible to make sure you are both mutually aware of one another's road space.
Advice for Cyclists:
Try and avoid cycling on the inside of LGV/HGV vehicles, where you might not be easily seen. Remember to always make eye contact with drivers where you can – they can't see you if you can't seem them.
Make sure you leave enough of a gap between yourself and the kerb when cycling, especially in poor weather conditions.
Always try and wear reflective clothing when cycling, despite of the weather conditions. All reflective accessories will increase your visibility. Don't forget your helmet and lights too!
Re-think music players and mobile phones because it's more important to hear what's going on around you when you're biking, especially on the road. If you do have t cycle with headphones in then try putting on a playlist before you head off, so you have both hands free during the ride in case you have to brake suddenly.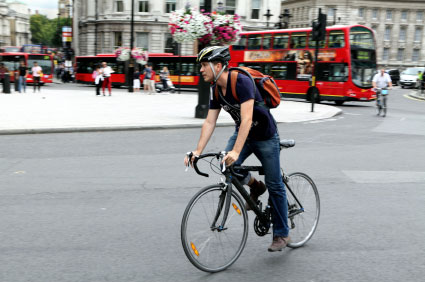 Together we can lower the statistic! If you own a fleet of vehicles why not be proactive today and start managing occupational road risk. All road users are responsible for road safety; therefore, it is important that everyone understands that they have a role to play in making the roads a safer place for everyone.
Do you have anymore cycle safety tips for both drivers and cyclists?