Top 15 Alteryx Competitors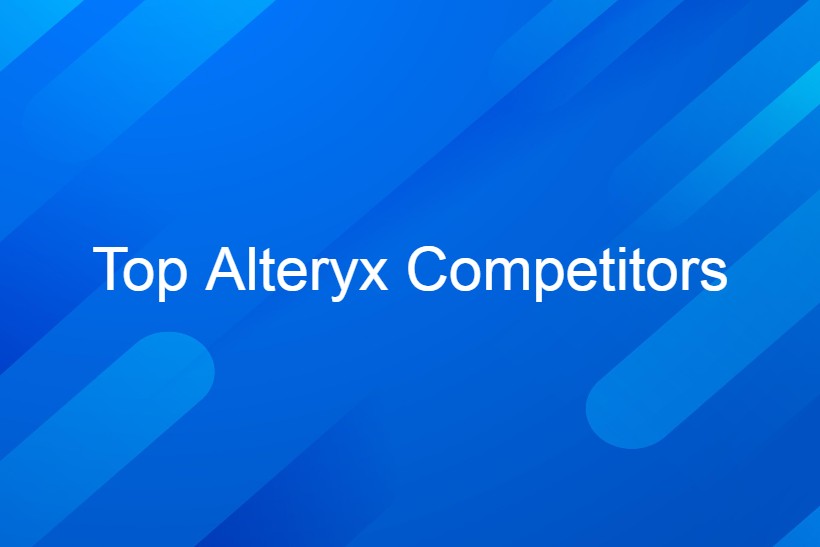 The world has seen a tremendous rise in startups and new incorporations in the business world. Companies have great potential for data, but they lack resources for turning data into something meaningful. Data analysts in business departments have been using Microsoft Excel and other related solutions extensively. But the technology advancement changed this scenario. ETL tools have ended the dependency of data analysts on data scientists for analytics and data insights. Data is bringing a new revolution to the business world.
BI and ETL tools like Alteryx, Tableau, Power BI, and many more have taken data visualization and data analytics to new heights. Data visualization is that magic artifact that helps extract insights and valuable information from massive volumes of data. Although Alteryx is one of the best BI tools available, other powerful Alteryx competitors provide outstanding features for data analytics.
Before heading out on our journey, let's spare a few moments and check about Alteryx.
What is Alteryx?
Alteryx is a software solution and a visual workflow tool that users use to access, analyze, manipulate and output data. It combines spatial processing with ETL (extract, transform, and load) capabilities for performing an effective digital transformation. Alteryx's single workflow process for data analytics, bending, and reporting is a unique feature that makes analysts go crazy about it. It has a drag-and-drop environment that makes workflow seamless for data integration, data input, and output, third-party and cloud-based data blending, etc.
Features:
It helps manipulate complex Excel data like SUMIF, COUNTIF, INDEX MATCH, pivot tables, and many more.
You can watch and analyze data using in-built data visualization tools.
It has security features like Single Sign-on and LDAP for robust data security.
Data analysts can use R language and predictive models for generating data science solutions.
It can perform data gathering from various sources like warehouses, databases, MS Office files, and Hadoop stores.
You can synthesize raw data using various tools and connectors like Amazon S3 Upload Tool, MongoDB Output Tool, Adobe Analytics Tool, and many more.
It has drag-and-drop tools for geocoding, map locations, and anything having the location.
Alternatives to Alteryx
Let's move on to our main course, Alteryx alternatives. Here are remarkable BI tools as competitors of Alteryx.
Tableau
Tableau is a leading and powerful data visualization tool or Visual Analytics Platform in the Business Intelligence industry. It is used for analyzing massive volumes of raw data in visuals (graphs, reports, etc.). It helps in obtaining insights from data by creating incredible data visualizations. These visualizations are generated by preparing, formatting, and cleaning various data formats.
It is popular among students, researchers, businesses, data analysts, and executives as it does not require prior technical knowledge to use Tableau. Compared to traditional tools, it helps perform spectacular and meaningful data analysis and create splendid and interactive dashboards.
Features:
It shows real-time analytics.
It has an informative and intuitive dashboard.
It has a variety of visualizations like Pie charts, histograms, Gantt charts, Treemap, and many more.
You can connect Tableau with various data sources like MemSQL, Dropbox, Google Sheets, Hadoop, Salesforce, and many more.
Integration with existing technologies is easy.
It has an in-built collaboration and secure data sharing feature.
It has high-security mechanisms like authorization and authentication. It follows security protocols like Kerberos, Active Directory, etc.
It has pre-installed informative maps of cities, administrative borders, etc.
It is mobile and tablet compatible and has a mobile-friendly dashboard.
Power BI
According to Microsoft, "Power BI is a business analytics solution that lets you visualize your data and share insights across your organization, or embed them in your app or website." In simple terms, Power BI is a technology-driven Business Intelligence and data visualization tool that converts data from various data sources into interactive dashboards and analysis and BI reports.
It provides non-tech business users with multiple software, services (Power BI Desktop, Power BI Mobile Apps, and Power BI SaaS), and connectors for analyzing complex information and converting it into visual insights.
Features:
You can use Python and R to create custom visualizations like a clustered bar chart, area chart, ribbon chart, filled map, and so on.
You can use Power Query for smooth sourcing and transformation of data.
You can use the Get Data feature to source data from various data sources like Excel, Power BI dataflows, Access, PDF, Oracle, and many more.
It shows real-time stream analytics.
You can visualize and customize data from Excel.
You can combine Artificial Intelligence with BI and get insights from structured and unstructured data.
It has interactive UI/UX features with smooth drag-and-drop functionality.
You can use Azure with BI for analyzing a massive volume of data.
Sisense
Sisense is an Artificial Intelligence driven BI software that helps organizations and businesses prepare, analyze, and explore complex data from various sources and unify them into a single repository. It provides data connectors, data integration from various sources, and powerful solutions (Sisense Fusion Embed, Sisense Infusion Apps, and Sisense Fusion Analytics) for analyzing data and providing interactive visual analytics, customized dashboards, and visual insights.
Features:
You can use Sisense to export data to various formats like Excel, Images, CSV, PDF, and many more.
You can perform ad-hoc analysis of massive volumes of data.
It has an interactive browser-based dashboard and intuitive visualizations.
It uses Single-Sign-On for the authentication mechanism.
It can perform complex business queries without SQL writing or programming.
You can use Elasticube for seamless data integration.
You can easily connect both NoSQL and SQL databases.
It is scalable and has robust security features like disaster recovery and attack surface monitoring.
Qlik Sense
Qlik Sense is a data discovery and analytics platform with on-premises, cloud, and mobile support for managing and modeling data, and creating flexible and interactive visualizations, stories, and layouts. It is a revolutionary BI tool that helps organizations, teams, or individuals create dynamic dashboards and custom reports and generate meaningful insights from massive amounts of data.
Features:
You can use Qlik GeoAnalytics for performing advanced calculations and mapping visualizations.
It has a drag-and-drop feature for data preparation and loading and app creation.
It has a centralized and unified hub for collaborating and sharing data with other users.
It helps create interactive visual interpretations of the datasets.
Qlik's automatic alerts and routine actions feature help you take control of the data by providing alerts in case of data change and automating routine actions.
It helps generate custom reports for data analysis and export as PowerPoint, PDF, Access, etc.
Rapid Miner
According to Wikipedia, Rapid Miner is a data science platform designed for enterprises that analyses the collective impact of organizations' employees, expertise, and data. It is used for data mining, text mining, and predictive analysis. It provides AI-based analysis of large amounts of raw data like databases and texts. It accelerates the pace of data transformation by providing visual workflow design and automation.
Features:
You can design analytic processes using the drag-and-drop feature.
It is compatible with various databases like Excel, SPSS, Oracle, MySQL, and many more.
It has specialized business solutions for performing statistical computing and predictive analysis.
It provides an integrated environment for data mining, machine learning, and business and predictive analysis.
You can use a visual workflow designer to design, create, or deploy analytical processes.
It is compatible with web app tools like Flask and Node JS.
Looker
Looker is a browser-based enterprise BI tool that helps explore, analyze, and share real-time business analytics. Looker has become a part of the Google Cloud Platform after its acquisition by Google in 2019. It helps generate insightful visualization, create interactive dashboards, automate the reports distribution process, and utilize embedded analytics. It is a live working visualization platform that converts GUI (Graphical User Interface) based user input into SQL queries.
Features:
It provides real-time updates.
You can create custom dashboards for specific key performance indicators (KPIs).
You can use a virtual query-time schema for creating live connections with various SQL databases.
You can use multi-cloud (AWS, Azure, Google Cloud, etc.) integration features to perform data analysis and visualization.
It has in-built customizable and exportable reports, charts, and graphs.
It integrates with database solutions like GoogleBig Query, Amazon Redshift, and many more.
Domo
Domo is a cloud-based BI Software as a Service (SaaS) platform that helps perform business analytics by gathering and transforming raw data stored in various databases into interactive dashboards, visual graphs, and reports. It is a low-code software that helps businesses make faster, smarter, and more effective data-informed decisions by performing operations like data visualization, data analytics, digitalization, and reporting. It helps integrate business data from various sources.
Features:
You can use the natural query language-based search feature for accessing data in real-time.
It provides real-time analysis and social media collaboration.
You can perform data integration, predictive insights, and live visualization by combining it as an Integrated Platform as a Service (iPaaS).
It simplifies ETL (extract, transform, load) process, defines operations, and visualizes data flows.
You can connect to any data source using its pre-built connectors.
It has robust security and supports Bring Your Own Key (BYOK) encryption.
It uses Descriptive Stats Module and Deep Learning to provide AI-powered insights.
Logi Analytics
Logi Analytics is a business analytics platform that helps developers create web-based analytics and Business Intelligence apps. It provides a minimal-code environment for businesses to generate interactive data visualizations, analytics, and reporting. It has self-service data analytics and data discovery capabilities that you can access anywhere and on any device. It is a highly scalable web-based data discovery solution and BI platform for creating customized analytics apps.
Features:
You can create an interactive dashboard, advanced data visualizations, and reports using the drag-and-drop feature.
It provides Ad-hoc reports and data source integration.
You can embed dashboards, analytics, and reports in the existing ERP and CRM applications.
It has code-level customizations and configurable features for improving user experience.
SAP Analytics Cloud
SAP Analytics Cloud is a Software as a Service (SaaS) BI platform that helps businesses in data analysis, visualization, and business planning. It provides a secure public cloud experience for enterprises and organizations to maximize data-driven decisions. It delivers an AI-powered central solution for predictive analysis, business planning, business intelligence and analytics.
Features:
You can deploy it to Android and iOS devices by integrating it with SAP S/4HANA.
It helps improve decision-making by providing real-time cloud insights.
You can create interactive dashboards using features like Analytics Designer and Story environment. Story Environment helps fast data visualization and enhances user experience.
It generates AI-powered analytics to provide insights into secured data and perform predictive analysis.
It has an integrated business and financial planning feature and an automated data cleansing feature.
SAP BusinessObjects Business Intelligence
SAP BusinessObjects BI (SAP BO) platform is the centralized collection of analytical and reporting tools. It is a flexible and scalable platform that helps businesses self-perform predictive analysis, create reports and share insights for better business decisions. It is a front-end business intelligence platform, i.e. data is integrated from various backend sources. The reporting app of SAP BO helps find data, conduct analytics, and generate reports.
Features:
It has powerful searching and browsing functionality.
You can use pre-configured and customizable templates for creating interactive datasets, visualizations, graphs, and charts.
You can develop and publish web services using Query as a Web Service (QaaWS) tool.
It has collaboration and Ad-hoc reporting features.
You can use the HANA database for real-time data access.
You can use a drag-and-drop interface for creating intuitive visualizations.
It is compatible with Microsoft Office and provides a seamless GUI (Graphical User interface).
You can create custom dashboards and analytics apps using the SAP Lumira tool.
MicroStrategy
MicroStrategy is a cloud-based Business Intelligence and Online Analytical Processing (OLAP) software that helps enterprises to get deep insights into the data trend in making data-driven decisions and optimizing business processes. It helps analyze and report the data from various data sources, warehouses, Hadoop distributions, Excel files, and relational systems. It offers splendid features like Data Visualisation, Data Discovery, Embedded BI, Advanced Analytics, Banded Reports, and Statements. It supports interactive dashboards, generates insightful reports, charts, and graphs, conducts risk analysis, and high-end report formatting.
Features:
It uses the data discovery feature to connect various data sources like social media platforms, significant data sources, flat files, etc.
It has excellent parsing and data wrangling capabilities for data modification and transformation.
It can build advanced statistical analysis, top-tier KPIs, and business metrics using its extensive library of over 300 analytics functions (data mining, OLAP, mathematics, and financial).
It seamlessly integrates with Oracle WebLogic, Microsoft SharePoint, IBM WebSphere, and many more.
It provides real-time data monitoring for creating interactive dashboards and visualizations.
It has built-in geocoding and mapping features.
IBM Cognos Analytics
According to Wikipedia, "IBM Cognos Analytics is a web-based integrated business intelligence (BI) suite that provides a toolset for reporting, analytics, score carding, and monitoring events and metrics". It performs Descriptive Analysis and helps you understand organizational data for making better decisions by integrating analysis, dashboards, reports, models, and stories. It integrates with Watson Analytics and helps generate meaningful insights for non-tech users using IBM's AI and natural language processing capabilities.
Features:
It has Artificial Intelligence infused enterprise-wide analytics and reporting.
It has a metadata layer for business development.
It has in-built data security and an automated report distribution feature.
It can connect to relational databases and OLAP (multidimensional) data sources.
You can create auto-generated visualizations, dashboards, and reports using the drag-and-drop feature.
It can perform data integration with on-premise and cloud sources like GoogleBigQuery, Amazon Redshift, SQL, and many more.
Dundas BI
Dundas BI is a browser-based, end-to-end business intelligence and data visualization platform that helps analyze and visualize data by generating interactive dashboards, customizing visualizations, and building insightful reports. It is based on HTML5 web technology and is an incredibly flexible and scalable full-stack analytics platform that allows users real-time integration with any data source. Its touch-based interface and responsive design help transform real-time data into meaningful insights for better business decisions.
Features:
It has an interactive and informative dashboard.
It can incorporate databases like Spark SQL, Microsoft SQL Server 2005+, Google Big Query, Python, and many more.
You can create complex views and visualizations using the drag-and-drop feature.
You can generate ad-hoc reports and multi-page reports.
The collaboration feature helps team members take follow-ups on specific data points, post comments and questions, and share data with other users.
It has built-in integrated tools for web analytics, sales automation, online document creation, web technologies, and visualizations.
KNIME
KNIME is a free, open-source, low-code data preparation, analytics, and reporting platform that makes analytical workflow designing and reusable components accessible to all. It is an enterprise-grade platform that uses predictive analysis to configure data science workflows.
It uses the modular data pipelining concept to integrate different types of data mining and data science components. It is relevant for processes like API integration, Natural Language Processing, Machine Learning, deep learning, visual analytics, and many more.
Features:
It supports various data types (XML, images, JSON), multi-statistical projects, and Machine Learning (ML) algorithms using modules (over 2000) of Eclipse Platform.
You can integrate various open-source projects like Keras ML algorithms, H2O, and ScikitLearn.
You can generate data reports using interactive and informative charts like Histograms, Lift Charts, Scatter matrices, Pie charts, and many more.
It supports geo-mapping and API tools integration.
It has an intuitive and interactive Graphical user Interface.
It uses the data blending feature to merge and blend massive amounts of data.
Developers can build independent apps using the drag-and-drop feature.
Zoho Analytics
Zoho Analytics is a self-service, cloud-based Business Intelligence and analytics platform that helps create interactive dashboards, and visualizations and generates insightful reports for better business decisions. You can sync data from web apps, traditional apps, or spreadsheets using the drag-and-drop feature. It transforms raw data into meaningful insights using various hi-tech analytic solutions. Its user-friendly interface helps create attractive BI graphics, tables, and charts.
Features:
You can use Zoho DataPrep for cleaning data (removing invalid entries and duplicates), transforming data (using pivot, summary, etc.), and enriching data using keyword extraction, language detection, and so on.
You can create intuitive and interactive dashboards, reports, and visualizations using the drag-and-drop interface.
You can generate insights from the data using Artificial Intelligence (Zia), Machine Learning algorithms, and Natural Language Processing.
It can automatically sync data from cloud storage like Dropbox, One Drive, Google Drive, and many more.
It supports data formats like XLSX, TSV, JSON, HTML, CSV, etc.
You can connect to various data sources like data feeds, cloud apps, files, business apps, and many more.
Ending Note
We have reached the end of our journey. The above list is extensive and informative about the potential Alteryx alternatives. Before selecting an alternative to Alteryx, you must consider different parameters like data sources, data accessibility, budget, number of end users, or project timelines. In the end, it's the organization's final call on choosing the Alteryx alternative as per their requirements.