Toilet Seats: Stylish, Funky And Everything In Between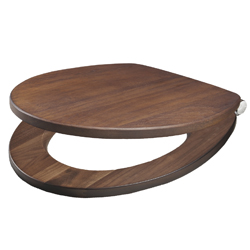 A toilet seat doesn't cost much but often we live with the one that was in the house when we first moved in. Let us take a look at the variety of designs that are available.
What Is It Made From?
The most popular materials for making toilet seats are wood and a range of different plastic materials. Seats need to be durable, comfortable, hygienic and easy to clean.
Plastic
There is a huge range of plastic toilet seats available, in different types of plastic.
– Black and white toilet seats are popular, but there are many more colours available. These range from simple and basic to luxury toilet seats.
– Glitter is popular on seats of most colours. Look around and it should be possible to find the right colour to suit the bathroom.
– There are also seats which have images on the lids or seats, often associated with the sea, such as beach huts and sea creatures.
– Patterns such as stripes, spots, checked and circles are also available, along with designs based on animal skin such as cows or zebras.
– Gel seats are available which are softer and more comfortable and ideal for those who may have to sit on the toilet for longer periods of time. Some of these also have patterns.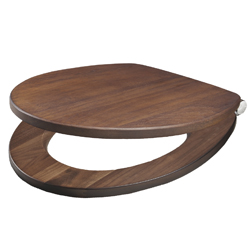 Wooden
Wood brings a touch of class to the bathroom. Toilets seats are available in solid timber including mahogany, oak, pine and walnut, as well as materials such as MDF finished with a veneer. Seats with a tongued and grooved lid are also available. Darker woods tend to be suitable for traditional bathrooms, whilst a contemporary bathroom would look better with a lighter wood.
Hinges
– Hinges are available in a variety of metals including brass, stainless steel, chrome or gold plated and can be chosen to match other fittings in the bathroom.
– Soft close toilet seats are available fitted with hinges which stop the toilet from banging shut. This is especially suitable for homes where light sleepers have a room close to the bathroom, or there are young children who get up in the night and let the toilet seat lid bang, waking the rest of the household. It is especially annoying when this can be remedied so easily, by the purchase and installation of a soft close toilet seat.
Seats are available which match other bathroom accessories such as toilet brush holders, toilet roll holders and towel rails. Choosing from the same range can give a cohesive feel to the bathroom, but of course, something bold and quirky may be chosen instead.
It might seem that choosing a toilet seat is like choosing the toilet cleaner but it warrants a bit more care and attention. Luxury toilet seats can be elegant, maybe in a rich wood but toilet seats can also be loud and funky, in bright garish colours with bold designs. Getting the design that suits the bathroom is as important as choosing the right tiles and rugs.
AUTHOR BIO
Ilena writes for a number of home design websites and blogs. She is especially interested in the way that small items, such as luxury toilet seats can make a big impact in a room.