Things to Do in Australia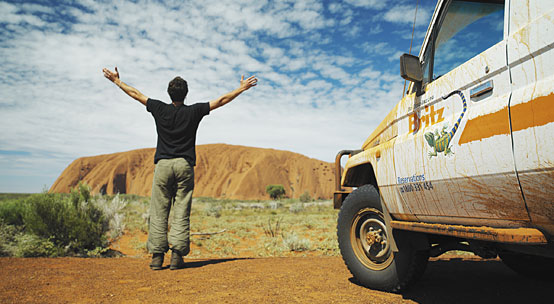 Australia is the ultimate getaway location, with more than 10,000 beaches to enjoy, and a variety of exotic wildlife not found anywhere else in the world. When you plan your vacation "Down Under," with the country offering so much variety, deciding where to go and what to do can seem a daunting task. To get the most out of your trip to Australia, sample the continent's different landscapes to enjoy as many thrilling adventures as possible.

If the mention of Australia conjures up thoughts of dusty outback roads and small quaint towns, make that dream a reality and head to the Outback. Alice Springs in Central Australia has a rich aboriginal history and displays a collection of native art throughout its public venues. The town is also known for its quirky side, and, in fact, it hosts an annual Camel Cup and a boat race on the sands of the Todd River. From Alice, take a day to travel south to the sacred Uluru site. Also known as Ayers Rock, this gigantic monolith in Uluru-Kata Tjuta National Park rises more than 1,100 feet. While you're here, make time to check out the domed rocks of Kata Tjuta and the surrounding areas. Other notable Outback towns to visit include Coober Pedy, Kalgoorlie and Mount Isa.
Visit the Great Barrier Reef
Experience the world's largest coral reef by visiting the Great Barrier Reef in northern Australia's Queensland region. One of the seven wonders of the natural world, the area boasts more than 400 different kinds of coral, as well as over 1,500 species of tropical fish. Visitors can travel to the reef and set sail on a small yacht, sea-kayak, snorkel or even take a helicopter ride over the site. Cruises are also available from Cairns to Townsville, through Coral Princess Cruises (coralprincess.com.au) or Captain Cook Cruises (captaincook.com.au).
Rain Forest Adventure
Explore the tropical rain forests of Australia in northern Queensland. Check out the Daintree National Park, as this location is home to more than 800 different species of trees as well as exotic wildlife like flying foxes, cassowaries, crocodiles, lizards and green tree frogs. Another place to visit is Kuranda, which is south of Daintree and close to Cairns. This village is surrounded by a World Heritage-cited rain forest; visitors can take the world's largest cableway to view their surroundings. Rock-climbing, off-road driving, canoeing and swimming are just some of the other activities offered.
Wineries
Head Down Under if you're a wine connoisseur and make a beeline to the Barossa Valley. This part of South Australia is just a little over an hour from Adelaide and reminiscent of the English countryside, with rolling hills and quaint little towns scattered throughout. Visit the historic Penfolds Winery (penfolds.com.au) for a bottle of red; Penfolds has the largest premium red wine barrel hall in the southern hemisphere. The winery holds tasting sessions and gives visitors the opportunity to make their own wine blends. Another winery to visit is the Barossa Valley Estate (bve.com.au) in Marananga. Shiraz is the specialty at this venue, and the cellar door is open daily for visitors.