Things Aspiring Audio Engineering Professionals Should Know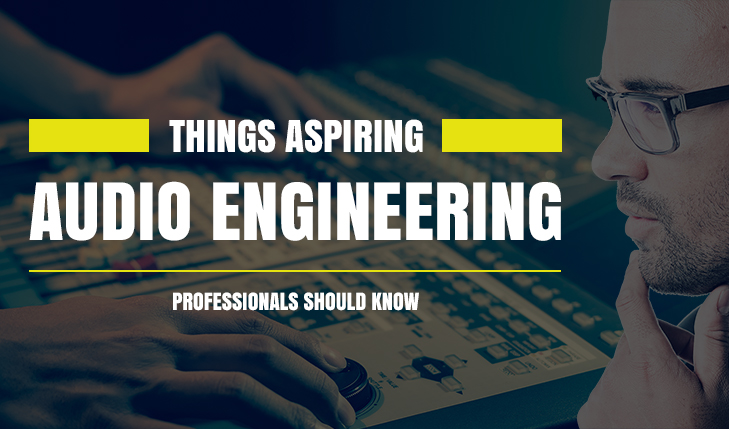 Pursuing a career where your passion drives is itself no less than a battle. And, achieving success in the same is something that needs you to devote all your time, efforts and skills. All this seems alright, once you decide a career path to which you want to stick throughout your life. When you will make your choice, it would be the best feeling you ever had. Well, this is just the beginning. The real journey starts afterwards as you will be pushed out of your comfort zone and will be encouraged to deal with real-life concerns through risks at every step. You will have to learn to respect the deadlines assigned; handle real competition as well as the criticism. You will have to work really hard that you might not have worked ever before.
However, thriving new challenges every day will be possible if you will put your creativity on the board every day. This requires specialised training where you can learn through the hands-on experience of the hardware and software involved. So, you should find a good school or institution that can hone your skills and boost you to face all the formidable challenges you might face in your career. Don't consider this selection a simple task. There are ample of institutes that claim to provide best-in-class amenities to the students along with placement guarantees. Just like everything that glitters is not gold; it is not necessary that every institute will stand true to its claims. You will have to do an extensive of research for finding the colleges or institutes that aim at preparing students to grab good entry level positions in the audio engineering industry.
Also, the technology of digital audio is progressively growing, you need to analyse your choice of audio engineering production program first. Whether you want to become a Sound Engineer, Audio Engineer, Event Technician, Production Manager, Audio Visual Technician, or Studio Assistant, make sure you are heading for right study stream.
Next significant concern in the row is the selection of a right institution. Never hesitate to investigate about the institute you have selected – be it regarding their location, availability of tools that you will need and their emphasis on theoretical and practical sessions. You can also get a reference from the students who already graduated from the same institute.
It is very important to understand that audio engineering is one of most sophisticated aspects of music. Learning the techniques of recording, dubbing and mixing tracks not only requires a good ear for music, but also hands-on experience so to master the craft completely. Audio technology, Remote and field recording, Music fundamentals, Science of sound, Audio recording, Broadcast audio, Music and studio business, MDI production, Professional communication, Digital audio workstations, Audio post-production, Audio electronics, Audio engineering, Studio recording, Audio mixing, Audio for interactive media, Sound design, Streaming media and webcast, Surround sound and DVD audio are some of the critical things that you might get to learn in your institute depending upon your preferences.
One of the commonly ignored sections of an institute is its faculty. It is not necessary that all the institutes have skilled and experienced faculty members to train their students. So, you should research about the faculty members as well or you can directly visit them regarding your concerns about the career you are going to enter. Make an informed decision only after getting complete information as a rushed decision will make you repent in long-term.
This write-up is just a glimpse of certain things that you must not ignore while making the most important decision regarding career into the audio engineering field.
Author Bio
Kaylyn Gabriele is an online blogger, living in Canada. She manages to write official blogs for numerous organisations of audio engineering education in canada while working as a career consultant. She likes to research on the newest career options that were earlier not recognised as good careers such as audio engineering. Catch her on Facebook , Google+ or follow her on Twitter to know more about her.