The Best Halloween Fancy Dress Ideas Inspired By TV Shows
Although movies can be referred to when looking for a fancy dress costume which can be worn at Halloween, characters from TV shows can be looked at instead. Here are some of the many characters from the small screen which people of all ages can dress as at Halloween:
Batman
Although many big screen adaptations of the Caped Crusader have been released since the 1980's, the 1960's TV show Batman which starred Adam West as Batman and Burt Ward as Robin is still very popular. The costumes which Batman and Robin wore in this TV series can be worn at Halloween. The villains in the show can also be dressed as at Halloween. When looking for a Halloween fancy dress costume, why not be the Penguin or the Riddler? Other characters can also be chosen, such as Catwoman or Alfred the Butler.
The A-Team
Although a movie was released in 2010, the TV series The A-Team which broadcast in the 1980's is more popular. A group of friends could dress as some of the characters and it can be very easy to do so. The leader of The A-Team is Hannibal Smith and his costume can consist of a white jacket, fake cigar and a plastic machine gun. For Murdoch, wear a brown jacket and a baseball cap. Face Man's costume can be replicated by wearing a suit and someone can look like B.A. Baracus by donning lots of fake gold jewellery and camouflaged trousers.
Baywatch
Baywatch ran for over a decade and many famous actors and actresses appeared in it, such as David Hasselhoff, Yasmine Bleeth and Pamela Anderson. ManyHalloween fancy dress online retailers can have a Baywatch costume for both men and women. For men, they can choose a pair of red shorts with a red jacket and a woman could wear a swimsuit that's similar to what C.J. Parker wore. If it is very cold at Halloween, a man could wear a white shirt under a red jacket.
Power Rangers 
Power Rangers remains one of the most popular TV shows of all time. A group of friends could have a Power Rangers theme. Along with the Red Ranger and the Green Ranger, a girl could dress as the Pink Ranger or the Yellow Ranger.
Teenage Mutant Hero Turtles
The cartoon adventures of Leonardo, Michelangelo, Donatello and Raphael fighting the evil Shredder and Krang were hugely popular. Friends who fondly rememberTeenage Mutant Hero Turtles could dress as these characters. By applying green body paint and buying various fake weapons which the turtles used to fight evil with, they could be just like them. If a large group of friends will be characters from Teenage Mutant Hero Turtles, they could even be Splinter or Rocksteady and Bebop.
Scooby-Doo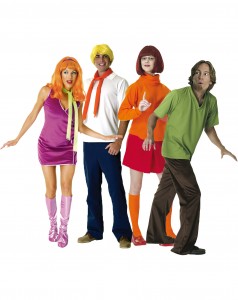 The 1960's cartoon series Scooby-Doo is still popular to this day. Many live-action films have been released since then and a group of friends or those who are going trick or treating could dress as the ever-hungry dog, Shaggy, Daphne, Velma or Fred.
Character Fancy Dress provide an extensive range of fancy dress costumes that are available for adults and kids. Whether you are looking for Halloween costumes or fancy dress ideas for any other occasion then simply visit their website direct.