The Advantages Of Wall Calendars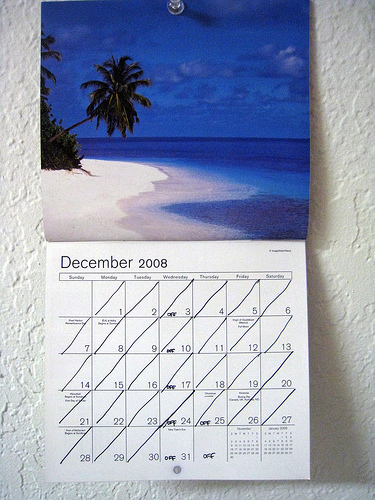 In the exciting technological revolution of smart phones and other handheld devices, we have come to trust the digital world to fulfill our every need. However, for organization and scheduling needs, many people are now returning to the standard wall calendar. Wall calendars are still one of the best ways to keep individuals, families and businesses organized and running smoothly.
Wall calendars serve as constant reminders.
Smart phones, laptops and other digital devices have many uses, but the calendar is typically one of the least accessed applications. For many users, the only time they open their digital calendar is to record a new appointment or reminder. Oftentimes, they are not properly prepared for the appointment when their reminder alarm sounds or they miss the alarm altogether. A wall calendar has the advantage of being continuously open and in the owner's view throughout the day. As a result, people using a wall calendar are less likely to miss scheduled events.
Wall calendars can share schedules.
Whether in the workplace or at home, wall calendars provide the ability to easily record the schedules of multiple people. This comes in handy for parents who are keeping track of multiple kids' schedules or employers who wish to record employees' objectives, roles on certain projects or simply ensure that vacations aren't taken at the same time. The calendar can be hung where all can easily access it, helping to keep everyone and their activities organized and remembered. Even young children, while they may not be able to record a school activity in their parents' phones, can write it on the family calendar.
If you happen to use digital calendars in the workplace, the wall calendar can be the one place where all schedules meet. Work appointments that were recorded on your phone during the day can be later scheduled on the wall calendar to be sure you haven't double booked. Your work life and personal life can blend nicely when it's organized on a single wall calendar.
Wall calendars can be saved from year to year.
Saving your calendars from year to year can serve several purposes. It works well as a family journal to record important dates and events. Secondly, if you ever need to remember the date of a certain past event, it can be easily referenced in your saved wall calendars.
Wall calendars can be artwork on your wall.
Wall calendars come in many various themes, acting as artwork that changes every month in your home or office. You can choose from your favorite cars, animals or scenery. Online print companies give you the opportunity to create personalized calendars with your own photos. This would be another reason to save your wall calendars from year to year as a family journal, as the photos make it double as a scrapbook.
Personalized wall calendars make great gifts.
Because wall calendars are so useful, they make great gifts. Give one to family and friends for Christmas so they can start their new year in an organized manner. Even better, go online and create a personalized wall calendar with your favorite family photos. Grandparents would love keeping their schedules on a calendar with beautiful photos of their grandkids. You can even get your children involved in creating this special gift by letting them choose the photos.
Featured images:
 

License: Creative Commons

 

image source

 

License: Creative Commons

 

image source
Mikkie Mills is a Chicago native and mother of two.  She often blogs about crafts and other DIY projects. If you are looking to increase productivity, be sure to check out 2013 wallcalendars from Vistaprint. Connect with her on Google + or on Twitter (@DollarHacks).