Organizing A Company Sports Team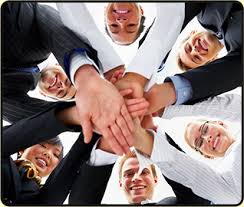 You've probably been to your office Super Bowl party, but what if you and your co-workers got to play in your own Super Bowl? Or World Series? Putting together a corporate sports team can be a great way to build relationships with your peers around the office and hopefully win a few games too. Here are some easy tips to get the ball rolling.
Getting Organized
Structure and communication are essential to organizing any kind of team. Once you've determined what sport to play and who will be on the team, set up a chain of command. Appoint a captain who, in addition to being a skilled player on the team, is dedicated, reliable, and interested in taking on the responsibility of coordinating a large group of your co-workers. If your league has dues or fees, you might appoint another member of the team to handle the financial aspects of the team.
One particularly effective communication tool is a team blog or website that posts the schedule and other major announcements for the whole team to see. The team captain should also set up an email listserv for these major announcements.
Coming up with a Name
Choosing a good team name can be one of the most fun parts of your entire season because your team's name is a great way to exhibit the personalities of the people on it. Chances are, your league has six "Wildcats" in it, so try to pick a name that stands out. You'll be sure to get plenty of laughs when your opponent sees the "Wacky Waving Inflatable Arm Flailing Tubemen" up next on the schedule, much less when you wear your jerseys to the office cookout. Which brings us to…

Designing a Uniform
Nearly all competitive sports require participants to wear matching jerseys or t-shirts. Often times, these uniforms are saved and worn long after the season is over to commemorate the team's experience, so design an outfit that you and your co-workers will want to wear for years. Plenty of sites offer custom t-shirt and jersey design services that give you full creative control over the design. Just pick a color, pick a logo, and find a creative font to display your name in.
One popular design technique is to lampoon recognizable brands, instead putting your name on the insignia. If you have multiple employees who can draw, you can have a logo-designing competition and feature the winner's design on your jerseys. Your co-workers will be even more proud to show off their team gear if it was designed by one of their own.
Hosting the Postseason Party
Once the season comes to an end, win or lose, you and your co-workers will have shared a great bonding experience and had tons of fun along the way. Cap it off with a postseason party or barbeque to celebrate the season that was. Invite players only or open it up to the entire office. It's a great idea to have an awards ceremony during the party to recognize your co-workers for their performances. You can design your own custom awards for MVP, first-year player or any other creative award category you can think of. Then get ready to do it all over again next year!
Written by David Cormier, a business professional at EDCO.com