All You Need To Know About Modern Kitchen Design
A guide on modern kitchen design, with tips and advice on how to modernise your kitchen.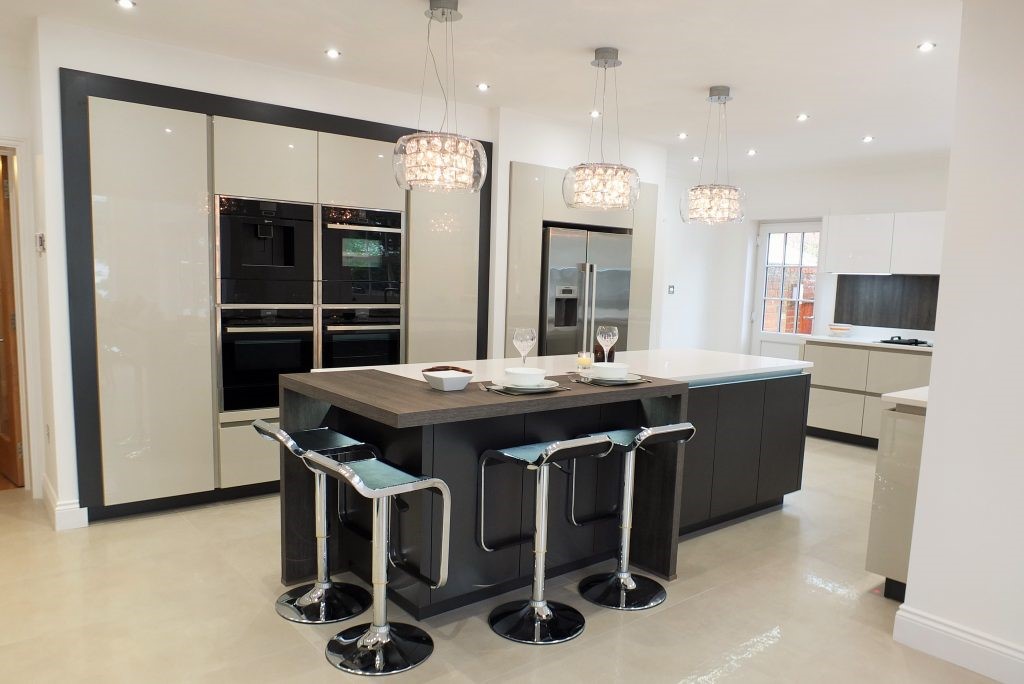 For many, the kitchen is the heart of the home. Its where everyone meets after a day of work to unwind, talk and cook. But, after time, our kitchen can feel a little tired and in need of a face lift. With that in mind, you need a kitchen to suit your modern lifestyle. A beautifully designed, functional modern kitchen…
But what makes a kitchen modern? The design? The utilities? The lighting? – All of it. Some of the best chef kitchens from around the world focus on functionality. But, we're not talking a commercial kitchen design – we're talking stylish functionality for your home. Lighting that helps you focus on food prep, and sets a mood. Handy utilities and features that put professional kitchens to shame. If you want to improve your home, follow our handy modern kitchen design guide.
We've teamed up with leading Essex based kitchen designer, Roman Kitchens, to provide you with all the information you need on modern kitchen design, and how to achieve a modern feel for your home. With expert advice and design ideas, you can revamp your kitchen's style.
Ideal Modern Kitchens
The best modern kitchens, make full use of space, whilst projecting functionality and style too. When it comes to designing your modern kitchen, you need to plan, plan and plan. This step by step guide will assist you in crafting a modern kitchen for your home. You'll need to consider all of these aspects.
Layout
Fixtures, Fittings and Storage
Materials and Colours
Styling
Modern Design Features
We'll cover these in greater depth, throughout the article. Using expert advice from the fitting and design pros, to help you create a modern kitchen.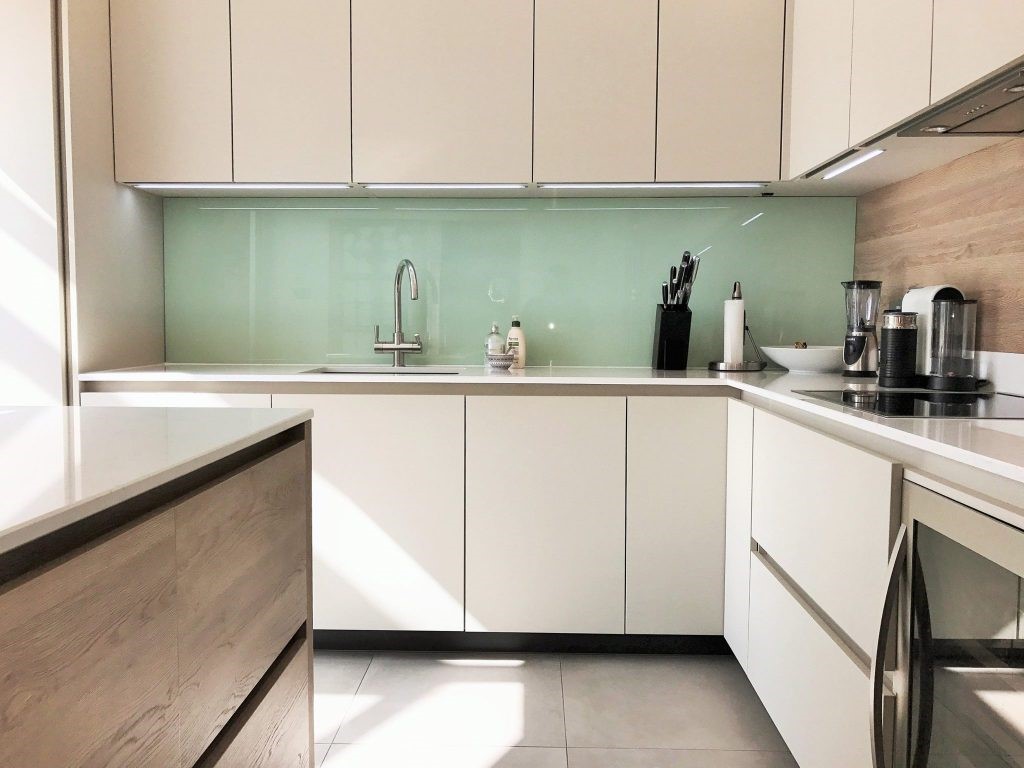 Layout
The first, and most important, part of your new kitchen design is planning your layout. Utilising the space you have available, effectively to get the most out of your new kitchen. Any interior/kitchen designer worth their salt will tell you that planning your layout is a must before making any other design decisions. It comes down to what you want and what you can do with your space. Can you expand by taking down a wall? Do you want an open plan?
Most modern kitchens feature an island unit, which creates a central point for the kitchen. Some use it as a breakfast bar, others a prepping station or even for their hob. Whatever you use it for, adding an island unit can help create a 'U' shape for your kitchen. Open at one end, with cupboards, cabinets, etc. around the outside. The 'L' shape is similar to this but with a larger opening. These shapes create an open warmth to your kitchen that is inviting for guests. If you frequently find yourself hosting drinks/get togethers with friends, an island unit is a great place to layout drinks and nibbles.
To ease cooking and prepping in the home, think about where your fridge, sink and oven/hob will go. Creating a triangle where all these features are within reachable distance of each other creates a flow and makes it easier than running around your kitchen. Maybe included the bin within the triangle too. If you're short on space, a parallel 'gallery kitchen' may be helpful. Two counters running down the side of each wall, with cabinets and cupboards too. But, it's about creating a space that is right for your life and needs. That's where smart modern design comes in.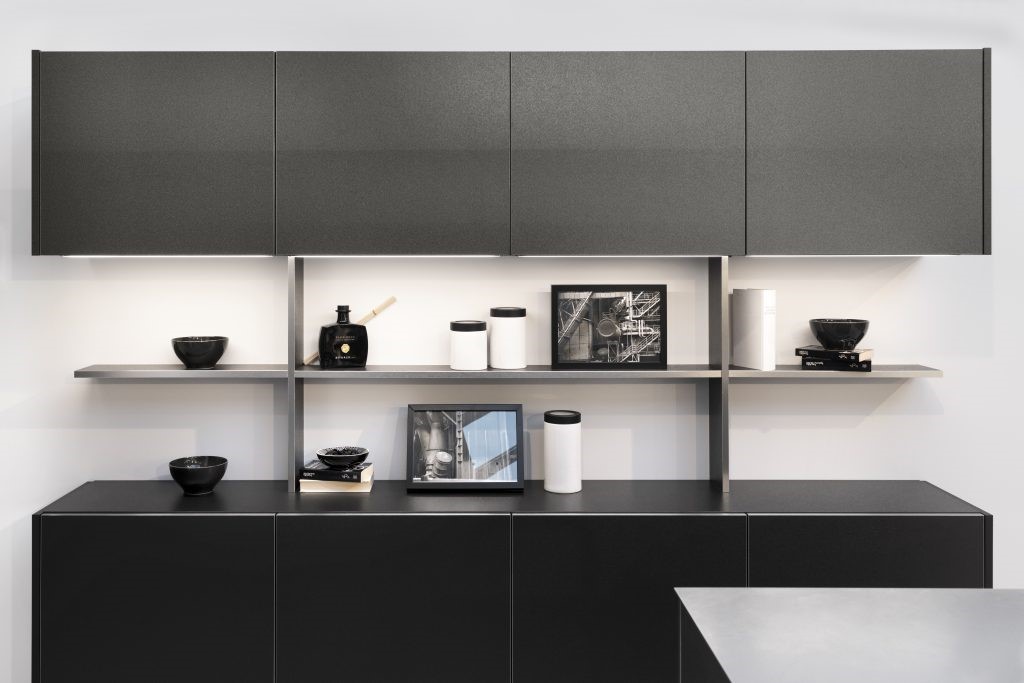 Fixtures, Fittings and Storage
Whilst thinking about cupboards, sinks and taps may be the last thing on your mind, it's good to get them right at the early stage – especially the sink placement. Think about how much you use the tap in your kitchen? Washing up, washing hands, rinsing food – it needs to be sturdy to stand the test of time, but stylish too. Your tap can be a beautiful piece in your kitchen or be functional – why not both? Taps which can pivot easily, with extendable hose sprays for quick rinsing. Taps need to fit your needs.
Sinks become a natural focal point, so your finish is important for the overall look of your kitchen. Chrome and metals give your kitchen an industrial feel, but ceramic sinks create a beautiful white finish. Your kitchen could run the risk of looking like a commercial kitchen with the overuse of metals, so be wary. Like your taps, sinks need to be durable. In all shapes and sizes, there's a lot to decide before fitting.
When it comes to storage spaces, stylish modern kitchens usually lean towards minimalism when it comes to handles. Sleek cabinets that boast lots of storage, to keep your kitchen looking modern and minimal. Deep drawers for pots and pans are essential to keep your kitchen looking clutter free. Pull out drawers make it easier to reach utensils from the back. The key for storage is allow as much space as you can! Even if you don't think you'll need it, a little extra storage is always handy.
Materials and Colours
The materials and colours you use in your modern kitchen can impact the look and feel. An overuse of wood could make your kitchen look like a country home, too much marble makes your home feel cold – figuratively and literally. Manmade materials, like concrete, give an industrial feel to your home. But, in moderation, these aspects complement each other – creating a classic modern vibe. Whatever you decide, make sure the quality is your top priority. If you can afford to invest in high-end, good quality material, your kitchen will last a life time – or two.
Some materials do not have the same longevity as others. Some woods need treatment and marble costs a lot. Laminated panels are cheaper and mimic the appearance of the more expensive materials, but is not as durable as natural materials.
Modern kitchens vary in colour. Whilst you can go bold with bright or pastel colours, greys and whites create a sophisticated feel. Neutral colours not only brighten up your kitchen, but the simplicity of them means you can furnish with bold coloured items (pillow) and interchange coloured objects with the seasons – or if you feel like it. Black and white kitchens are still extremely popular in design, and can be just as brazen as bright colours.
Black or white walls create a perfect backdrop for a splash of colour. Colourful art or borders can add sophistication to your monochrome kitchen. Industrial colours are effortlessly stylish. The finishes on your surfaces and cupboards make a statement too. They can make it feel brighter or darker, so it's important to see what kind of finishes are available to you.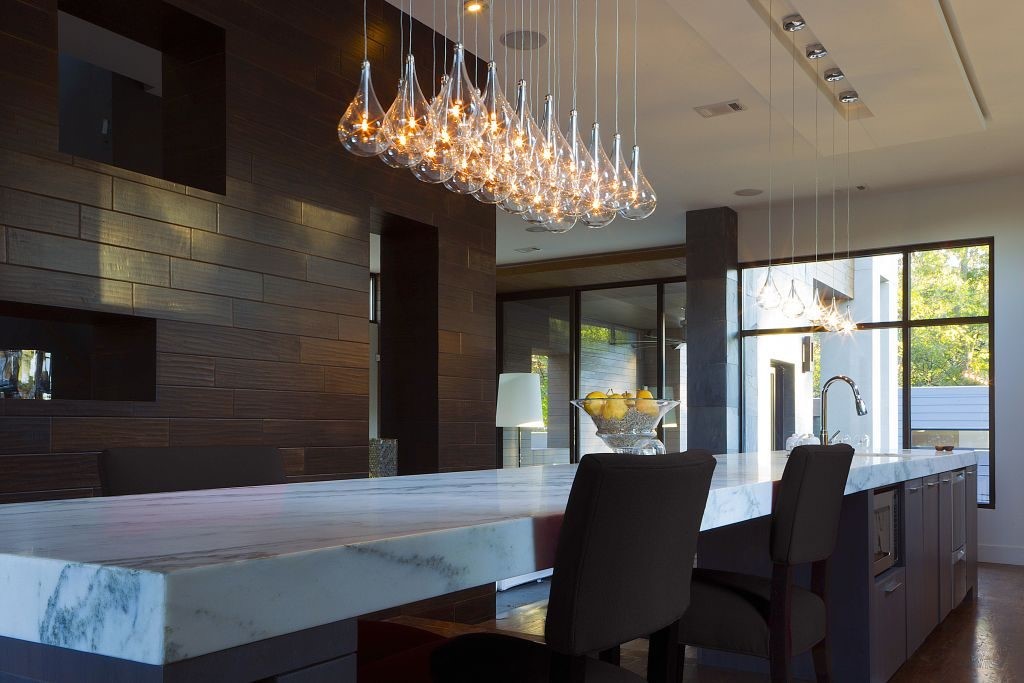 Styling
In modern design, the main aspect is simplicity. Stylish, minimalistic simplicity. Making your home look effortless through chic furniture and accessories creates a modern look and feel, unrivalled in style. It should be neat, but lived in. Stylish, but welcoming too. Quirky items like barstools at your island unit or an interesting ceiling light draw focus and make a bold statement in your home.
If buying a whole new set of furniture doesn't sound feasible, you can give your old furniture a makeover. Update them with current, trendy and interesting fabrics to give your kitchen a modern vibe. Rugs, chairs, cushions and décor can really add to your kitchen's style. But, keep it smart and keep it simple. Minimal is modern, so it's essential not to over clutter with too much.
You can give your kitchen added wow factor using different textures and flowers/plants. Stone or marble textures convey a sophistication but accent the selected space for a stylish look. You can make a feature out of almost anything. Maybe you've got a really nice bowel, and never use it for food because it's too good. Well, turn that into a feature. Fill it with stones, fruit etc. as a display item. As long as it minimal, and not too busy, it will complement your modern kitchen excellently.
Modern Design Features
Finally, the features that make a kitchen modern. We've talked about all the fixtures, colours and other bits, but all modern kitchens have a key set of characteristics.
Yes, open plan is here to stay. It's become a trend in the past decade and isn't going anywhere, anytime soon. It creates a different feel to a home, with set areas for dining, relaxing and preparing food, it's a place for the whole family to gather. Sofas and chairs for chilling, dining table for working and eating, and the kitchen for food preparation. It's a stylish and welcoming idea. That's why island units are perfect, they divvy up the space between these set areas.
Maximising space is key when it comes to modern kitchen design. You'll be surprised what you can do with a small space. Paired with the right lighting, both artificial and natural, you can make your kitchen look much larger – utilising storage and surface space. The minimalism of modern kitchens removes clutter, making your kitchen look bigger and more stylish. Sleek shiny surfaces bounce light around the room, illuminating every corner in sight. Mood lighting can create an atmospheric feel to match any occasion.
More than ever, functionality is important. A redundant false cupboard is useless. Storage, ease of use and smart layouts can ease your kitchen experience, and convey style at the same time. Every appliance must be in your kitchen for a reason, de cluttering your kitchen makes it more functional. An island unit that is a breakfast bar, integrated sinks, speakers, TVs and smart appliances give your kitchen a modern feel, whilst also being useful to have. The style is in the function of the kitchen. If it works well, it looks good.
Whilst following trends is a good thing, great modern kitchens have a unique flair. A stamp that makes it individual. The beauty of modern kitchens is that they're minimal, so your creativity can shine through in how you dress your kitchen with décor and accessories – but keep them limited. Too much décor becomes clutter. Bold pieces of art, vases, anything that you love can become part of your modern kitchen. So, when it comes to putting the finishing touched in, make sure you sprinkle your signature style onto your kitchen too. Lamps, pillows, bowls – anything to give your kitchen that individual spark.
No budget? No problem
Sometimes a whole kitchen revamp isn't always on the cards. Your budget may not be big enough for an entire makeover, but there are some simple ways that you can modernise your kitchen, whatever your spend. There are so many ways to improve your kitchen without breaking the bank. Adding modern material features to your kitchen can help achieve that industrial feel. Stainless steels and other metals can be featured on your doors and cabinets. Adding subtle colour changes and details to your kitchen helps achieve a modern appearance.
We've said it once, and we'll say it again… island units! Almost every modern kitchen design incorporates an island unit. Breakfast bar, prep station, sink, hob – whatever you want your island for, having one immediately modernises your kitchen space. Switching up your lighting in favour of some pendant lights, or other modern looking ones, give that little extra touch to improve your kitchen's modern look. LED bulbs are not only energy efficient, but they are a stable in modern kitchen lighting, so consider switching out your old bulbs in favour of new LED ones.
Whatever you decide to do, be it full redesign or just a few subtle changes, there are so many ways to make your kitchen modern. Remember the right materials can give an industrial look to your space. The right use of colours and lighting can brighten your kitchen, making it feel more spacious too. Your layout and storage solutions not only aid your work in the kitchen, but they scream modern design. Finally, when it comes to styling make your home unique. With the right use of colours, textures and décor, you can modernise your kitchen's vibe. You can achieve a modern look for your kitchen on any kind of budget, and have your dream kitchen that is effortlessly stylish.
Author Bio:
Hugh Sallows is a Content Marketing Executive at Revive Digital. Writing content for magazines, blogs and websites, Hugh has an extensive history in writing. Hugh is currently researching and writing in Home Improvements, specifically working on kitchen designs.