Get the Kitchen of Your Dreams with the Best Remodeling Tips
Get the Kitchen of Your Dreams
Among all the rooms of the house, the kitchen is the most versatile. It is used to prepare meals, feed the family, store foods, and clean and stow service ware and other household items. The kitchen is also considered to be the family gathering place and the centerpiece of the home.
Therefore, it is important that when you decide upon kitchen remodeling, you should take every idea into consideration. This is especially true when available space is limited and kitchen remodeling cost is also a concern.
Design a Kitchen to Make it Look Spacious
Kitchen design is one of those projects that never seems to end, especially as the trends change over time. If you are working with small spaces in your kitchen, you do not need to tear down walls or anything else to make it feel bigger. Designing to make your kitchen looks spacious is all about maximizing what you have. With a bit of creativity and know-how, you can stretch your kitchen without adding a single square foot.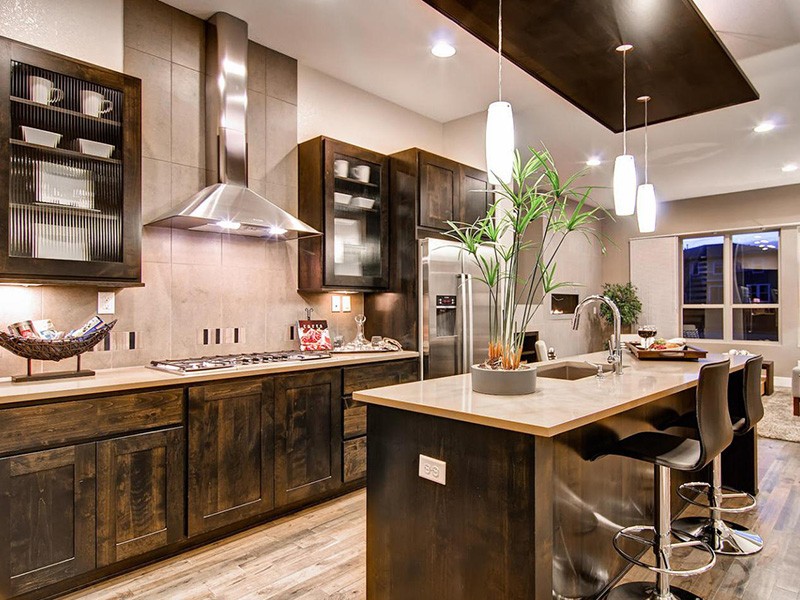 Go Wild with White Paint
Repainting the kitchen in white can make your kitchen feel open and airy. White reflects light and therefore make the space look bigger than it actually is. You can use similar white tones on kitchen cabinets and counter tops, and camouflage bulky pieces like radiators by painting them the same color as the walls. By keeping everything in the same color, you avoid sudden shifts from dark to light and create the illusion of boundless space.
The Brighter the Better
A dark, dim kitchen can feel gloomy and small. When in designing phase, you should consider putting up sheer curtains, or even opt for removing curtains entirely in order to allow sunlight to brighten the space. If you want to have curtains for more privacy, go for opaque-color curtains that let the sunshine in, especially in a narrow room. Similarly, install kitchen lighting over, below, and inside cupboards to make the kitchen space appear bright and airy. You can use pendant lights to highlight the beautiful focal point of your space, be it a kitchen island with a beautiful butcher block top or an eating area.
Make the Room Clutter Free
When you eliminate clutter from the surfaces, it can have a dramatic impact on the openness of a room. In order to make your kitchen feel breezier, keep kitchen counter space clear and store appliances in the pantry or cupboards. You can also minimize visual clutter in kitchen storage by getting rid of decorative design pieces, such as ornate handles, corbels, and window coverings, in favor of a more minimalist design.
Take Advantage of Vertical Space
When you have a small kitchen, storage and floor space are often scarce. So, you should take advantage of vertical space by installing hanging shelves, peg boards, and magnetic knife strips on your walls. If you have an apartment kitchen or a galley kitchen, this can be especially useful for expanding your space and is an easy fix when it comes to small kitchen design ideas. Consider adding small open shelves to store items like spices and kitchen towels to keep your work-space clear.
Get Patterned Floors
A patterned floor is great in creating the illusion of a wider space. Horizontal lines pull your eyes from side to side achieving this effect successfully. You can lay out tile or wood parquet on your floor parallel to the entrance of the room, so you walk across a horizontal pattern. A rug with horizontal stripes could have the same widening effect as well.
Spring for Panel-Ready Appliances
Panel-ready refrigerators, dishwashers, and other appliances are designed to have customizable doors so they match your cabinets and kitchen walls. When your appliances blend together harmoniously, the seamless visual combination can create the impression of a larger space.
Shiny Surfaces Can Boost Space
As mirrors can make a room feel bigger, in the same way, shiny appliances can boost the feeling of depth and brightness. The same thing goes for sparkling floors, glass tiles, and glossy cabinets. You can choose stainless steel items which also look elegant and enhance the décor of the room.
Get Open Shelves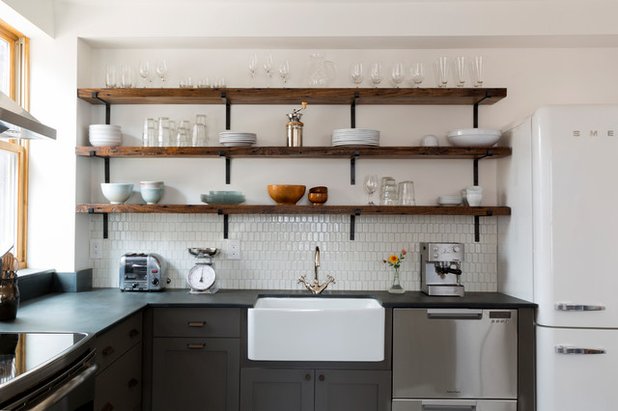 When you get open shelves, they create an airy, sophisticated look when stocked with a carefully curated selection of attractive serving-ware. You can create open shelving by swapping your current kitchen cabinets out for shelves. You can also replace solid cabinet doors with glass doors, or even just remove the cabinet doors entirely.
Get Smarter Things
Outfit your kitchen in smaller, slim, visually lightweight furnishings. Think trim Industrial Island, skinny trash bin, slender bar stools, and kitchen tables and chairs with narrow legs. Many kitchen island designs now are created for narrow spaces, so you can allow yourself the extra work space without adding any bulk.
Opt for Movable Furnishings
You can try adding movable furnishings and fixtures, such as a pull-out cutting board or cart for your cookware that can be wheeled in and out of the pantry. Also, replacing a permanent kitchen island with an island that can be rolled and tucked away as necessary will also be useful in creating the spacious look you desire.
By following the above mentioned tips, you can make your small kitchen look bigger than it actually is. The right design will make your kitchen look spacious and elegant.