Jura ENA Micro 9 One Touch Automatic Coffee Center Review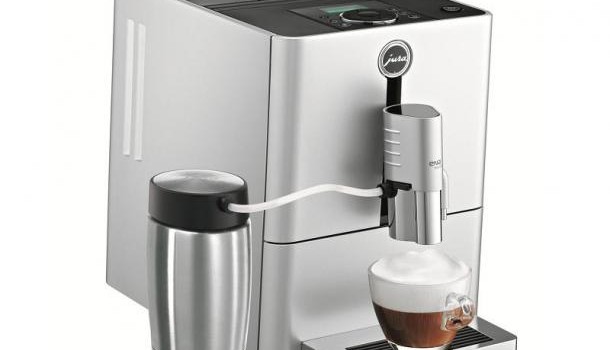 JURA proudly brings forth the world's smallest one touch cappuccino machine, which is quite compact and the best choice to make from all the coffee makers available in the market. This machine is approx. 11% shorter; however it is still impactful as other big and large machines available in the market.
The good: While space holds importance for the user, this machine is just the right choice to make, i.e. this machine can be conveniently placed within the kitchen and is sufficient to add grace to your place. It is single cup machine, and can easily prepare cappuccino and latte with just a touch on the machine.
The bad: While its compact design and size, makes it a unique product in the market but customers cannot have coffee more than one mug at a time. It might suit people who are not too much crazy about coffee, but the feasibility of this machine would diminish if in case, users would like to have more coffee then just a single mug.
The bottom line: Jura is just the right kind of choice for customers who want to have a quick coffee and is not at all interested in going through large manuals or deal with complicated machines. The interface is quite simple, allowing the users to understand and use the machine with complete efficiency and ease. It is smaller in unit, but none of the features have been missed out, thus giving customer complete unit at affordable prices.
Jura ENA Micro 9 Review
Jura is a smallest one touch machine, which is super automatic and has some amazing features which include 15 bar pressure and also takes about 30 seconds to preheat the water. So it is a small machine which is capable of taking care of your coffee and you. Just fill in your favorite beans, press the button, add some water and within no time you would be served with your favorite coffee.
The grinder is attached at the back of machine with bean hopper having capacity of holding 4.4 ounces of beans. Moreover, users can also choose any kind of coarseness from the 5 settings, so you can grind it according to your stability and convenience.
Functions and features of Jura ENA Micro 9 One Touch Automatic Coffee Center
Operation: It is simple to use, with just two simple operations which include press and enjoy. The symbols and the agreed buttons will have to be used, and you can get simply what you want. The traffic light colors are used on the machine, wherein green depicts ready, yellow programming mode and red is prompt or ready to take action.
Specialties: JUNA has really raised the standards of coffee machines in the market. This product is an excellent addition and can be used at simple touch for making different kinds of coffee. The quality of coffee is well maintained with these machines.
Straightforward and height adjustable: The fine foam technology is topped over the coffee, which is nothing less than a treat to the users. Moreover the machine can be adjusted on the basis of height on the scale of 2-5 inches. Also, there are two separates pipes for coffee and milk, such that complete hygiene can be maintained within the machine.
Labelled parts: Different parts on the machine are perfectly labeled, which enables you to remove and again place them on the product together.
Programming: This automated espresso machine can produce four different kinds of coffee which includes cappuccino, coffee and latte. Further to this, you can decide the amount of water, milk, froth and lastly the dosage of coffee within it.
Cleaning cycle: The users making use of this machine, very well knows that how the machine should be cleaned and what is the exact time when it needs to be rinsed or cleaned.
Energy saving: It can be used on energy saving mode, which means users can conserve power and need not have to waste money or power while using the machine. The energy saving mode of the machine only uses 4.3 watts per hour.
From the above mentioned facts, it can be very well clarified that it just the perfect machine for quick coffee lovers, who just wants to use one touch operation machines and don't want to get into much hassle of using or operating it.