Installing A New Garage Door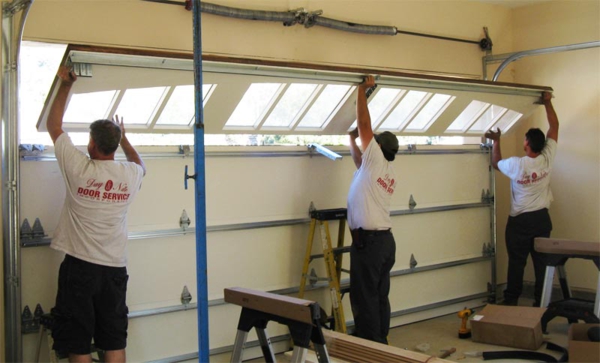 Installing a garage door does not have to be difficult.  It is important to follow the directions, so that you install it correctly the first time because each piece is placed in separately from the door panels to the rollers to the springs.  You should have someone help you for safety purposes because it can be a dangerous job.  If you do not have the time to install it yourself then you can hire someone to do it for you.
Remove the Old Garage Door
To install a new door, you must first remove the old door.  This should only consist of unlatching the door from the pulley then taking apart each panel and unscrewing the tracks.  It is important to remove each panel separately, so that they do not fall on you.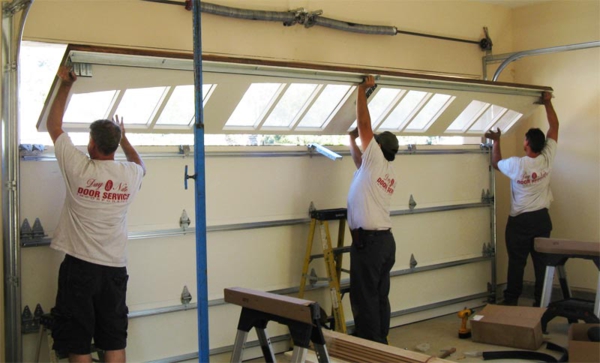 Measure the Space
The next step is to measure each area where the door will be placed.  You need to measure the door opening (height and width), the head room, which is from the top of the opening to the ceiling and the back room, which is the length of the garage.  The amount of space you need for the head room is 10" x 12" depending on what kind of spring system you may have.  The amount of space you need for the back room is the door height plus 18" more.
Install the New Garage Door
Now you can start installing the new garage door by first inserting the bottom piece using a level, so it is installed properly.  Once the bottom piece is in place, slightly tap the nails into the jamb on each side leaving them a little slanted so they stay fixed in place.  After doing this follow the manufacturer's directions for installing the rest of the pieces of the garage door.
Install the Rollers
Once all the panels are in place and secure, you need to install the rollers into their supports.  As the rollers are placed in the tracks, secure the brackets as you do it.  The rollers do not need to be too tight because friction will damage the door.
Make Sure Every Piece is in Place
You can install the curved and horizontal pieces after the vertical tracks are secured to the jambs.  Always use a level as you install each piece leaving the horizontal tracks straight and facing away from the opening at a ninety degree angle.  Then use the manufacturer's instruction to set up the springs.  Then test the door to make sure it is fully functioning.
Miss K is an English major and does a lot of freelance writing.  She writes on various home improvement topics like garage door repair and installation.