Important Golf Course Equipment to Consider Expected Turf Mowers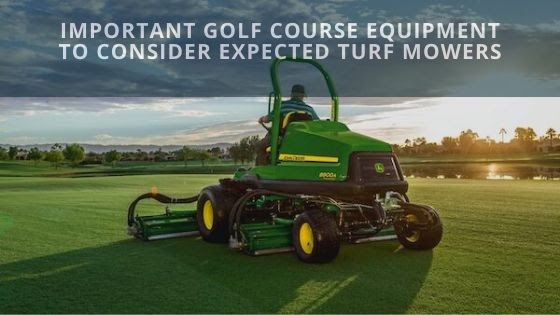 Mowers are undoubtedly the primary requirements of every golf course because around 30 acres of land comes in a maintained area. Grass grows continuously and needs regular mowing in order to maintain the area ideal for a game. Numerous companies are presenting their powerful models in the market with reels and rotary blade settings. Apart from mowing, you also need to be aware of various other aspects to maintain the turf. After trimming grass to a specific height, it is also the duty of a golf course captain to ensure adequate growth as well as prevention from all potential threats. Lush green turf of golf course needs special equipment to maintain the quality standard that you are going to understand in the article below.
 Once you roll mowing blades over the grass, a lot of residues remain behind that you need to clean. The area of a small garden or Park is easy to clean after mowing but the golf course needs special equipment. Three different kinds of equipment are available for cleaning including blowers, sweepers and vacuums.
Blower
A blower is meant for exhaling air that will blow away grass particles as well as dry leaves too. It comes with a wide mouth pipe meant that works effectively in the autumn season when the entire golf course is filled with dry leaves.
Vacuum
It is the upgraded version of traditional vacuum cleaners that we use at homes. The golf course vacuum is more powerful meant for working rapidly in a large area. Closely mowed areas like tees and fairways need vacuum more often before starting gameplay.
Sweeper
As the mane is illustrating, a sweeper is designed in a manner that it can sweep away a large area as fast as possible. A wide brush attachment is equipped behind the vehicle to clean our derbies efficiently.
 Aeration is necessary for the healthy growth of golf course turf. Rolling mowers over the ground and playing continuously results in the hard surfaces where grass cannot find a way to thrive properly. Along with the upper surface, you also need to pay attention to the roots. For both surface and roots aeration, you need different equipment as mentioned below:-
After cleaning derbies and residue with a vacuum cleaner, blower and sweeper, some grass remains behind and develop a layer over time. As the layer becomes thicker, it blocks new shoots to come out. This layer of residue is known as thatch. A dethatcher is raking equipment capable of removing thatch from the ground.
After removing the thatch, you also need to reduce the toughness of the ground surface. Here comes the role of an aerator. It is a rolling attachment equipped with coring tines. When the aerator moves forward, these tines puncture holes in the ground to allow adequate air for root. After aeration, they pour sand in the holes as quick filling.
Regular watering is another major requirement in aa golf course expected turf equipment. An 18 holes golf course acquire almost 70 hectares of land. In order to maintain adequate greenery in the entire area, you need effective irrigation equipment. Sprinklers are available in the market capable of watering the entire golf course faster. A vehicle with a water tank, hoses and sprinklers can cover the entire golf course.
You can buy most of them in the used golf course equipment section because of their occasional use. For instance, aeration, dethatching and vacuum cleaning are occasional jobs. Used models in good working condition can serve the purpose proficiently.