How To Cut Business Expenses With Rainwater Harvesting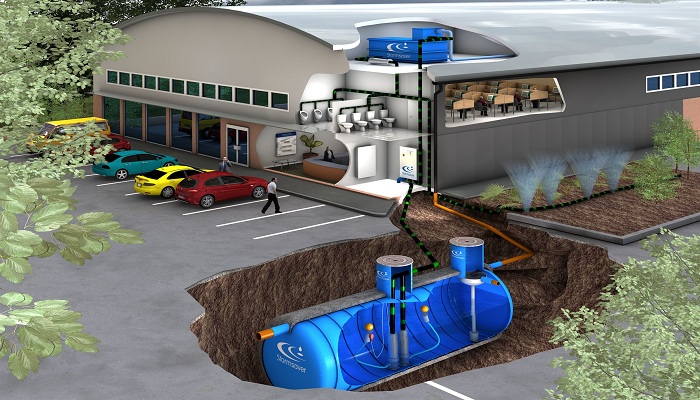 Rainwater harvesting technology is a great way to minimize mains water consumption and significantly reduce operating expenses. Businesses in regions that have heavy and sporadic rain can work miracles with it. Environmentally conscious business owners are also embracing this technology, as well as companies that use large volumes of water on a daily basis. One thing to note, though, is that the water is not immediately safe to use, so you need to figure out a few things, most importantly, the filtration and sanitization method that suits your business needs.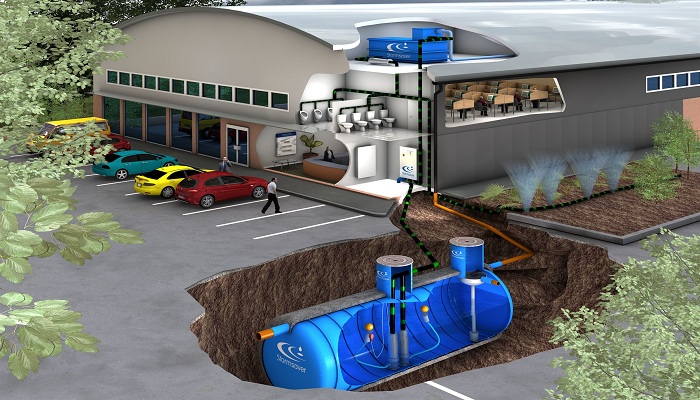 Test the waters
Rainwater harvesting refers to the process of collecting and storing water that falls on the business property. Usually, the rainwater travels form roofs to the storage tank via pipes. A float switch then prompts the system to commence operation. Along with water, a layer of sediment settles at the bottom. This triggers the response from a pressure drop inline, which signals the need for treatment and transfer of water. This brings us to the key point: water filtration and sanitization methods.
Namely, bear in mind that even though rainwater appears clean to the human eye, it's really not. This type of water often contains pathogens, animal excrement, dust particles, and pollutants that can cause illness and infection when ingested. Therefore, sterilization and treatment processes are vital to rendering the water safe to use and compliant with regulations in your area. The two basic sanitization methods are chlorine treatment and ultra violet (UV) treatment.
Sanitization tech
Chlorine treatment is a sound option for those who want to store water for later use, which comes in handy in industrial conditions. On the other hand, UV light is an instant disinfection technology. It reduces the risk of corrosion that occurs due to the presence of chlorine. That is why this solution is recommended when working with materials like uncoated aluminium. It is widely used in apartment buildings, mining camps, schools, universities, farms, and industrial manufacturing in general.
Then again, UV sanitization is not effective in dealing with bacteria in water that remains stagnant for a longer period of time. So, weigh the specific requirements of your operations and industry sector. It always pays off to opt for market-leading commercial products. Also, make sure you have all the replacement parts ready to keep everything running smoothly (Trojan UV max components are an excellent choice).
Reaping benefits
The upfront costs may seem unpleasant, but look beyond it, towards the horizon of amazing long-term benefits. You have a chance to start trimming utility bills right away and save substantial sums down the road. Another advantage is that you get to insulate against water shortages and price fluctuations. So, this is a feasible option for almost any time of business, albeit companies in tropical, heavy-rainfall regions stand to benefit the most.
Furthermore, the value rainwater harvesting provides depends on the type of business and ins and outs of operations. For instance, companies that employ heavy machinery and equipment can use rainwater to wash down aluminium and other parts. Likewise, car wash businesses can profit a great deal from capturing rainwater and utilizing it for washing services. It's possible to store the water for months after rains and heave it readily available. Moreover, there is an option to switch between rainwater and mains water, depending on needs and levels in storage tanks.
So, do not let thousands of gallons of rainwater to go down the drain. Put it to good use and positively impact your bottom line. It does not really make sense to use drinking water for things like watering plants and flushing toilets. Finally, let us not forget that by using the green tech, you can boost your green credentials, meet the increasing standards, and satisfy environmentally conscious customers of today. Thus, do not miss the opportunity to reduce your environmental impact and set your business apart from others.
Save it for a rainy day
Nowadays, there is no shortage of rainwater harvesting applications and solutions you can employ. To get the most bang for your buck, determine whether you need water to be used immediately or stored for an extended period of time. This will affect your choice regarding the sanitization method that makes the water safe for business use. And rest assured that implementation of rainwater harvesting tech can pay rich dividends over the long haul. You are in a position to supplement water consumption, eliminate your reliance on mains water framework, and decrease operating costs.