How To Create A Splendid al Fresco Dining Area In A Restaurant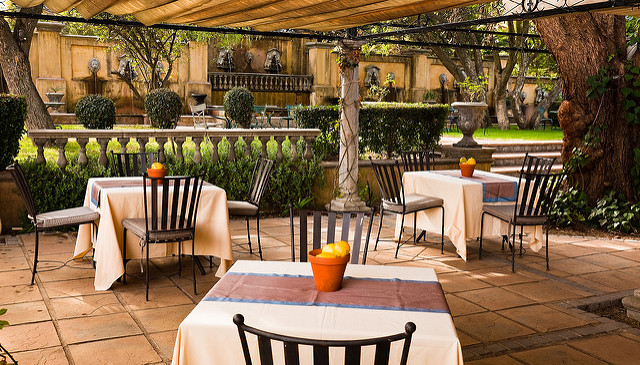 One of the greatest perks of warm summer or spring evenings is dining outside, also known as al fresco dining. Just a thought of it is quite appetizing – light meals, soothing lights, gentle breeze. No wonder people like organizing these kind of parties in their backyards. So why not use it for your business, too?
Setting up an al fresco dining area can be a great marketing move, as well. Think about it – if it's on the pavement in front of your restaurant, it's the first thing your potential customers see when they are passing by. With the right choice of furniture and lighting, you can attract people by simply showing them what your service is like. It's like a little preview, a teaser, so your clientele knows what to expect. There are several things to consider when planning an al fresco dining area in your restaurant.
Furniture/seating
When picking up pieces of furniture for your outdoor dining area, make sure it meets these two requirements: it's durable and it's attractive. Bear in mind that outdoor seating will be exposed to rain, wind, or direct sunlight so it must be made out of solid material. Outdoor furniture can match the interior of your restaurant but it's up to you. It doesn't matter if you're aiming for sidewalk café look-alike or backyard party reminiscent. Pick a concept you like and start searching for the perfect pieces.
Shade structures
During the summer sun sets somewhat later than other seasons. It can still be hot outside at 7pm so make sure your guests have enough shade to hide in. Luckily, shade structures come in various shapes and are broadly available these days. For example, shade sails are quite affordable. They are the most cost effective way to cover large outdoor areas, safely and permanently, advise at Malibu Shade. Using sails, umbrellas or awnings is the best protection from direct sunlight, rain or severe wind. Shade structures provide shelter not only for your guests but also your tables, chairs, etc.
Lighting
Choosing the right light can be crucial when it comes to setting up the desired atmosphere. Chandeliers are great for achieving the somewhat formal look. Hang the decorative string lights around your al fresco dining area to put your guest in a festive mood. If you want to create a romantic ambiance, put candles on tables. Candles containing insect-repelling chemicals are a double win. For more outdoor lighting ideas, check out this inspiring piece. Make sure your lights look natural so pick warm color temperatures. Also, consider investing in a dimming system. That way you can adjust amounts of artificial light to amount the approximate intensity of daylight.
Cooling/heating system
Did you know that the phrase al fresco comes from the Italian language, meaning in the cool (air)? So why not justify the phrase you're using and invest in a few fans? Strategically positioned regular fans are usually enough to keep your guests cool. If your restaurant is in a really hot area, consider purchasing cool mist fans. Have in mind that those fans can make food soggy, so think twice where you'd put them. Be prepared for chilly evenings, as well. Patio or tabletop heaters will help spread the heat evenly. For extra warmth, ensure your guests get a cozy blanket.
Once you've got these covered, your alfresco dining area is almost ready. Add some decorative plants. Set up a chill music playlist and make sure it's not too loud. Have your chefs create a menu suitable for al fresco dining. And enjoy your splendid outdoor dining area.