How to Choose The Right Type Of Flooring For Your New Home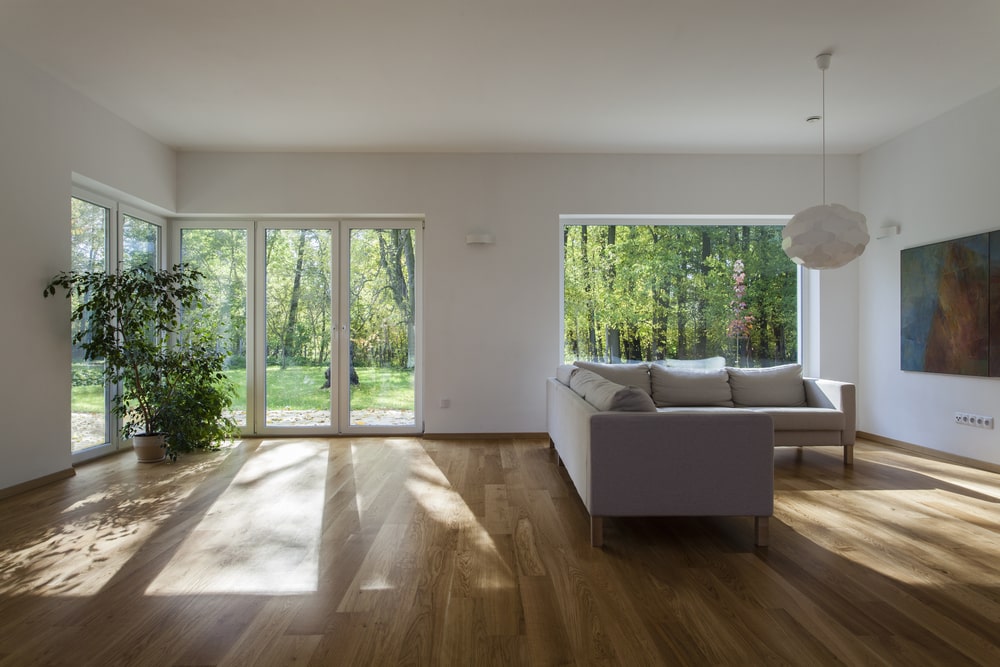 Building a house from scratch can be a tedious and stressful process even though you know you are doing something amazing for your family. From finding the right lot and deciding how many rooms your home will have to hiring the right builders, there are many things to decide on. One essential part of creating a warm and inviting abode is picking the right types of flooring material.
When choosing the right type of flooring, there are several factors to take into consideration. For example, start by determining how you will use each room and how much traffic it will see on a daily basis. This will tell you how durable your floor needs to be. Then, think about the cost of the material you are considering as well as how difficult the installation might be. Finally, you want to look into the maintenance of each flooring material as different types have different needs and you need to be sure you can properly take care of the floor you choose.
With all that in mind, keep on reading for a guide on the various types of flooring materials that should help you get the right options for your new home.
Hardwood
A classic option that you can install in almost every room is hardwood. These floors are commonly made from oak, maple, birch, hickory, cherry, and walnut but you can find a wide variety of alternatives. People most often use hardwood floors in places that don't see too much traffic during the day, like bedrooms, living rooms, and halls. This flooring material is popular because it always looks great, it's easy to maintain, and it's sustainable if harvested properly. A downside to take into account is that it can warp due to moisture and is easily scratched and dented. In terms of price and installation, it's easy to find affordable hardwood flooring and installation costs are not very high but might vary depending on whether you choose pre-finished or unfinished hardwood.
Engineered Wood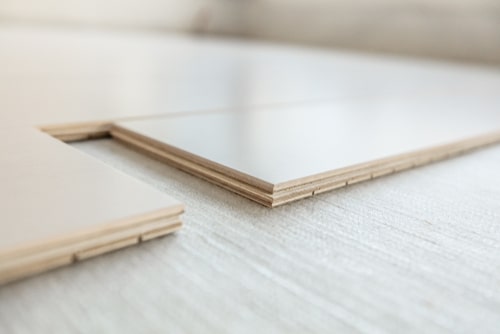 Even though solid hardwood is not that expensive, you could be looking for something more affordable. In that case, consider engineered hardwood. It's a solid alternative that has the same look and can be made from a variety of wood such as oak and cherry. Engineered hardwood is made by combining a few layers of ply plank and a top layer of genuine hardwood that gives it its look. However, this type can be used even in damp rooms like basements as it will not warp due to moisture. When it comes to potential downsides, keep in mind that it still dents and scratches easily and that you won't be able to refinish engineered wood as frequently as solid wood floors but if you apply a high-quality coating, it can be resistant to wear and tear.
Laminate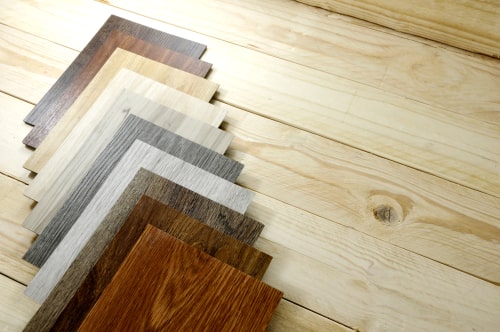 Another option you have at your disposal if you like the look of solid wood but can't find the room in your budget for it is laminate. The slats are made of layers of plywood or compressed fiber and topped off with a finished and sealed layer that can mimic the look of almost any other type of flooring. This is possible thanks to photo-realism technology that allows manufacturers to create finishes that look like solid wood, stained concrete, or ceramic tiles for a much lower price. As they resist dents, scratches, and stains, laminate floors work great in various areas, from the kitchen to the foyer. Plus, they are very easy to maintain. However, avoid putting laminate in wet rooms as it can be slippery and bear in mind that it has to be replaced once it wears out as refinishing is not an option.
Bamboo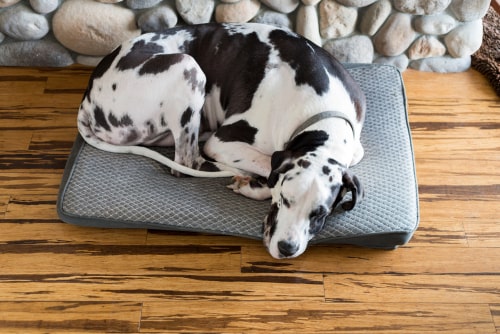 Bamboo is another popular option that you can use in all the same places as hardwood floors. While it is suitable for bedrooms and living areas, it might not be sturdy enough to handle your kitchen or mudroom traffic. The facts that it is quite affordable and eco-friendly only contribute to its popularity. However, even though bamboo is a renewable source, it's important to remember that most bamboo planks are shipped from Asia, which is also detrimental to the environment.
Cork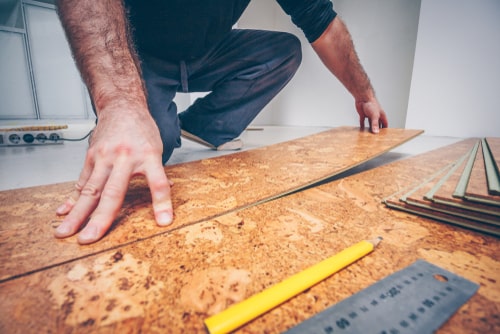 If you're looking for a flooring material with a low environmental impact, consider cork. It is made of tree bark, without hurting the tree. Seeing as how bark regenerates every eight to ten years, it can be used over and over to create cork floors. It has the warm appeal of wood and is available in planks and tiles so you can choose the approach that works best. You can use it in living areas, bedrooms, playrooms, and even kitchens but keep in mind that it is vulnerable to tears, dents, scratches, and moisture so it's not the best choice for mudrooms. To protect it from damage, remember to reseal it every few years.
Ceramic Tiles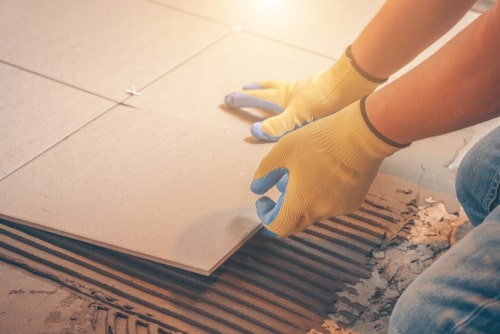 One of the most versatile options when it comes to colors, shapes, and patterns is ceramic tile. There are four types you can choose from – porcelain tiles, quarry tiles, glazed ceramic, and terracotta. Each type has its own characteristics. For example, porcelain tiles are the most durable of the bunch. Then, you have glazed ceramic tiles which are the easiest to maintain. Quarry tiles are unglazed and have a slightly rough texture that can help prevent slips and falls when wet. Terracotta will require regular sealing. They are usually used for kitchens, bathrooms, and mudrooms while they work great in an enclosed porch as well. With so many different alternatives, it's only normal that the prices vary from very affordable to quite expensive so decide based on your budget and preferences. Just make sure you get those that are rated for floor use.
Vinyl
The most affordable flooring material you will see on this list is vinyl. It can be used in the kitchen, bathroom, mudroom, basement, or any other damp, wet, or high-traffic area. Vinyl is very resilient and flexible as well as soft under your feet as it is made from felt that is covered with PVC. There are planks and peel-and-stick tiles that you will have no issue installing on your own but for sheet vinyl, you might need a professional. It is easy to maintain and repair but the quality can vary and it's not sustainable, so weigh your options carefully.
Linoleum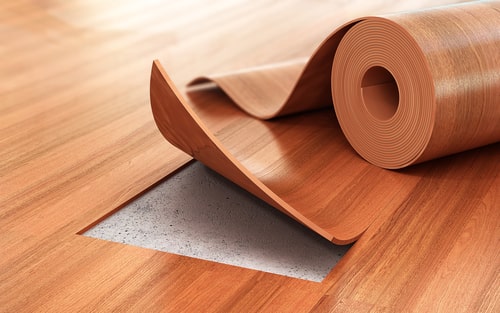 Linoleum is also an affordable and soft flooring material resembling vinyl but it's even more durable and eco-friendly. What is more, compared to vinyl, linoleum doesn't show scratches as much and can last up to 40 years. You can find some with a protective coating but there are also types that need refinishing every few years. In addition to being biodegradable, linoleum comes in a variety of styles so you can easily incorporate it into your living spaces like kitchens and family rooms. Just keep it out of areas that might have a moisture problem.
Concrete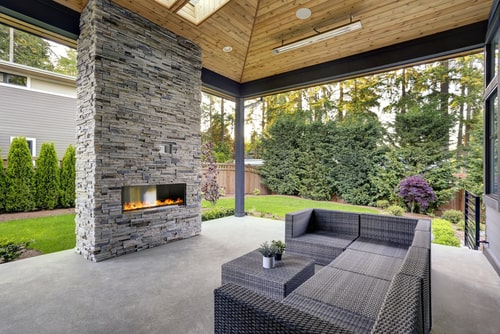 Concrete has been used as the go-to material for patios, utility areas, garages, and basements for a long time but it has also made its way indoors. Whether you choose to polish it, etch it, or stain it, you will have a strong and durable flooring material. There are many other pros to choosing concrete floors for your home, such as easy maintenance, design flexibility, and relatively low cost. However, you should keep in mind that this material is hard and cold underfoot. Plus, when highly polished or buffed, it is very slippery. Moreover, if not properly sealed, it can easily be affected by moisture. Avoid putting it in areas that children or the elderly use, as a fall can seriously injure them.
Stone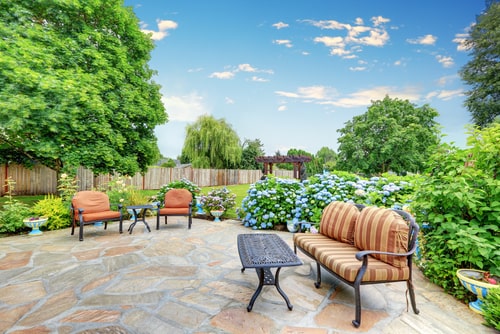 If budget is not an issue, you can consider stone. No matter if you get marble, granite, slate, limestone, or travertine, your home is sure to look luxurious. To maintain its beautiful appearance and help it resist moisture, you will need to seal and finish your stone flooring. You'll have to do it every couple of years for softer stones, and every five years for harder varieties.
Carpet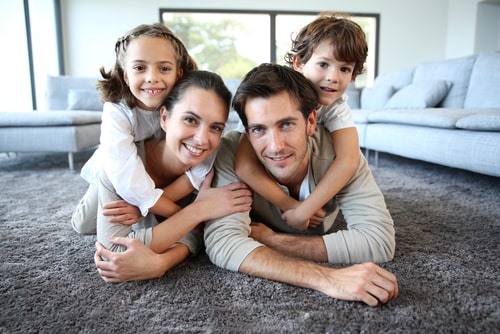 Finally, you have carpet. In addition to being warm and soft, it is also quiet and slip-resistant. Carpets can be made from various materials like wool, acrylic, nylon, and polypropylene, meaning that they also come in an array of colors and textures. You can use it for bedrooms and living rooms as they don't see much dirt and spills, seeing as how it can be difficult to clean a carpet. Additionally, allergens like dander and pet hair can find their place in carpets, which is something you want to avoid if a family member suffers from allergies.
As you can see, flooring options at your disposal are plenty. Consider your budget, needs, and aesthetic and you will surely find what you need.