DUI Tractor: What You Need To Know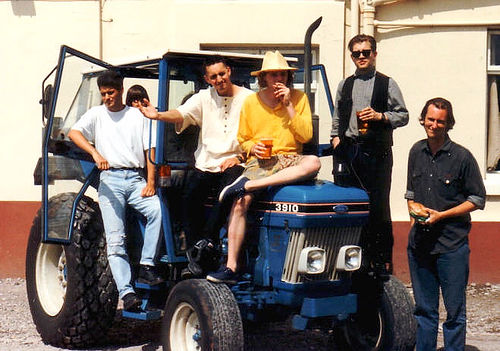 Common acts that accompany DUI charges include high speeds, driving on the wrong lane and generally reckless driving of the usual types of motor vehicles. But human beings are peculiar and may pull unusual stunts in the most unexpected way. DUI tractor charges are no less criminal than other motor vehicle DUI charges.
Combining alcohol and motor operation is always a bad idea, regardless of the machine in question. However, lawyers are always prepared to defend the most unexpected type of criminals as there is no case always entirely similar to another. Each case is handled uniquely and driving tractors while intoxicated is undoubtedly one such case.
Jail time
DUI criminal cases are handled the same as all other DUI cases. First time offenders may have it easy because sometimes they avoid the one night jail time. Exceptions are made when injuries are involved and if the driver refuses to take the blood and breathe tests. The DUI charges, however, are tougher for second and subsequent offenders who will have to do the mandatory jail time.
When first time offenders are jailed, it usually goes up to six months. Second time offenders get minimum of 96 hours and maximum of 120 jail days. The times keep increasing with every DUI charge. Fourth and more DUI charges within ten years will attract between 16 months and ten prison years.
License suspension
Besides jail time, license suspension for convicted tractor drivers is non-elusive for most of the cases. What differs is the length of time the suspension runs. The DMV will suspend the license for an initial 30 days after the arrest. Drivers can however minimize this inconvenience by asking for an administrative per se hearing within ten days only where the DMV may grant the request to have your license back.
The driver will still be required to honor crime responsibilities such as appearing for court hearings. There are alternative sentences to jail time such as community service, AA meetings (mandatory licensed DUI classes) and house arrest.
It is probably easy to identify DUI tractor driver offenders because there are certain rules on driving tractors. For instance, tractors are allowed on public roads and residential areas for a short time and mostly during the day only. The rest of the time, they should be away from high population density areas such as busy streets and children play areas. A tractor is an easy object to spot anywhere and any officer manning an area will be able to identify a reckless tractor driver.
Seek legal help
The wisest thing to do after getting arrested for driving a tractor while intoxicated is to seek legal advice from professionals. An efficient DUI attorney will handle a case involving a tractor driver with utmost professionalism as if defending their own family member.
Such a lawyer will be available for consultation as and when required so that the offender is well represented in court. In addition, they will offer the necessary legal guidance like obtaining the relevant documents and self-conduct while appearing before the county court.
Featured images:
License: Creative Commons
image source
Christopher J McCann has over 12 years of experience handling DUI related cases in California at the Law Offices of Christopher J. McCann. You can visit his website at cjmdefense.com or you can also follow his tweets at @CJM_Law_Firm for information about drunk driving related laws.