DIY Wardrobe Tips: How To Sew A Plus Size Men's Suit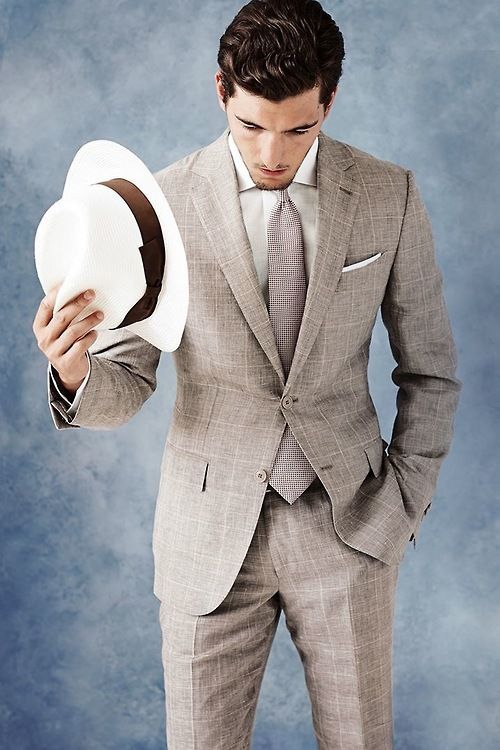 Women are not the only ones who struggle with finding the right fit for business attire.  With the almost decade long obsession with the "skinny suit" for men, the challenge to find a proper fitting, comfortable but still tailored cut has made dressing for success a little more difficult.
A new trend now easily connects mail shoppers to bespoke suits online, where complete outfits or individual suit jacket or pant components can be ordered.  This has made shopping for suits more convenient for men who require a special size or proportional accommodations.  One size never fits all, and for a suit to look its best on the wearer, it needs to fit right.
If you are looking for a men's suit and you would like to try to custom tailor one from home, there are a number of steps to insure that you will get the right results.  A relaxed or plus-sized fit can be a challenge to sew for a novice tailor, but with some practice it is easy to master some basic patterns for suit jackets and pants.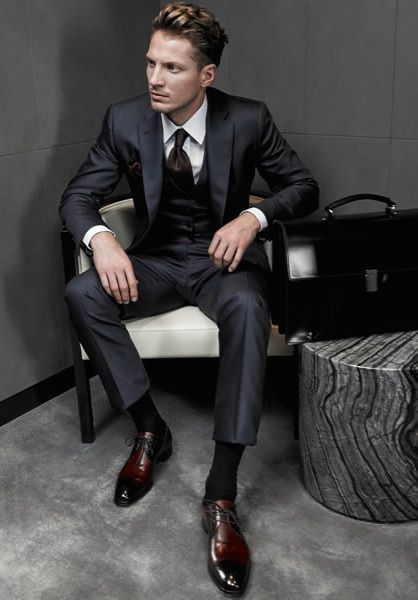 Selecting a Pattern for Fabric Variations
One of the most common errors made by DIY and novice tailors is to apply a pattern style incorrectly to a type of fabric.  While it may seem that any fabric can be used for any pattern, the results will not be successful if you attempt to use a non-recommended fabric for your pattern.
When choosing through the limitless number of patterns available for men's suit jackets, pants and dress shirts, pay close attention to not only the style you want to achieve but the details of the pattern.  All professional patterns will indicate the thickness of the fabric recommended for the specific type of design, whether cotton, wool or polyester blend.
One example of a mismatched pattern versus fabric variation would be attempting to cut a classic designed suit and collar from a linen fabric.  Since linen lacks the sturdiness of other fabrics, creating a crisp angular edge for cuffs, collars or pockets would be challenging, and the result would not be consistent with the intended pattern design.   Thicker fabrics are easier to work with, and will result in less fabric waste and frustration.
Pre-Shrinking Fabrics
After you have selected your fabric and made sure that it is an appropriate choice for your pattern and style, make sure you have the information regarding the fabric constitution and washing instructions.  Before you purchase the fabric, ask for assistance regarding the fabric blend and the expected ratio for shrinking.
If your fabric is already pre-washed and pre-shrunk, you have nothing to worry about in terms of preparation.  However if your fabric is a cotton blend, you can anticipate about a 3% to 5% fabric shrink rate after washing.  Pre-washing your fabric once or twice before laying out your pattern and cutting will eliminate any issues with sizing during the construction process and after completion.
Determining the Right Size Template
If this is your first time sewing a plus-sized or relaxed fit garment, you will notice that the patterns feature a size range.  Each component of your project (or garment) will have an outline that corresponds with a specific size, i.e., cut at line two for a size 40 pant.  Ensure that all parts of your pattern are cut to fit the appropriate size.   Measure twice and cut once (you'll be surprised how easy it is to incorrectly cut your pattern template to the wrong size).   Unfortunately if you have trimmed your template incorrectly, you may need to purchase another pattern and start over.
If you have successfully cut each pattern piece to the correct size, pin it to your fabric and cut carefully around the template. Pin the trimmed fabric and template piece together and set aside until all parts of your plus-sized suit are assembled.  It is important to keep the paper pattern attached to each part for additional sewing instructions.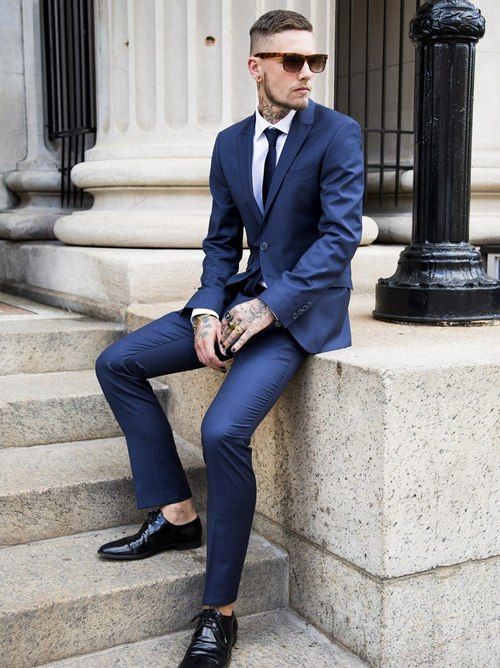 Calculating the Grain Line
Remember to find the cut edge (where the yardage was trimmed at the retail store) and ensure that it is trimmed so that it is even before you begin.
Depending on the type of fabric you have selected, you may need to evaluate the grain lines of the fabric before cutting. Evaluate the fabric and find the selvage edge of the fabric.  It will look like a machined edge that is part of the manufacturing process.
When you cut your pattern double sided, you will do it with both selvage edges facing each other and together, to ensure that you have the same grain line facing for each pattern component. The pattern template will provide an arrow indicator that you can match up with the grain of your fabric, to ensure that every piece follows the correct fabric grain for professional results.
Welt Pockets
Typical of tailored men's suits, the welt pocket requires some accuracy with plus-sized apparel to ensure that it is the correct size for the pattern.  All trouser and pant pockets have the potential to look slimming or to have the opposite effect, and a small welt pocket can actually make the back of the trouser look larger, instead of tailored to fit.
The suit welt pocket is a detail that will likely not be seen often, if it is part of a two piece suit.  The pocket is a faux design element that is meant to taper the back of the pants in a slimming way.  Use your best judgement on the width and placement of the welt pocket as a design element.  If you feel that it should be a little wider for a more balanced proportion, you can easily adjust the width without interfering with the tailoring of the pant seat.
Side pockets on the contrary are functional and can be gaping if not cut to precise measurement, and custom tailoring of side pockets beyond the established pattern is not recommended for novice tailors.
If you have an old, favorite suit that is a perfect fit, you can also disassemble the original suit carefully and use the pieces as a template for a new one.  After some practice with patterned templates, an average to intermediate tailor can duplicate patterns from existing clothing and add more custom decorative options to individualize the garment design.
Author
Nicola Reynor is a passionate blogger who loves to blog about fashion, beauty, travel, health, fitness, wedding and lifestyle trends. When in leisure time, she prefers to spend time in traveling with friends and family. You can find more about her at Nicola+