Cool Gifts for a Dad's Baby Shower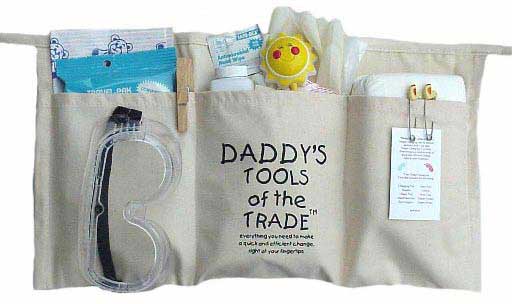 When it comes to raising children and doing the hands-on work — from playtime to doctor appointments and dressing for school — dads are more involved with their kids' lives than ever before, according to the United Way. (PDF) So when your best guy pal, brother or coworker is getting ready to have a baby, it's completely acceptable for him to share in the baby shower experience and even receive some of his own cool gifts.  
Since daddy baby showers are a relatively new concept, you may need some cool gift ideas, for example Dickies Scrubs for remembering that first perfect day of life to a masculine baby carrier no guy would be embarrassed to wear in public. Consider these cool gifts for any new dad-to-be:
Dickies Scrubs. In the 1950s while moms were doing all the hard labor in the delivery room, dads were relegated to the waiting room. Today, most fathers are right there with mom.
For the purposes of preventing the spread of germs, delivery room occupants are required to wear scrubs — the shirt and pants uniform that surgeons wear. Purchasing personalized Dickies Scrubs for a new dad is a great way for him to remember the most special day of his life. Since these garments are so durable, he can reminisce about that special day for years to come. Dickies Scrubs can be worn around the house, while exercising and even for relaxing naps.
Baby Sling. You see it everywhere: dads carrying their baby in the market, at the park, the beach and more. For this reason, every dad needs to have his own masculine baby sling. Carriers come in all colors, plus handmade designs, too. And price-wise, they range from affordable at most local big box stores, to higher end slings sold in specialty boutiques.
Jogging Stroller. One of the biggest complaints new parents have is that they don't have enough me-time. For mom, that could be her weekly mani-pedi. For dad, he may feel like he's missing out on much needed gym workouts. A jogging stroller is a cool gift for a daddy's baby shower because he can still spend time with junior, yet get in his five-mile run. A well-exercised dad is a calmer, happier dad.
Camcorder. You can't go to the zoo or circus without seeing it: a dad recording his family's special moments together. Camcorders make a great gift for a guy and are available at all price points. Don't let that flashy app on your pal's smartphone get in the way. It's too easy to lose valued footage if you forget to sync your devices regularly. Precious family moments are safer on a gadget that's specifically meant for recording great memories.