Android Marshmallow: A Surprise-Box For Android Users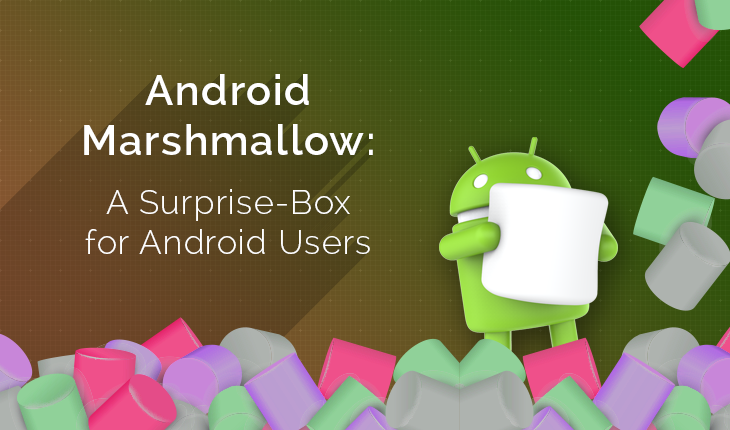 The most sought after, Android Marshmallow update has been finally rolled out by Google. This update is often marked as Android version 6.0. Whether you are waiting for latest Android or Google version, you might be excited to know what the new Marshmallow update is carrying for you. It cannot be termed as dramatic leap, but there are still numerous useful features that can look forward as an upgrade to the previous version.

Some of the things that you can do in Marshmallow but couldn't do in lollipop are:
1)    Google Now on Tap: It is the biggest new feature integrated that you can activate by pressing the home button for a long. It's designed with a vision to provide a better understanding of the context so that songs, movies and venues get automatically identified and you will get a sorted list of relevant links.
2)    USB Type-C Support: Want your Android device to sprout as USB Type-C? Then you have to wait for Marshmallow upgrade that came with the latest code update to provide support for the next-gen connector. Well if you heard this for the first time, you should know that it provides faster charging, data transfer and advanced multitasking and most significantly, reversible cables. You can't call it a bad upgrade, right?
3)    Permission-Management Became Easy: Marshmallow came up with an iOS-like approach for transparent and granular app permissions. They will be asked only as and when required rather than all at once while installing. This will help you have a detailed idea of what's happening at every instant.
4)    Security with Fingerprints: Android 6.0 Marshmallow is supported with fingerprints sensors for added security, which is powered by the core OS itself. With the advanced security-enabled interface, you can access all your applications with fingerprint authorisation.
5)    Intuitive Volume Management: The changes in volume settings that were introduced in Lollipop for more flexibility actually turned up as confusion. All this mess is sorted in the Marshmallow. You can now customise the audible alerts depending upon your preferences.
6)    Offer Your Device Power of Doze: Marshmallow came away with a new battery management trick i.e. Doze. It automatically puts your device in airplane mode whenever it is lying idle. It implies that Doze can sense the inactive time of your device and can help save the battery usage by putting it on power-saving mode without needing you to tap on your device's settings.
7)    Infuse Web Into Your Apps: Chrome custom tabs in Marshmallow makes it quite easy for apps to show websites without any need to switch over to a full chrome app. You can consider it as an app branded version of chrome that instantly displays links on which you tap. This means you can access all the standard features of the chrome without opening up an individual web viewer.
8)    Accurate Text Selection: Picking up the exact words or phrases highlighted on the screen has become easier with Android Marshmallow. It is helpful for those who are struggling with small screens. Forget about wasting time to fiddle about getting the absolute phrases or words that you want to share with your connections.
9)    Monitor Memory Usage Precisely: Android Marshmallow allows getting a brief detail about the device's memory state. You can keep a track of average memory usage of your device and can determine the apps that are eating the biggest slice of the resources your system have.
10)    Sharing Recently-Used Apps: You can now easily reach the apps that you use most as the Android Marshmallow has an ability to understand user and the apps you use most recent. If you're active Facebook user, then it will appear first in the list whenever you will tap on share menu. In short, it is much easier to reach out the apps that you use most often.
It would not be wrong to say that Marshmallow has a bagful of surprises for android users. More you will explore; more you will get out of it.
Author Bio: Having a niche in Android App Development, Macy Jones likes to stay updated and educate others about the most recent happenings into the field of development. All her write-ups clearly showcase her passion of digging more about her niche.Catch her on Facebook, Google+ or follow her on Twitter to know more about her.