7 Most Attractive Bookshelves to Adorn Your Home Decor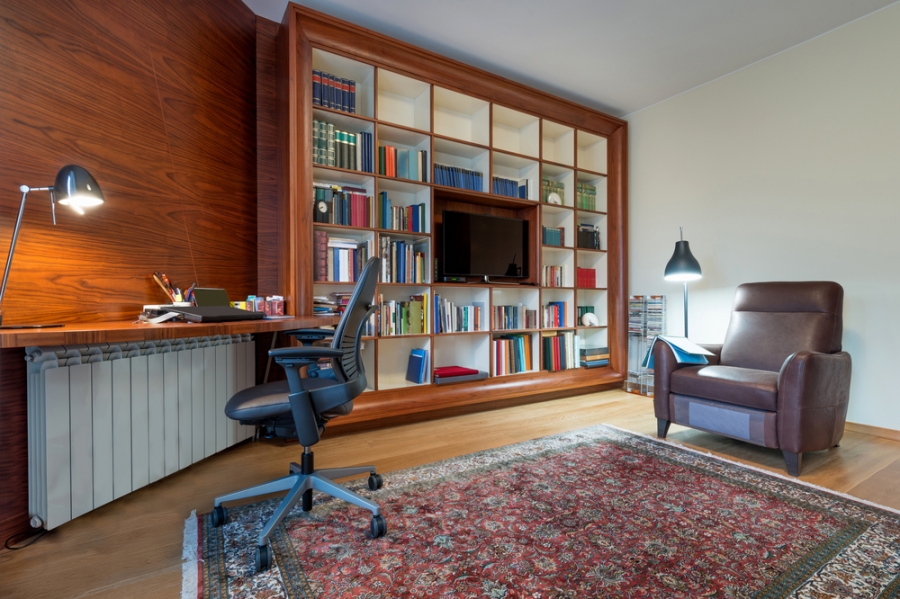 Whether you're an avid reader or a design enthusiast, there is nothing you would love more than a stylish and elegant book rack. From invisible floating bookshelves to cut shelves or built-in cubbies, these bookshelf ideas will surely make you store and display your reading material in style. With the different designs of bookshelves online, you can choose your gem and always be shelf-ready.
Here are some of the unique and creative bookshelf designs available online:
Folding or Room Divider Bookshelves
Running out on space? Are walls full of picture frames and murals? Folding bookshelves can be your solution to these problems. Not only innovative and compact, but this bookshelf can also impressively arrange your books. Although made of sturdy wood, these shelves are light in weight and easy to handle. Depending on the availability of space, you can style this shelf in any way you want, be it horizontal, vertical, standalone, angled at 90-degree, or used as a room divider.
Invisible or Floating Bookshelves
This bookshelf design can generally hold up to 15 pounds of books and comes with a stack height of 16 inches. You can directly mount or screw it on a wall using a stud and presto. Place the open end of the shelf between the last page and the hardcover. You can then place other books on top of it, and there you go—you have an invisible shelf or floating books now! This shelf kit includes all hardware. So, you just need a screwdriver. This design is sure to add an element of newness, creativity, and style to your room.
Book seat
For all the lazy bookworms, this shelf was designed for you. This shelf is curved elegantly into a chair with space underneath to place your books. It is meant for days when you are too lazy to get up from your seat to change the book. While you are seated, you can simply pull out your favorite book from underneath the chair. The multifunctional space provided by this book seat redefines the statement of urban living. Moreover, the shape of this chair offers a comfortable seat with proper back support so that it doesn't strain your neck.
Wall-mounted Shelves
Wall-mounted bookshelves need not be simple. There are so many beautiful designs available online, right from "has been read… will read", pulse, equation, dream bubble, and much more. They save the space that otherwise would be occupied by a standalone shelf. You can even create a DIY design by mounting multiple shelves. Apart from books, you can also use them to place trophies, family pictures, magazines, showpiece collections, and so on. These shelves add a touch of class to your home decor with its elegance.
Staircase Shelves
If you own a loft-like bedroom or have a secret staircase that leads to a hide-out attic space above your room, the staircase shelf is for you. You can create a mini-library in the spaces between the stairs. Not only is it an efficient way to utilize space, but it also adds a touch of fairytale structure to your decor.
Booktree Shelves
An empty wall can be bedecked gorgeously with a wooden tree bookshelf. It is stylish and gives the wall a contemporary touch. You can place the books on the branches while hanging pictures at the branch tip. Now you can enjoy a blissful evening beside the window, watching the sunset and sipping hot coffee as you read. It leaves you feeling like you are sitting in a park enjoying your late afternoon summer reads.
Equilibrium Bookshelves
Although a standalone bookcase, you will be marveled by its splendid design. It is perfect and ergonomically designed to give it a look of modules stacked upon each other at a single angled point. It is a piece of amusement that is sure to catch one's eye. Don't let its design fool you, for it can hold up to 120 pounds of weight.
Final Take Away!
These 7 eye-catchy designs of bookshelves are sure to beautify the look of your home. Whether you read or not, they are sure to add an element of class and style to the decor. But make sure when selecting one, consider where in your house you would be placing it, its materials, dimensions, size, weight, and color. You can even opt for cabinet-style bookcases with doors to keep dust away. With so many options available, you might get lost within the beauty of these designs. For a more refined search, you can visit places like HomeTown, where you will be served with a plethora of bookshelf designs.