3 Great Online Resources For Pediatric Nurses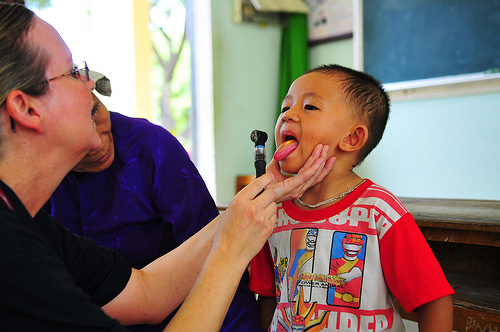 Nursing isn't just another away to make a paycheck. Those who have entered this highly rewarding, stressful, caring, insane, but all-around wonderful career know that it becomes a way of life. You enter a new world where things of medical nature become personally and fundamentally important. That can especially be said in the world of pediatric nursing, in which nurses get to see the miracle of new life up close and beautiful and tragic events happen every day.
Here we'll talk about three resources that are superb for pediatric nurses. They all have their own great characteristics and features. Hopefully you'll be in glee when you discover the monumental uses they have to offer, and you can share them with other nurses who will find them to be helpful instruments as well.


Scrubs
Scrubs is a magazine made specifically for nurses, and meets all the standards we're looking for when it comes to professional, educational, and entertainment resources. The magazine not only comes in physical form (you can get a subscription either online or in at a Scrubs retailer) but also has a fully-functional online database of many nurse-related things to read and take part of.
In the magazine and on the website, users will find a large option of resources to choose from. Some of these resources include information on nursing; the career, schools, experiences, and other characteristics of the job. Others include beauty and style when it comes to the way of the nurse, with articles focused on gear such as scrubs, and other articles about appropriate hair styles. Not to mention, there are many sources of information abut specialized nursing such as pediatrics, fun quizzes to take on your down time, and information about your personal health and wellbeing (hard to think about when you're busy taking care of so many other little ones, but important).
Nurse.com
Nurse.com's pediatric page is a resource for pediatric nurses that takes a more professional and educational approach. It specializes in information resources for nurses, which includes a news database about almost anything medical-related you can think of, and also news that's only pediatric-focused.
The website is not only a great source of pediatric and general nurse news, but it also contains many pages about nursing events all around the world, information about nursing degrees; specifically detailed information about training and schools, job information, and advice for nurses.
When subscribing to Nurse.com, users can enter their detailed information pertaining to their location, degree, and current or previous jobs. Using this information, the website can offer users tons of job openings and other nurse-related events near their area.
Nurses Page
We had to include a community-based nurse resource because it's incredibly important for those in nursing school or currently working to have an outlet where they can communicate, seeking advice from other people living in the unique world of nursing.
When signing up, users become apart of a community of nurses from all over the world, with many different degrees, personal experiences, and information to share. Communication with others experiencing this career is one of the best resources a nurse can have at their disposal. Users also have the option to connect Nurses Page with their Facebook or Google account, which will update their personal feeds with nurse-related information 24/7.
Not only does the website offer a community board for nurses to chat, but it also contains many health and medical-related articles, a personalized nursing blog, information about getting into the career, links of recent posts and comments, and also a link area to the websites most important and popular discussions currently in session.
Featured images:
 

License: Creative Commons

 

image source
Lauren Gorman is a pediatric nurse and guest author at Best Colleges Online, where she contributed to the guide to the Top 10 Most Affordable Online RN to BSN Programs.