Top Reasons to Study Architecture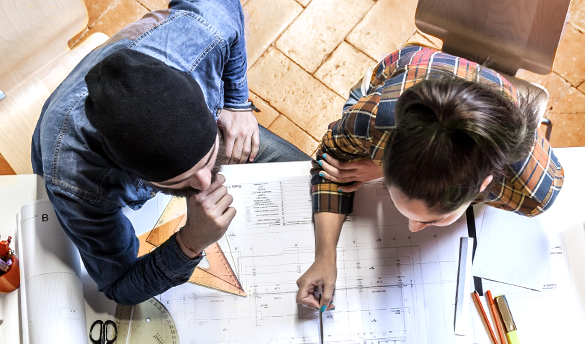 Architecture is a multi-disciplinary area of study, which includes a spectrum of sub-areas, including spatial design, safety management, aesthetics, material management, and many more. Architecture is a unique combination of art and science, wherein you get to learn varied disciplines, such as design, culture, and science & technology. In simple words, architecture is the designing and creation of spaces, with respect to functionality and aesthetics.
An architect is a person who has studied architecture and is licensed to design, create, and supervise the construction of living, working, etc. spaces. Skyscrapers, shopping complexes, residential buildings, working spaces, etc., are all planned and designed by architects.
If you are looking to study architecture, there are many top architecture colleges in India that offer graduate, postgraduate, training, and other programs in Architecture. There are around 258 Architectural Engineering colleges in India. The minimum qualification to seek admission in a graduate level course in architecture is an intermediate qualification in the science discipline. To obtain admission to the top architecture colleges in India, you will need to write the entrance exams of the institute you are looking to take admission in. Some of the top architecture colleges in India are- Sir J.J College of Architecture, Mumbai; Department of Architecture & Planning, IIT Roorkee; Chandigarh College of Architecture; Department of Architecture-NIT, Tiruchirappalli; and the Department of Architecture, Birla Institute of Technology (BIT), Mesra.
If planning and designing spaces interests you then you can opt to study architecture from one of the top architecture colleges in India.
Here is a list of reasons on why you should pursue architecture:
Without any doubt, you can say that architecture is one of the most challenging work fields of today. As an architect, you will have to undertake different projects, and plan and build new spaces. Every building you design would be different from the other, and you will face new challenges every time. Besides the challenges, architecture is a very interesting and exciting field to work in.
You are a creative person
The most beautiful part of an architect's profession is the creativity attached to it. Every person is allowed to add his personal touch to the project undertaken. Besides, designing buildings is in itself is totally a creative pursuit.
You want a high starting salary
Once you complete your architectural course from one of the top architecture colleges in India, and pass with good grades, you can be assured that you will get one of the highest paid jobs. You can gain entry into the big architectural enterprises looking for fresh talent and new ideas. Architects do make a lot more money, compared to other work fields as they progress in their career.
You do not enjoy a 9 to 5 desk job
An architecture job isn't like the 9 to 5 desk jobs. You will have to meet your clients to know their requirements and expectations, visit the construction site, and most of the time you will be on the move. Even as an architecture student, you will get hands-on training about planning and designing functional buildings.
As quite evident, as an architect you will get to travel a lot. You will have to hit the road every now and then to visit construction sites.
You want a high esteem job profile
There's no doubt to the fact that an architect's profession is regarded with high esteem. Even in the workplace, architects usually interact with clients from the upper class of society.
You like bringing a change
Architects impact the lives of people. Architecture has undergone a huge change. Nowadays, the focus is on creating better living and working spaces that are functional and eco-friendly, keeping in mind the aesthetics.
If studying architecture interests you, then you must try to seek admission in one of the top architecture colleges in India and gain momentum in your career as an architect.