The Best Android VPN for Android Ice Cream Sandwich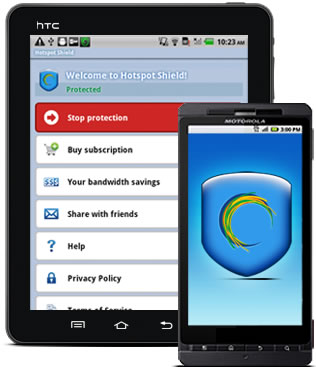 VPN is a virtual private network which will give you secure & private network. Security & privacy go hand in hand.
It is important to have a private & safe network in this time when cyber threats are multiplying day by day.
With the increasing usage of smart phones, we now feel that a VPN for phones is as necessary as for a desktp pc.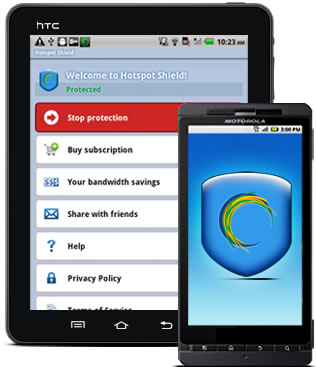 There are several operating systems for phones; however the largest & fastest growing is Android.
Therefore, for android users, we have a list of favorable Android VPNs listed below.
1. Hotspot Shield
Hotspot Shield is the most famous, free (ad supported) VPN service available for android platform.
Among its several features the most cherished perk offered is that it offers free unlimited VPN access.
There is also an elite version (paid version) which takes off the burden by giving you ad free internet access via the VPN.
At times using VPNs can bring malwares to the users system, to counter this Hotspot Shield has over 3.5 million malicious threats listed & these threats get blocked, hence ensuring the safety of their users.
2. VPN One Click
VPN One Click is free of charge & it does not put any limit on traffic flow as well. It maintains security by the encrypted connection & IP masking services.
It is available in many countries and offers for not only android but windows, mac & iOS too.
3. Hideman VPN
Hideman VPN can let you access VPN right from your Android phone up to 5 hours/week VPN service.
However there's no limit for premium users, you can enjoy unlimited access to internet via VPN from your android once you purchase the premium package.
If you're not willing to purchase then Hideman VPN has another solution for you. It's in app advertisements & promotional offers can be used to earn premium hours free of charge.
4. Tigervpns VPN
Tigevpns VPN is not only for desktop but android users too.
It offers 100MB free bandwidth. In case you have much bigger usage requirement you can opt for more than 100MB via its premium plans.
5. Droid VPN
Droid VPN offers free VPN services to your android. It offers 100MB/day via its two servers.
For users availing premium service, Droid VPN uplifts all the limits & puts all its servers at your disposal.
Furthermore it gives rooted android system, installs super user & gives a droid account from the website.
6. VPN Traffic
VPN works great with Wi-Fi, 3G, GSM & all mobile data carriers. It easily by passes location based restrictions & blocks. It is available in more than 35 countries.
All of these are designed to deliver VPN on your android phone. You can choose any one of them according the requirements of your usage.
If you use less than 100MB/day, you can choose the ones with limit, however if you're going to stream HD videos over your new android device then push the limits & go for the ones without any restrictions.
If you don't have any problem with advertisements provided they give you free limitless VPN then go for the ones like Hotspot shield otherwise you can always get premium ad free VPN.
Author Bio:
Maria is a 20 year old part time blogger. She is extremely passionate about iPad 2 VPN and loves to write Reviews on everything that interests her.