Health Informatics – The Strong Future of Healthcare
"The art of medicine consists of amusing the patient while nature cures the disease." – Voltaire
Check across any industry segment across the globe, is there any domain that has not been catalyzed by information technology? Most of them have picked up pace by adapting IT solutions and services. One crucial segment is the healthcare domain that has now picked up technology quotients to offer the best of healthcare services. Yes, it did take its own time to transition from a traditionally driven industry to a technologically driven one. But, now that it has, there is no looking back. Healthcare mobile apps are now ruling the globe with its plethora of service offerings.
Under the umbrella of healthcare IT solutions and services, comes a terminology 'Healthcare Informatics' that has been generating a lot of curiosity. Health informatics is a swiftly growing field in one of the leading industries globally.
What is healthcare informatics, what are its benefits and how is it being leveraged? Have a look.
What is Healthcare Informatics?
Health informatics (also called health care informatics, healthcare informatics, medical informatics, nursing informatics, clinical informatics, or biomedical informatics) is information engineering applied to the field of health care, essentially the management and use of patient health care information. – Wikipedia
Healthcare informatics is a specialized section of the healthcare fraternity. With the integrated involvement of information technology into the healthcare segment, Healthcare informatics plays a pivotal role. It is the area of IT that includes designing, development, creating, maintaining of information systems for the healthcare industry.
Also known as health informatics, Healthcare informatics is one of the swiftly expanding job sectors offering good career opportunities for all those who are interested and worthy of it.
As per the American Medical Informatics Associations (AMIA), "health informatics applies principles of computer and information science to the advancement of life sciences research, health professions education, public health, and patient care. This multidisciplinary and integrative field focuses on health information technologies (HIT), and involves the computer, cognitive, and social sciences."
Healthcare informatics focusses on:
The discipline behind the development of electronic health records (EHRs) and health data analytics systems
Effective usage of IT for thorough organization and analysis of health records
Dealing with resources, methodologies, and devices for best use of information
Electronic availability of medical records for all stakeholders
Better collaboration between patients and respective roles like doctors, administrators, managers, insurance agents etc.
Linking IT, communications, and healthcare to offer finest quality of healthcare services
Developing software apps that comply with the HIPAA compliant software development norms
Health IT: Even though the fundamental of health IT and healthcare informatics look similar, there is a difference. Informatics looks at the basic science behind health IT. It takes care of the reason and process of how health IT operates. Health IT talks about the technical tools and systems needed to offer care, improve communications, and safely undergo billing administration and maintain records.
Healthcare Informatics Research: It is a scientific attempt to apply computer fundamentals, statistical methods, and information science to come up with variety of support systems. This research methods focus on enhancing overall healthcare experience for all involved.
Different sections/careers in healthcare informatics could include:
Nursing informatics
Medical informatics
Pharmacy informatics
Consumer informatics
Public Health informatics
Translational bioinformatics
Clinical informatics
Chief medical information officer
Health informatics consultant
Health informatics analyst
Director of informatics
What Are the Key Characteristics of Healthcare Informatics?
All information related to health records of patients, administration and other clinical records is available at a centralized location
Eliminates the need for duplicate tests and automates labour exhaustive procedures
Streamlines medical care Creation of knowledge and information support
Effective communication between patients, staff, managers, doctors, clinical assistants
Electronic health records offer a framework offering all important data like lab/X-ray results, medications, discharge history, patient history, treatment plan etc.
Enhanced administrative functionalities
Compliance of organizational and government standards and regulations
Good quality decision making and least error occurrence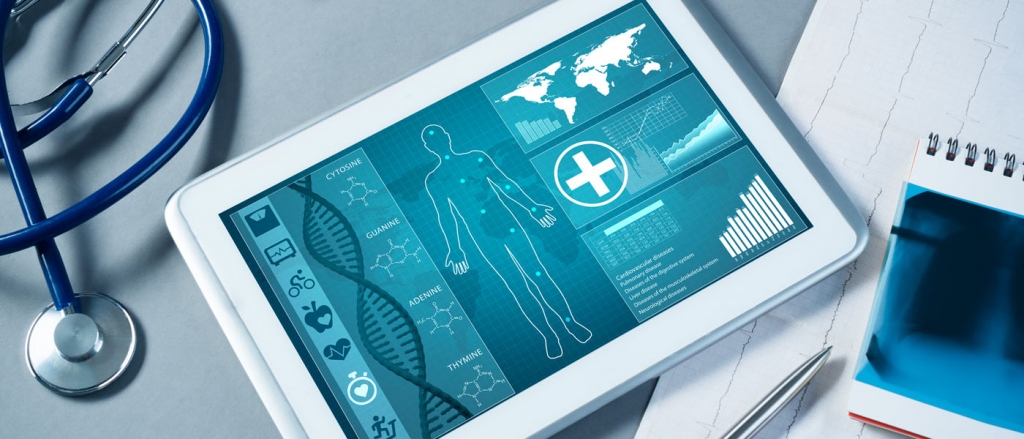 Futuristic & Trending Technologies – Their Impact on Healthcare Informatics
AI has been sweeping world over as a technology attempting to simulate the human cognitive procedure. Organizations are leveraging AI to make healthcare related tools that can analyse and manipulate healthcare data to offer best of information to patients. Deep neural networks are used to search for drug alternatives, prior to its clinical use, so that the best of drugs is developed. AI is helping in finding out cancerous and healthy tissues through the MRI an CT Scan of patients. It also assists in scanning retinas with the help of an effective algorithm.
Augmented Reality/Virtual Reality
As in almost all industry segment, AR/VR are marking their presence in the healthcare segment also. Health informatics is leveraging the potential of AR/VR to its best and the time to come shall see an increased usage of the same. In different areas like patient discussion, surgical assistance, physician training schedules, pre surgery discussions etc., this technology is sure to benefit and increase productivity, decrease wastage of time and energy.
Robotics is a pioneering technology that assists humans in their physical and intellectual tasks. Robotics has been assisting healthcare informatics with the use of efficient machines that help in major surgeries with its high definition visual effects. Robotics help in collecting information, offering precise information in areas like drug delivery, surgery, managing patients and patient treatment.
With the help of nanotechnology, Nanomedicine helps in developing accurate devices for advanced clinical usage. Nanorobots are used to inject drugs into the patient's body, monitoring its effect. This technology is also leveraged in multiple health related segments such as improving drug properties, development of synthetic vaccines, detailed imaging, and diagnosis. Nanobots will also be able to treat a wide range of medical conditions with their sensor systems.
A wearable device, once meant for fitness tracking, is now coming up with competence to detect diseases. The future will show wearables using nanoparticles to diagnose different symptoms and diseases including cancer.
Cloud computing technology offers the best of services – servers, development platforms, storage, network, database over the Internet, through the cloud. It helps health informatics in storing high volume data at reasonable expenses. Real-time data sharing between involved stakeholders becomes quite easy and fast. Remote patient monitoring is possible through the cloud infrastructure. Because of cloud computing, it is viable for healthcare service providers to access any needed information, accurately and speedily.
Speech Recognition Software
Speech recognition is a popular technology embedded in most industry wide solutions. Healthcare informatics is now making the most of speech recognition software, by introducing it in the software applications while surfing through the electronic health records. It does play a significant role by lessening the time spent in searching for information. Voice recognition software is the in thing now, assisting the health industry pick up pace while adapting to technology.
Personalized Healthcare with Portable Biosensors, 3D Printing Etc.
Apart from AI, ML, and wearables, yet another breakthrough in the health informatics arena is the utilization of latest technologies like portable biosensors, 3D printing and more. These devices are getting easier to use, smaller in size and offering a lot more advanced techniques to leverage the healthcare needs. The USP of these devices is that they understand stakeholder requirements in an intricate manner and hence can fulfil their needs at the best.
Predictive and Prescriptive Analysis
Predictive analytics, an important arm of business intelligence, is getting deeply involved in the working of health informatics. It involves different statistical techniques to delve deeper into huge bulks of information, analyse it and predict the outcome for patients. Predictive analytics, over the coming years, will get integrated with the electronic health records and its AI element. Prescriptive analytics is also getting involved in the healthcare segment. It includes algorithms and decision methods to work further on the predictive analytics and show possible course of action.
As We Watch Technology Enhance Healthcare Informatics
It seems magical when we witness the potential of technology revolutionize the healthcare segment. The healthcare IT solutions and services are all set to offer best of convenience, security, satisfaction, and effectiveness to those involved – be it patients, doctors, management, insurance agents, clinical staff etc.
Healthcare informatics is seeing newer advancements with each passing day. It is, for sure, that the future is loaded with many technological wonders that will transform the working of the healthcare units. And we shall be a witness to the same!