If you have a chance to choose your exterior doors yourself it is an opportunity that should be well taken advantage of. Furthermore, it is a task that needs to be undertaken very seriously if you wish to be completely satisfied with the final results, especially since a properly chosen exterior doors promise long term benefits for the entire house, keeping you and your family safe and boosting the value of your property. In order not to miss any crucial issues, here are the things you should take into consideration.
Why are Exterior Doors so important in the First Place?
There three equally important issues when exterior doors are in question. To begin with, you only have one chance of making a first impression and your exterior doors are a big part of making a good one. Secondly, being the entry point of a house they are the front line when it comes to your home security. Lastly, properly chosen exterior doors significantly contribute to the energy efficiency of any residence, a feature that is becoming increasingly important considering our current energy consumption.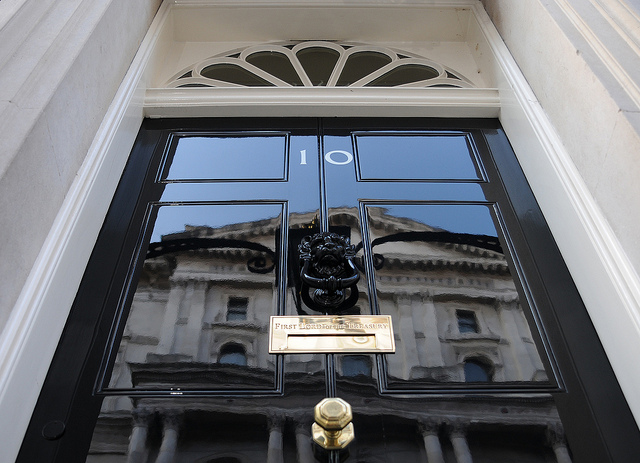 Material
The most commonly used exterior doors materials are wood, fiberglass and steel. Apart from aesthetic preference, the key features you should look at when choosing door material is durability and maintenance. Fiberglass doors would be the most durable ones and those that require the least maintenance. The second place goes to wooden doors, especially solid wood ones, providing they are well lacquered. Finally, least durable are steel doors, particularly in humid areas.
Color
Apart from being a protective factor and durability prolonger, especially in case you opt for wooden or steel doors, the color you choose makes a statement in your overall exterior design. For example, if your house is of traditional design and painted in soft blue choosing a fiery red for your exterior doors will make a positive contrast and add to the dynamics. On the other hand, if you wish to keep it traditional, blend in with the prevailing color palette, there is nothing wrong with it either.
Safety
Being the entrance point of your home, your doors are the first safety barrier and often the only one since we rarely think about more sophisticated safety means when it comes to our homes. Nevertheless,  we learn from a seasoned Sydney-based locksmith that a properly chosen lock is the most important part when it comes to safety in general. Therefore, make sure you pick one that meets all security standards. Naturally, if it is a stylish one, and one does not exclude the other, even better.
Installation 
If you are not sure that you are up to the task, by all means let the professional install it. The reason why this is so imprortant is the fact that the durability and functionality of your exterior doors hugely depends on the quality of installment work. It has to fit absolutely perfectly in order to serve its purpose completely. On the other hand, if you are an experienced individual, enjoy the work, follow the procedure in detail and take your time in doing it perfectly.
Having covered all these points you can rest assured that you did a good job in choosing the most suitable entrance door for your home. Still, in order to preserve the feeling of satisfaction as long as possible, regular maintenance should become a routine. Check if everything is working properly from time to time and react promptly before anything small turns into a bigger issue.