Delhi, the "capital city of India" is a land of chronicles blended with mystical glory of myriad religions, sects and cultures. There are various tourist places to visit in Delhi that suit preferences of different tourists coming to this place. Nurtured in the lap of the majestic river Yamuna, Delhi is the very soul of India. Represented in the Indian epic Mahabharata as Indraprastha, the capital of the legendary Pandavas, the city boasts of an amazing history and rich cultural heritage.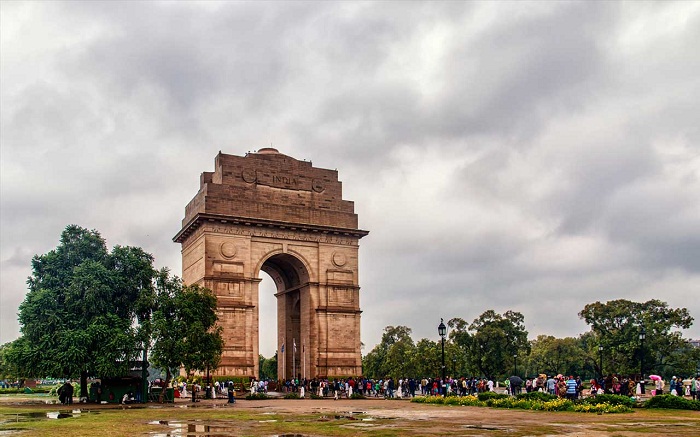 The glorious past of this city is entwined to the fabrics of modernism, Delhi portrays the new face of contemporary Indian society. One must visit Delhi if to experience the soul of India. However, the weather of Delhi always hits the extremes across all the seasons. In summers it can get as hot as 47 degree celsius and in winter it can chill your bones as the temperature drops down till 1 degree celsius. Monsoons are accompanied with heavy flooding due to intermittent rains. The best time to visit Delhi would be from July to February, keeping off the high winter period from mid-December to mid January. It is recommended to avoid the summer months as it gets really hot and humid in the months of April to June. Starting from July to September the time is best for sightseeing around the city. So, it is always better to keep a check on the current Delhi weather before setting out for the city.
Connectivity: Delhi is connected from every part of the country through flights, trains and roads. If you are keen on exploring the train routes, it is recommended to book train tickets well in advance to have a hassle-free travel experience.
Apart from the regular sightseeing spots like Qutub Minar, India Gate, Dilli Haat, Jantar Mantar, Hauz Khas, Chandni Chowk and Connaught Place, Delhi is also an ideal destination for religious visits with a number of religious attractions to explore. The ISKCON temple New Delhi has completely different feel to it. So, even if you are not on a religious visit to the city you will enjoy the serenity and the peaceful ambience of the temple. Also, the Jama Masjid New Delhi is one of the most beautiful monuments in the city that one must visit. Located in Chandni Chowk of Old Delhi, this majestic masjid stands proud with the glory of the past.
There are many places to explore around Delhi as well. One can go from Delhi to Shimla to escape the scorching heat in the summers as it is also one of the most popular getaways from Delhi. You can either opt for bus or train to get to this beautiful hill station, the Toy Train from Kalka is one of the most famous ways of travelling between Delhi and Shimla. It is recommended to have the train booking as it remains packed all year round. It is 9 hours by road to from Delhi to Shimla.
Also Read : 10 Cheap Yet Beautiful Destinations In India For Budget Travelers