Do you live in a small double storey house? Are you looking for a way to bring in more space to it? If yes, then you can install cantilevered stair in your house. This is a very innovative and smart looking types of stair introduced in the market. In case you have not heard about Cantilevered staircases till now, then below mentioned are some interesting facts about these stairs. They are also called as Floating stairs in layman's language. As the name suggests, this type of stairs appear to be floating. Every step is not connected to each other but these are either mounted on a wall or from a stringer beam. This is how the designer will create an illusion of stairs floating in the air.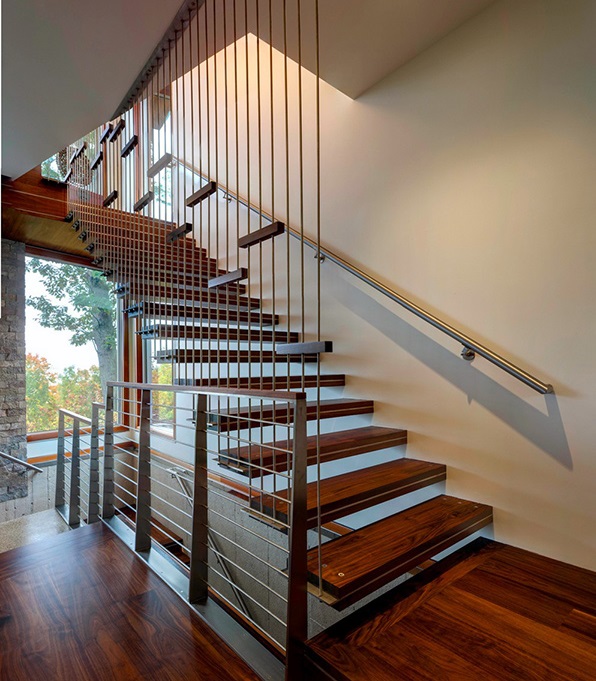 It might appear to be scary but in actuality it is not. There are several benefits that you can avail from installing cantilevered stair in your house.
Do You Want To Know What These Are? Well Here You Go:
Gives a Contemporary Look

If you are person who loves modern art and believe to always live in a new age technology, this type of stair will definitely suit your taste. It will give your house a modern touch, and will make it look exquisite.
Makes You Feel Good

Walking on cantilevered stair is an amazing experience. You will feel like you are walking on the air. Looking at them will give you a feel of entering a modern world.
Adds Value to your home

Most important thing that you need to keep in mind when investing on your home décor is that, the investment should add monetary value to your home. This is main so that in case you plan to sell your house in future, it will add some worth to it. Therefore, investing on floating stairs will increase the overall worth of your home.
Maintaining with Ease

The cantilevered stair is also very easy for cleaning. Most of the materials used to make floating stairs are easy to maintain. Mostly, wood is highly opted for cantilevered stair. These can be easily cleaned with the regular cleaning agents available in the market. 
Easy Modification and Alternation in Designs
In case the cantilevered stair you have installed is no more appealing to you, then making alterations in the designs will be a simple task for you. Unlike the conventional stairs, removal of these floating stairs will not leave any impressions in the wall. The money spend on modification will also not be very high.
Creates Illusion of Space
Living in a small place will definitely make you think to make your house bigger. However, it may not be possible at this stage. But you can definitely recreate your house in a way that it seems bigger than it actually is. The cantilevered stairs will help you get this kind of illusionary effect. It can be fixed in smallest place and thus creating innovative designs is possible.
These are some of the benefits that you can avail by installing cantilevered stair in your house. If you browse the internet you will find great designs and types of floating stair. You have glass based floating stairs that are extremely strong unlike it appears. Thus, it is in great demand today among the people. You can also find steel based stairs in the market these days. Then you have wooden floating stairs that are always in demand. These are some types of commonly found options for floating stairs. You can customize the stairs to go with the sync of the interiors of your house.
So, with all the information provided above, make sure that you get the best out of your cantilevered stair experience.