Zombie boot camps are still relatively new, but are becoming increasingly popular as more and more people opt to spend special occasions battling the undead. Who wouldn't want to get a bit scared, a bit physical, a bit 'survival' and completely lose themselves in a completely crazy environment? The Walking Dead certainly created legions of zombie fans, but cult films long before that series embedded our love of brain noshers long before then. So it's no surprise an immersive experience enabling people to get up close and personal with their favourite fantasy monsters is proving so popular.
Whether it's your birthday, stag do, hen do or you're just doing it because you fancy a challenge, it is likely you won't be able to prepare for what's going to happen. However, if you do want a bit of an inkling, here are a few things to expect from a zombie boot camp:
It's Not For The Faint Hearted
If you're doing a non-contact zombie boot camp you're going to be scared, there's no way around that. This isn't going to be like some walk through ride at a theme park, the zombies inside these places are only after one thing – your brains! Don't expect to be laughing and dusting your shoulders off after someone makes you jump – this experience is much more intense than that. You'll be trained and completely immersed in the situation at hand – you are going to have to battle your way through scores of infected individuals, the only way to survive is to get stuck in and complete your mission! If you're doing a zombie boot camp with contact you're going to need to prepare to get really physical. These straight from the grave fellas don't hang about – you will need to actually battle them.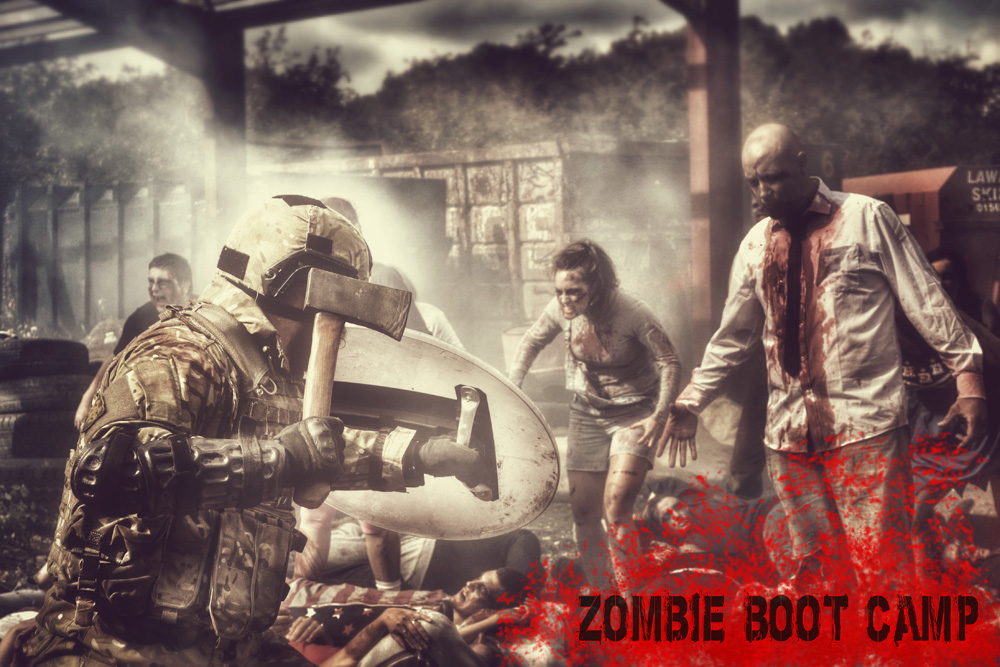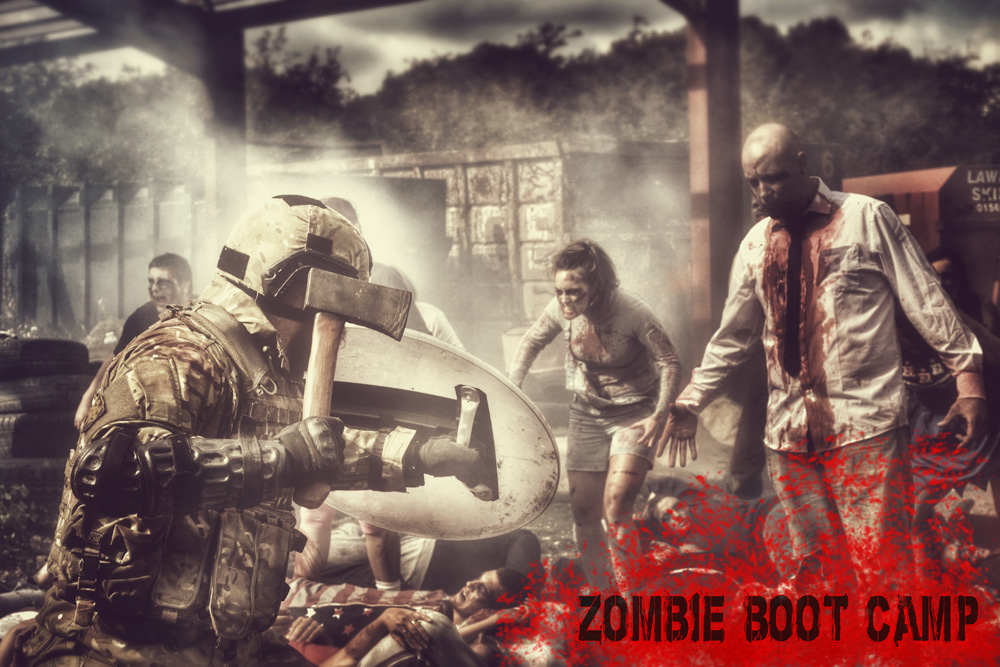 You Can't Be Drunk
Plenty of people see these zombie experiences as a bit of a laugh or giggle – they're not. This is a fully immersive experience where you will end up believing your life is at risk if you don't battle the undead. For this reason, you simply cannot be drunk when you come to take part. There aren't any zombie boot camps that will accept someone who is drunk, so don't book in if you're thinking of going on a drinking session before arrival – you'll lose your booking fee and won't be let in – only those with their wits about them can battle the undead!
You'll Be Involved From Arrival
You'll get a safety briefing when you arrive, but don't think you're going to be spending most of your time relaxing and chatting – you've got a mission to complete! From the beginning you're going to be completely immersed in the experience, with extensive training and mission planning. There's no messing around when the infected need to be dealt with.
It's Best Enjoyed At Night Or At Sunset
You can complete zombie boot camp experiences during the day, however, they are best enjoyed at sunset or at night. Quite simply, the lack of light provides a much more terrifying and authentic experience.
You'll Need To Book Well In Advance
Because zombie boot camps are still relatively new, many people don't realise exactly how popular they are. They are extremely popular, which means you need to book yourself in well in advance. This is especially relevant if you're booking a large group in like a stag or hen party.
You'll Need To Wear Clothes You Don't Mind Getting Covered In Blood And Maybe Tears
Although there will be some equipment available for hire at the venue as well as certain equipment provided, you'll still need to wear appropriate clothing. You'll need to be able to move around in it, and it needs to be strong enough to withstand your missions.
You're Going To Be Surprised
Everyone who has experienced a zombie boot camp knows it's not what they expected when they booked in. You will come away surprised and impressed at how immersive the experience is. There's a reason you won't find much information on any of the zombie boot camp websites – they don't want to ruin the surprise. So make sure you expect the unexpected.