Jodhpur is the city of the blue buildings; it is the city of royal elegance and classic traditions. Many people often visit Jodhpur to witness this royal grandeur; make it different and special for yourself and your loved ones with a trip to the city on a luxury train.
There are several luxury trains which take you to Jodhpur. Let us explore these trains and check which one suits you the best.
1. The Maharajas Express
Considered as one of the costliest trains of the world, Maharajas Express is known for its exquisite beauty and warm hospitality. Guests are greeted in the traditional way with tilaks and garlands. They can stay in rooms which evoke a sense of royalty with beds draped in linens and equipped with traditional furniture. The train is a blend of classic and contemporary lifestyle with the presence of free internet facility, air conditions, newspapers and television sets.
The Maharajas Express train comes with two dining cars, laid with soft carpets and decorated with rich paintings. From authentic Rajasthani cuisines to global delicacies, you can get food as per your taste; served on silver lined plates, hand cut cutlery and Swarovski glasses.
2. Deccan Odyssey
The Deccan Odyssey train comes with 21 coaches, all air-conditioned and providing facilities like free internet and streaming video channels. Get high with friends at the well-stocked bar of the train or get into a business conference at the high-tech conference cart. The SPA and massage parlor of the luxury train de-stresses you at the end of a long journey.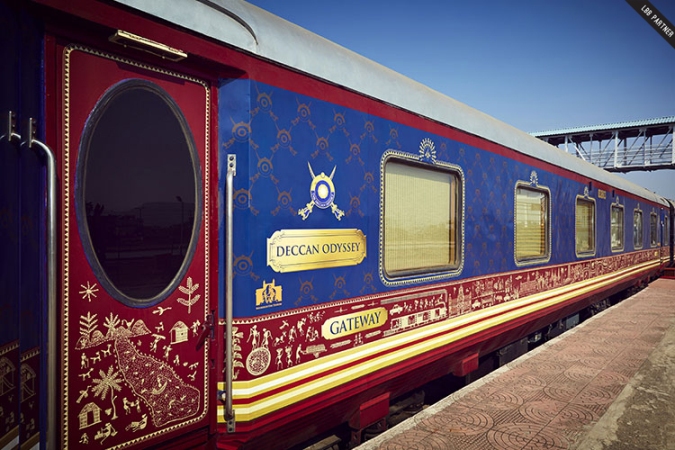 3. Rajasthan on Wheels
This train is a modification on Palace on Wheels; it is more airy and rich with exquisite interiors and modern looks. This luxury train is ideal to bask in the regal life of Jodhpur as you can stay in rooms which resemble palaces, hunting resorts which are equipped with queen-sized beds and writing tables. The train also has SPA where you can get Ayurveda treatments while the English-speaking guides take you to the tourist spots on air-conditioned vehicles.
4. Palace on Wheels
One of the oldest luxury trains of the country, Palace on Wheels is characterized by live television, Wi-fi internet and guest cabins with attached bathrooms. Food is cooked by master chefs and served in traditional Rajasthani way by staff cladded in typical local attire. The well-stocked bar and the lounge are the best places to spend some exclusive time with the loved ones.
Where You Can Visit?
These luxury trains take you to these places :-
1. Fort Museum
This is one of the finest museums of Rajasthan. It stores royal palanquins, like the Mahadol palanquin; a carriage with a golden dome. It also consists of arms, armors, costumes, paintings and decorated period rooms.
2. Government Bangur Museum
This museum has several religious images, like that of Sukali Mata brought from Auwa and idol of Vishnu. It also treasures rich paintings belonging to the Jodhpur school of paintings and old coins.
3. Jaswant Thada
Popularly known as the Taj Mahal of Rajasthan, this marble cenotaph is awe-inspiring with intricate carvings.
4. Jhanki Mahal
Originally the residence of royal ladies, this building is at present a museum displaying royal cradles. These cradles are unique being embellished with gilt mirrors and figures of fairies, elephants and birds.
5. Mehrangarh Fort
Considered as one of the most well-preserved and largest forts of the country, Mehrangarh Fort narrates the story of courage and sacrifice. The walls of the fort still bear hand prints of royal ladies who plunged themselves into fire when their honor was at stake.
6. Phool Mahal
Originally a pleasure hall where monarchs used to entertain themselves with dance and music, the hall is worth a visit with its glittering golden tombs and a treasure of royal paintings andraga mala.
7. Umaid Bhawan Palace
Also, known as Chittar Palace, this is a sandstone building, exhibiting Indo-colonial art and architecture of the 1930s. Spend sometime in the palace checking out the antique clocks, bob watches, royal crockery, weapons, and airplanes and hunting trophies.
Hence this vacation is just not to explore the gems of Jodhpur but to experience the opulence and royalty travelling on any of these luxury trains.