Delhi is just the plain twist to those tales you often hear from seniors. It has the vitality of various mixtures of traditions as well as culture among the prime cities that contains the hip and stiff citizens of all times. One of the best ways to appreciate Delhi is to visit some of the finest places there and get to taste the exquisite dishes just so you will never forget how it feels like to be in Delhi.
Buttered Chicken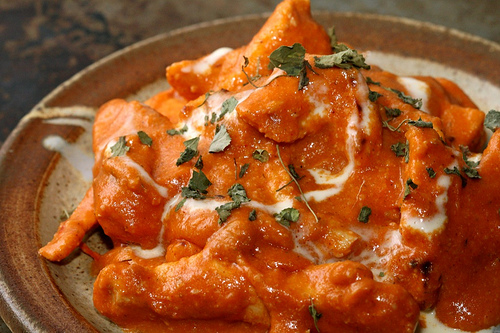 The street foods in Delhi are a must for everyone, even those who are very much concern with the cooking hygiene of the food and the person who cooked it. The tanginess as well as the delish memory that the tasty foods can bring will add up to your experience. Delhi is popular for its chaats and this part of India will make you feel spoiled and loved. The sounds of the spoons of those who eats with you will make you feel orchestrated. You will surely remember how you and your companions ate while you are in India. During the peak hours outside of the Andhra Bhawan you will find buttered chicken. Most of the people who get to eat here always asks for an extra butter. Restaurant coupons have agreement with some famous food product sites such as Foodpanda, Swiggy, Dominos and McDonalds.
GolGappe
If you are looking for an authentic Indian food, Panipuri, Gupchup or Puchka will make your days in Delhi complete. The tasty and sweet and sour filling inside will make your stay worthwhile.
Khan ChaCha
This was established in the early times at a small venue. During those times it only served rolls with chicken and vegetables. Through the years, it grew and the place just started to gain a lot of patrons with the word of mouth as it is thrill into a multi-million institution to this day.
Paranthe wali Gali
This is a flat bread by the Indians. They stuff it with vegetables, chicken, minced meats, eggs, paneer and grams and then they serve it with butter, sour, lime and pickled mango. It is suited for breakfast, snacks, lunch and even dinner.
Karims Restaurant
This is situated nearby Jama Masjid, which is a hidden land and it is not famous In the area. This restaurant has been an old time favorite of the visitors and so with the locals. The kebabs along with some other delish foods are truly mouthwatering. It has all the spices to make the dishes more flavorful.
Dilli Haat
This plaza is an open air venue that pays the homage to different types of dishes being offered in various parts of India.
The elders in Delhi usually gather to this place to taste some of the best dishes being offered by the restaurant. There is also a bazaar around that offers you the shopping experience that is typically unique with a twist.