As in past occasions, Samsung introduced last September phablets the new high-end Samsung Galaxy Note 4 and Samsung Galaxy Note Edge, which become the most popular. And now new hopes are set for the devices like Samsung Galaxy Note Edge 2 and Galaxy Note 4.
If we talk about the Note 4, despite being the fourth generation of the Galaxy Note in the family, we face a device with significant differences from its predecessor. And on other hand, Samsung Galaxy Note Edge was full of surprises with its display. Both new Galaxy Note devices features a powerful hardware features (qHD display, 2.7GHz Snapdragon processor 805, fingerprint reader, etc.), a design that incorporates the first use of metal, a camera with optical stabilization and a pointer S Pen with more sensitivity. And we must mention the special part of the Note Edge – the display with a bent on right. And now more resolution, 4K resolution display could be the part of the Samsung most high-end device.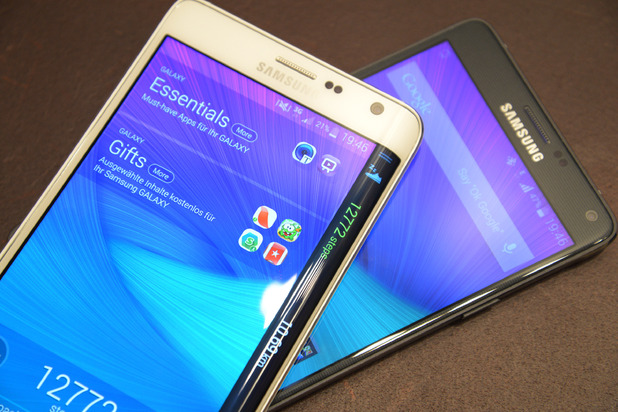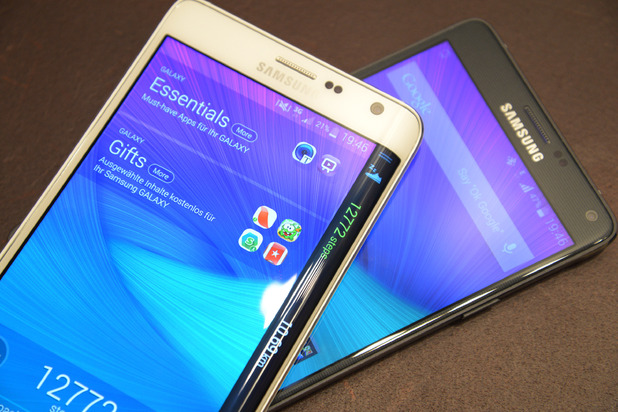 Samsung Galaxy Note 4 for the first time in the history of the Galaxy Note range, Samsung has decided not to increase the screen size of the new family member but has remained at 5.7 inches. This has allowed Samsung slightly reduce the size and thickness of the phone than its predecessor, but still meet before a large device that will back those who seek a compact terminal. Compared to the iPhone 6 Plus, one of its main competitors, both phones have very similar sizes and weights, although the terminal of Apple is thinner. When compared to the Nexus 6, another of its great rival, the Samsung Galaxy Note 4 is quite thinner than the terminal of Google. Also, we must mention Samsung Galaxy Note Edge is giving competition to its own brother in the premium devices.
Samsung has also listened to users who have been demanding the use of more sophisticated materials than plastic and the body of the Galaxy Note 4 and Galaxy Note Edge is surrounded by a metal edge that reminds us to Galaxy Alpha. Also, the full metal body smartphone the Samsung Galaxy S6 is also coming.  Samsung has tried to give a sophisticated look to the rear plastic cover in Galaxy Note 4 a texture that mimics the skin. The Galaxy Note 3 already used this resource and even incorporated a fake stitching is thankfully not present in the new model because it was quite artificial. Despite Samsung's attempt to imitate skin, simply touch the back cover to note that it is not skin but plastic. In any case, we prefer this finish as the pattern of dots that incorporates the Galaxy S5.
And now this all would be missing in the Samsung Galaxy Note 5 and Galaxy Note Edge 2, as we are expecting a better design with uni-metal body.