Your big day is around the corner – have you checked everything off your wedding to-do list?
Dress? Check (yay!)
Venue? Of course!
Caterers, bridesmaid dresses, photographer? Check, check, and check!
It seems like you've got everything figured out – except, with all that planning, you forgot about your wedding day makeup plan! Don't fret, though, we've got you covered. We know that your makeup has to be just as glamorous, if not more glamorous, than your wedding dresses, accessories, and shoes, and you want it to stay that way throughout the day.
Why? Because you want to be worry-free on your wedding day.  Here are some awesome wedding-day makeup hacks that you won't want to miss out on for your big day. Check them out here!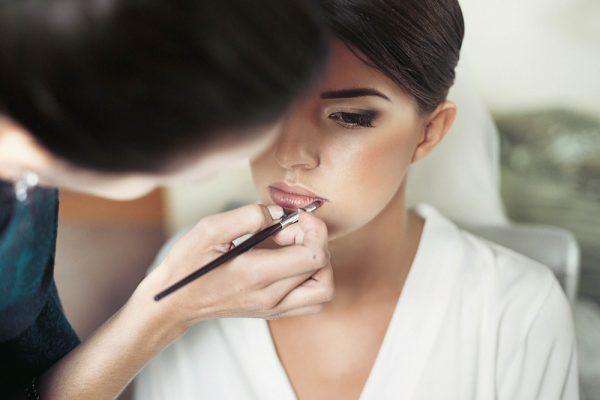 Lip Color that Lasts? Get Your Concealer On
If you're desperate to keep your lip color going all day long, we've got an awesome tip for you – applying a touch of concealer to your lips before you put on lipstick is the perfect way to guarantee long-lasting lip wear! That way, the color will stick better than if you had just glided it onto your lips. Follow this tip to ensure that your perfect lipstick, well, sticks, through all the kisses, dinner, dancing, and celebrating!
Last Minute Makeup Checks Happen, Be Prepared
It's okay to do a few last-minute makeup checks (you are walking down the aisle with a bunch of people staring at you, after all), but that doesn't mean you have to cart around your makeup kit with you. Stash a few Q-Tips in your bouquet while you make your way to the final staging area. Another quick tip though? Make sure you get rid of the Q-tips before you actually walk down the aisle – you don't want to drop them while you're walking!
Fight That Under Eye Puffiness
This is less of a makeup trick and more of a before-you-apply the makeup hack. If you're having issues with puffy eyes, place two spoons in the freezer for a few moments and then press them to your eyes for a minute or two — this should constrict red blood cells and get rid of those puffy eyes, so you can swipe on that glamorous makeup without a problem!
Find the Ultimate Setting Spray
This is going to be a big deal! There are tons of tricks we can give you to help keep your makeup in place but finding the perfect setting spray before your big day is going to be the biggest hack of all. Everyone is different, so you'll need to research the spray that will work best for you, but we suggest that you definitely make this a necessary expense for your makeup budget!
Oily Skin? We Got You Covered
Oil blotters are going to be your best friend on your wedding day if you happen to have oily skin. Invest in a great brand if you can – one that works well for your skin and your budget – but if you accidentally leave it to the last minute, here's a fun tip, coffee filters work just as well!