Driving lessons aren't cheap and you have to pay every time you take a test so if you choose the wrong instructor it can cost you dearly. Because of this, you ought to take your time over your decision. Don't just go for the first one you find in the Yellow Pages or through an online search. You may learn to regret it. Here are some of the steps you should take and things to think about when making your search:
Check DSA Approval: It's important to check that your driving instructor has DSA approval and is an ADI.  It's easy enough to do this because they should have a badge in their windscreen to this effect. If they don't, look elsewhere. You don't want to spend your money on someone who isn't properly trained. As an added bonus, DSA licensed instructors will also be checked to see if they have a criminal record.
Driving School Or Independent: When you're looking for instructors there are two main options open to you: you can either go through a driving school, which will usually have several instructors under its umbrella; or go for an independent instructor working for themselves. If you do opt for a driving school you should still make sure you talk to the instructor themselves rather than a salesperson to make sure you feel comfortable with them.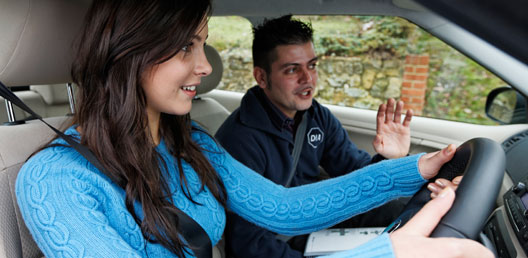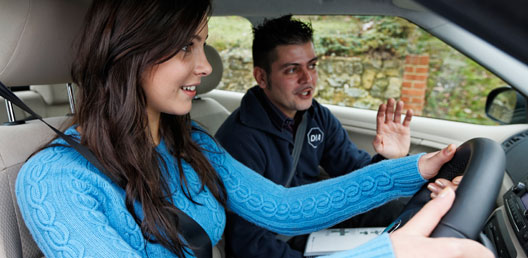 Search Online: When you're looking for a driving instructor, it's important that you  compare a few of them rather than just going for the first one you find. The quickest way to find a list of driving instructors to compare and choose from is to do an online search. It's best, of course, to restrict this to your local area so you find a driver that knows all the roads around you like the back of their hand and can get to you quickly.  So, for example, if you live in Oxford simply type something like

Oxford driving school

 into a search engine.
Ask Around: If you'd feel more comfortable having a driving instructor who comes with a personal recommendation, then make a list of any friends who have recently passed their driving test. Then ask them about their instructors and if there are any that are particularly highly recommended. It's advisable to do this if you are feeling very nervous about starting your lessons. You want to feel as secure as possible when you start.
Meet Them In Person: When you've got a shortlist of possible driving instructors you shouldn't just have a quick conversation with them on the phone. Go and meet them to see if you get along with them. This would be the time to discuss your expectations and any concerns you have: for example, do you feel comfortable enough to do a more intensive course or are you quite a nervous person who will need to take longer mastering the basics? If you want to, ask to see references from previous students.
Check Costs: Whilst the cheapest driving instructor is by no means always the best, you should take you time looking around to get a good deal. You need to find out things such as whether the cost of the lesson covers the full hour of tuition as well as pick-up and dropping-off time. Can you try out initial lessons for free to see if you like the instructor's teaching style? Does the driving instructor offer a discount for block bookings and what is their policy for last-minute cancellations? Would you still have to pay for the lesson? All of these are important questions to ask.
Know Your Rights: Lastly, once you're chosen your instructor don't be afraid to complain, ask for your money back or ask for a different one if they aren't up to the standard you would expect. A driving instructor should always be punctual, respectful and have a clean and well-maintained car. They should also have worked out detailed lesson plans each time, so you can be sure you are making clear progress. Remember that you are the customer and are paying to learn to drive so speak up if there are any issues.