Location: The hotel is located on the beach, 3 km from the city centre. The hotel is only 10 minutes from the Bahrain National Museum, 2 minutes from the Seef Mall, and 15 minutes from Bahrain Font.
Hotel features: It has five restaurants and two bars, 24-hour room service, and a spa. A private beach with towels and umbrellas, indoor and outdoor swimming pools, outdoor tennis court, and an air-conditioned squash court are also on site.
About rooms: Spacious guest rooms feature modern decor with traditional Arabian accents. Marble bathrooms are equipped with rainfall shower-heads and hair dryer, and all rooms have views of either the gulf or the city.
The Hotel Mercure Grand seef: located in Bahrain city, near Dana Mall, Seef Mall and Bahrain Mall, and not far from Bahrain Mall, and Khamis Mosque.
Hotel Features:
The hotel has an outdoor pool. Other packages include a poolside bar and a lounge/bar. Features available in the rooms includes, Telly which come with satellite channels. Guest rooms are equipped with sofa beds, kitchen and refrigerators.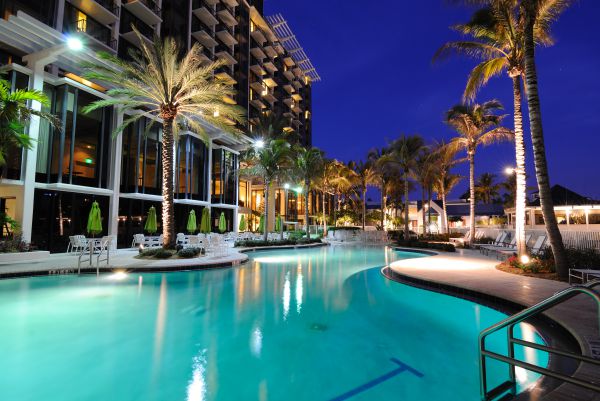 Wedding by the Gulf Hotel Bahrain
The Gulf Hotel offers Bahrain's most beautiful and elegant wedding settings, when it comes to ambiences and location. They design your ceremony whether your preference is a cherished traditional wedding, a sophisticated glamor or exclusive intimacy. A free wedding package for the couple includes free wedding cake, free massage an interesting photo taking session by a qualified team of profession from the hotel staff. Ceremonies may be conducted indoors or outdoors in the ballrooms or on outdoors on the tropical garden and lagoon styled pools.
Their experienced wedding coordinators will make your dream come true, alongside wedding packages.
Hotel Sofitel Bahrain Zallaq Thalassa Sea & Spa
A dream wedding on a sandy beach by the Arabian Gulf, with specialist wedding planners to arrange magnificent reception, for up to 650 guests in the ballroom or 150 on the private sofi Island.
Honeymoon Package may include Couple Massages
Movenpick Hotel Bahrain Whenever in search of a place for your meeting, wedding conference, and other events, Movenpick Hotel can accommodate all your needs in a friendly manner. Located opposite Bahrain International Airport in Muharraq Town and 10 minutes away from the center of Manama, It offers an excellent service with a blend of Arabian traditional and a touch of Swiss Hospitality plus World-renowned cuisine to cater your needs. A dedicated meet and events team offers an attentive service and reliability to ensure complete success of your events and an unforgettable experience. Ballrooms and well-appointed meeting rooms are fully equipped with a state of the technology. This includes wireless Internet Connection, Laptops, Video Conferencing and Secretarial services upon request.
Ramee Grand Hotel
Wedding are facilitated upon arrangement, advanced IT suit, professional and equipment's a dedicated team at your service. A free photo taking session is offered by the hotel, but depending on the number of the guests, and services required. The wedding conference halls can accommodate up to 700 guests on average and 150 guests on an open private beach, a secure and ample parking and security assured.
Author Bio: Zara Andrew is from Scotland, UK. She is a reader and guest blogger. She has been writing contents on the web professionally. She shares her experience through her articles on Travel, Education, and Technology. Currently she is working for Bahrain visas.