Who knew that this amazing looking, magic-like piece of glass, was once a glossy flowy liquid that can be inflated, deflated, molded and shaped into a piece of one's imagination. All you need to bring to life this magic liquid is your creativity and your imagination.
A major shift in the definition of what constituted "art glass" came with the 1977 publication of the book "Glass – Art Nouveau to Art Deco" by Victor Arwas. Following the book's publication there was a growing recognition that moulded, mass-produced glass with little or no decoration but high artistic and fabrication quality such as that produced by Lalique should be considered art glass.
Glass art is more popular for its artistic approach than its utility. For instance, you would still find people with the collection of antique perfume bottles. These bottles were originally designed out of competition and fashion, however, today they are considered as cherished pieces of art.

Glass Art and Techniques   
Glass art can be made using various techniques – Stained glass, Blown glass, Kiln form glass, flame worked glass, cast glass, technique.
One of the popular types of glass works is flameworking; also known as torchworking. It is an art of melting and shaping glass using a hot torch. This technique is used to create small and beautiful pieces with intricate design and detailing – perfume bottles, abstruct/ organic sculpture), jewelry with exclusive glass beads.
Emily Williams (Virginia Glass Artist), makes beautiful glass art in a weaving form with delicate web-like contemporary décor pieces using the flameworking technique. She says the key behind (creating the piece) or the whole process is, to keep the torch moving, and not over exposing any point to the hot torch for a long time. It's a very spontaneous process, almost like drawing in a sculptural form. Also, holding the glass firmly over a stable surface helps to build and weave the glass art pieces into a particular structure. It requires a lot of practice and techniques. Have a look at the beautiful pieces made by her (Given below).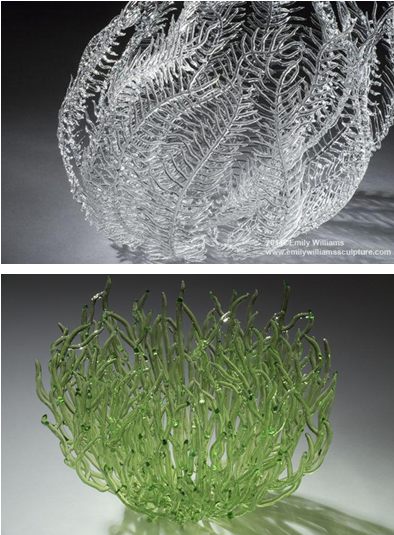 Glass Art in India 
Compared to other countries, glass in India has not been progressed to the level of art. It is very rare to see some nice glass art piece. Glass in India has only been confined to commercial production at large using blown form in a mould and Bengal making in factories by skilled labour and also a major part of the business of curios and artifacts get done on the flame by skilled artisans. Below are a few pictures of art pieces (flame work) by Artisans from Firozabad.
One can find aesthetically crafted pieces reaching to such artisans but what if one wants to design their art on their own or someone who wants to follow their passion of glass art?
Such education is missing in India. The suitable glass art courses and tools!
Mmm…difficult to find. But wait. We said difficult, not impossible.
Today, courses of flame work glass art classes are available in India. Thanks to a company named "Glass Sutra", has come into existence.
How Glass Sutra is bringing the change
Glass Sutra is a glass art studio founded by Reshmi Dey spread across 5000sq. ft. in Delhi, India. She is an enthusiastic glass maker who aims to spread the magic of glass making in India and take it to the international level. Glass Sutra is not only a glass art studio but it is one-of-a-kind creative space, providing all national and international glass art appreciators, collectors, artists, professionals, and enthusiasts, the liberty execute their artistic expressions, originality, innovation, and experimentation through glass. It is one of the very first and exclusive, comprehensive educational and design centers of its kind in India for students, individuals, artisans, artists and designers who love experimenting with glass.
Glass Sutra doesn't require students with any previous experience in glass making/art. They teach the basics to the students, using which they can design their very first work of art. It is comprehensive and very much accessible to everyone. They provide glass art classes as a corporate team building solution too. Imagine a programme where the whole team bonds over art. Workshops and exclusive events/exhibitions are also planned for a wide range of audience at the studio to provide hands-on experience in glass art.
Glass Sutra aims at bringing about a change in the way Glass art is perceived in India. It aims to help people and the glass artists' community at large by making this form of art everyone's go-to art class. For more details, please call: +91 9811992770