Where marine reminds you of titanic, fixing damages of ships and correcting misalignment of shafts should remind you of only one company: FixturLaser.
Marine engines require a great deal of precision and supervision while operating. These are giant beings that have a lot depending on them. Prop shaft alignment and misalignment in the marine engines can lead to further complexities. The pressure and vibrations caused by the rotation of misaligned shafts can cause problems in its functioning of the machine. This is extremely dangerous and disastrous because it can lead towards failures in the drive shaft assembly itself. Other equipment like nuts and bolts are also damaged.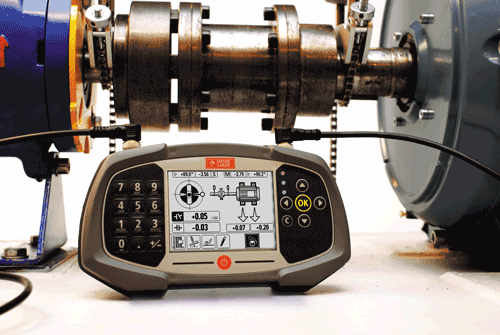 The alarming and frightening outcomes of such misalignments can be briefly stated as leading to cracks, leaks and ultimately sinking. Marine engines therefore are required to be checked periodically and realigned accurately to eliminate any chances of further damages.
Nicol & Andrew distributes the Fixturlaser range of Prop Shaft Alignment Systems which have been specifically developed for measuring and correcting the alignment of driven shafts in marine applications. These are powerful and user-friendly tools for checking and correcting the misalignments in marine engines. Its accuracy can be clearly seen by the fact that its measurements are precise within 1/100th of a millimeter.
You will find the best and ultimate solution for all your marine misalignments and problems here at Fixturlaser. Our prop shaft alignment systems are durable, reliable and easy to use. They are cost effective as well. No other market offers the wide range and high quality of products as we do.
The prop shaft alignment systems come with an LCD color touch screen interface and 3D color animations. It is an interesting and easy to use tool, perfect for your marine requirements. It also comes with a live onscreen platform which is to inform the users about the effects of shimming and corrections to engine or shaft position.
The Fixturlaser alignment tool also has a Centring System which is used for the measurement of inside diameters. It measures the rotational center position, in two axes, in relation to user defined reference points for Prop Shaft Alignment.
Laser Prop Shaft Alignment Systems of FixturLaser are durable and reliable. Customer satisfaction is our top most priority. We guarantee you that you will not find such a brilliant product with such a low price anywhere in the market. To further emphasize this fact, we would like to inform you that Nicol & Andrew, the pioneers behind, Prop Shaft Alignment Service, have over 50 years of experience providing support to the marine industry. They have had outstanding feedback and remarkable achievements. They have expertise in all sorts of machinery repair and alignment problems. The company provides certified onsite prop shaft alignment services all around the world.
Browse our site to find out more about the technical specifications, warranty and features of Laser Prop Shaft Alignment Systems. Also, find out more about the wide range of products that we offer and choose the one optimum for your needs and engines.