Whether it's just happened or you've opted for a long engagement and you're only just getting round to the process of planning your wedding; there's always one discussion topic which is right at the top of every bride and groom-to-be's list…the honeymoon! Whilst many make the decision to have a relatively small and low-key wedding ceremony and reception, there's often an ulterior motive for this; to be able to save enough money to allow for the most luxurious honeymoon possible and if this sounds like you, we think we've found the perfect destination – the Turks and Caicos Islands.
Where Are The Turks and Caicos Islands?
The Turks and Caicos Islands are situated around 550 miles South East of Miami, Florida, just beneath the Bahamas and to the East of Cuba. Whilst technically sitting in the Atlantic Ocean, this collection of 40 islands and cays is widely regarded as one of the most luxurious destinations in the entirety of the Caribbean, a region synonymous with luxury!
Of the 40 islands and cays, only eight of these are currently inhabited which makes the destination even more appealing to those longing for a relaxing break as a newly married couple. Dreams of spending the day on a desert island are a reality on the Turks and Caicos Islands and you'll find that a multitude of day trips both by air and by boat are run to those islands which aren't inhabited, as well, of course, to those which are!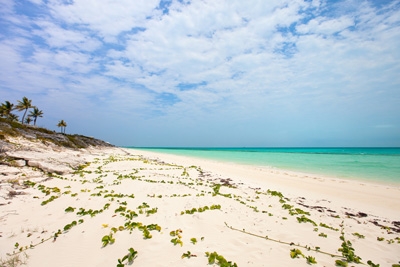 Why Choose Turks and Caicos For Your Honeymoon?
For some time, the Turks and Caicos Islands have consistently been regarded as one of the most exclusive Caribbean destinations for couples on their honeymoon and it's easy to see why! The Island's boast some of the world's best beaches (having won numerous awards for this) alongside fantastic year round weather, luxury resorts and beautiful turquoise waters. Few places in the world are as luxurious as Turks and Caicos and it's the perfect place for you to start the perfect life together.
Which Resort To Book For Your Honeymoon?
Your honeymoon should be special and the most luxurious holiday you've ever had and likely ever will have! As such, it's only right that you want to go for something nothing short of amazing and, as far as we're concerned, that is Alexandra Resort. This luxurious resort occupies 600 feet on the world famous Grace Bay Beach and honeymooners simply love the uncrowded beach and the first class service offered by the resort's own beach attendants. On Grace Bay Beach at Alexandra Resort, you'll be able to relax and unwind like you've never experienced before, with the attendants arranging towels, chaises, umbrellas, water sports equipment and ice cold drinking water for you all day long!
When it comes to the suites, you'll find a fantastic range of honeymoon suites on offer in the resort, all of which feature large decks or patios alongside room service breakfast whilst you overlook the tranquil waters and white beaches.
Many are still to discover quite the luxuries which the Turks and Caicos Islands have to offer and, as such, this presents the perfect opportunity for those currently looking to book their honeymoon to get ahead of the game and secure a resort in one of the world's most luxurious destinations!