Weddings are some of the best moment's people cherish for the rest of their lives. Subsequently, the honeymoon for newlyweds is supposed to be as memorable. More and more people are embracing the idea of having their honeymoon far away from home. This not only provides them with an exhilarating experience but also makes them freer. One acclaimed destination for newlyweds to spend their passionate honeymoon is in Turkey. Turkey is rich in history, has spectacular beaches, picturesque historic sites and battlegrounds and an alluring landscape. It is found in both Asia and Europe hence its rich history and welcoming climate. The luxury hotels here are just as inviting and honeymoon chasers are bound to have a wonderful stay. Here are some of the hotels newlyweds are bound to enjoy during their stay in Turkey.
· This is a five star hotel found in Istanbul.
· It is centrally placed giving a scenic views of the city.
· The service offered is top notch and the staffs are friendly.
· The food served here is delectable giving the traditional meals a modern touch.
· The strategic position further ensures a trip to all attraction sites is short.
· The prices are different for standard suites and luxury suites.
Hotel Sultania
· The hotel is located in Sultanahmet district, a very spectacular location for a romantic getaway.
· The hotel offers luxurious activities with an expansive heated indoor swimming pool, a well-equipped gym and roof top restaurant.
· Further enjoy a famous Turkish bath in the Turkish Hammam and sauna.
· The cost for spending a night is about $400 or more depending on the suite one chooses.
· They also offer top of the shelf body treatment and the spas here are excellent.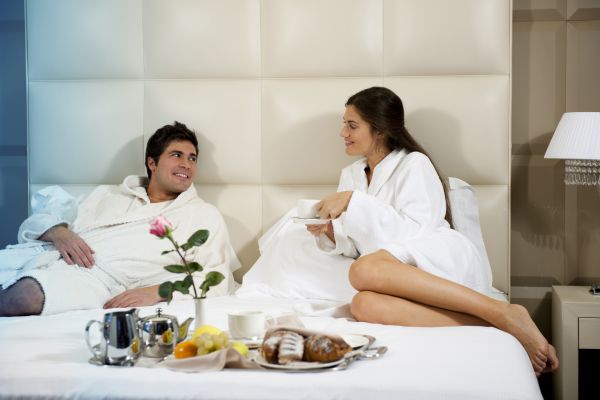 Four Seasons Hotel 
· Also have a Turkish bath to give visitors a new experience.
· The service offered here is world class.
· All the luxuries are provided from fully equipped gyms, sauna and expansive conference rooms.
· Has both indoor and outdoor swimming pools.
· With its amazing architectural designs one gets a spectacular view of the Bosporus city.
· Plus all rooms have LCD televisions to make the honeymoon just as great from indoors.
Swissotel Grand Efes Izmir
· Located at Izmir this is another popular hotel for honeymooners.
· With their air conditioned rooms and LCD televisions indoor activities can be as exciting as outdoor ones.
· Has two swimming pools one inside and the other outside the hotel.
· There is further free Wi-Fi connectivity in the hotel.
· A tennis court and a gym can also provide a fun way to kill the afternoons.
· The customer service is first-class and the staffs is always ready to help.
· A night at the hotel costs from 150 to 350 pounds.
These, among others, are some of the best hotels for honeymooners aspiring to have a time of their life in Turkey. It is prudent to book for the suites in advance since they may offer amazing price cuts or deals. When booking beware of swindlers so avoid booking in other sites other than the official hotel site. This will save the disappointment of arriving at the hotel only to find the reservation made is not legit. It is also important to note that all holiday makers visiting Turkey need Turkey visa. Application for a visa can conveniently be done online. Thereafter, the newlyweds are free to visit Turkey and have an unforgettable honeymoon.