The DJ craze has taken the world by storm as mixing equipment has become ever more available to the masses, at least as far as cost is concerned. But even though the basic gear may be more accessible than ever (even a couple of iPods can technically make up the bulk of a novice DJ's mixing table), many people may still have problems finding the funds to get started. Cue the mobile DJ apps found in iTunes' popular App Store.
A mobile application featuring digital turntables may not exactly be the setup a pro would choose, but these modern DJ apps all provide enough functionality to keep the home mix-master sated. And the best part is that these options can all be had at a small fraction of the cost of professional DJ gear.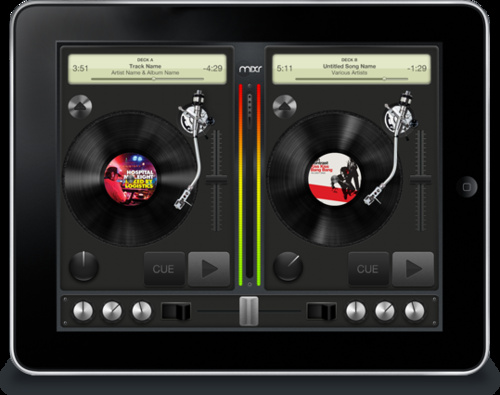 Cue Play DJ – iOS
Many beat aficionados regard this entry as the best DJ app available for mobile — and it isn't hard to see why. The high functionality puts an impressive level of control in the user's hands and allows them to manipulate every track down to the smallest detail. Those who are just getting started on their DJ journey have a graphic equalizer at their disposal, which makes beat-matching a breeze. There is also a "hot cue" function that allows the user to input samples, loops and other effects into a song.
Virtual DJ Remote – iOS
This app is based on Virtual DJ's popular computer program, and its layout is mostly the same. The catch is that this app is used primarily as a controller for the aforementioned computer program. That said, users can access many of Virtual DJ's popular features, including video mixing and audio broadcasting over the Internet. The app even has the ability to recognize the user's music taste based on history and can then make recommendations about which tracks to play next.
Djay – iOS/Android
Djay by Algoriddim is about a complete mobile DJing option as one is likely to find. The app provides access to the users library of music via iPod or iPhone as well as cross-fade control and a three-band equalizer. Djay can even detect the beats per minute of the track currently playing.
Touch OSC – iOS/Android
Like Virtual DJ Remote, Touch OSC isn't its own DJ program, but rather works as a MIDI controller for a computer program of the same name via Wi-Fi. The app provides many standard features such as a mixer and audio output controls, but the real star is the control panel. The minimalist interface of this app is straightforward and makes controlling the software a breeze, even for those new to the music-mixing game.
Cross DJ – iPad
Cross DJ is available exclusively for the iPad and is touted – by its developers at least – as the first professional-grade mobile app for DJs. What the app does offer in concrete terms is a professional DJing layout featuring two turntables and the standard controls – albeit in digital form. The highlights of Cross DJ's features include the ability to connect to the user's iTunes library as well as a "beatgridder" that matches kick drum beats in order to help mix different songs.
These represent some of the best DJ apps currently available. Of course more entries are likely to appear in the coming months, but these options provide all the functionality a beginner – and even some pros – could want in a mobile app geared towards mixing.
Justin Miller is a professional blogger that writes on a variety of topics including guitar lessons. He writes for JamPlay.com, a leading online music educator offering 2,000+ video guitar lessons in HD.