Living dangerously requires more than just getting a butterfly tattoo on your bottom!  You could climb a mountain, sure, but soaring over its peak is where it's at when it comes to earning your stripes! North London skydiving is great if you're just starting out on your skydiving journey, but if you think you're ready to take things to the next level then tick off this list of the top 10 world's best places to skydive.
10. Wollongong, Sydney, Australia
What is really make or break when it comes to a skydiving experience?  Of course, it's the view. Falling from the sky in Wollongong, Sydney fills your eyes with both the stunning Australian coastline and the sight of Sydney itself. As you are plummeting towards the concrete jungle, be sure to take in the dolphins and whales frolicking around a mile below.
9. Seville, Spain
Talk about flying high! This is absolutely the best you can get in Europe—a massive drop of 15,000 feet for the bargain price of 205€! That is 73 feet for every Euro you've spent! Or if you're a bit scared you can opt for the 10,000 foot drop for 185€ instead. Make sure you jump early in the morning and hit the ground in time for the siesta!
8. Kamchatka Peninsula, Russia
Ok — this one is for experienced sky wranglers only. You might remember this jump from Valery Rozov's stunt sponsored by Red Bull, but if you don't, the man dove into an active volcano! You'll pass a smoking mountain fire hole as well, but I won't guarantee it will give you wings.
7. Zambia
If you feel diving over a lava-filled volcano is a little too much for you, maybe floating above the highest waterfall on Earth, Victoria Falls, is more up your street. Not only is the waterfall one of the seven natural wonders of the world, the Zambezi River is full of real life National Geographic scenes, and if you're lucky, you might even see a rainbow.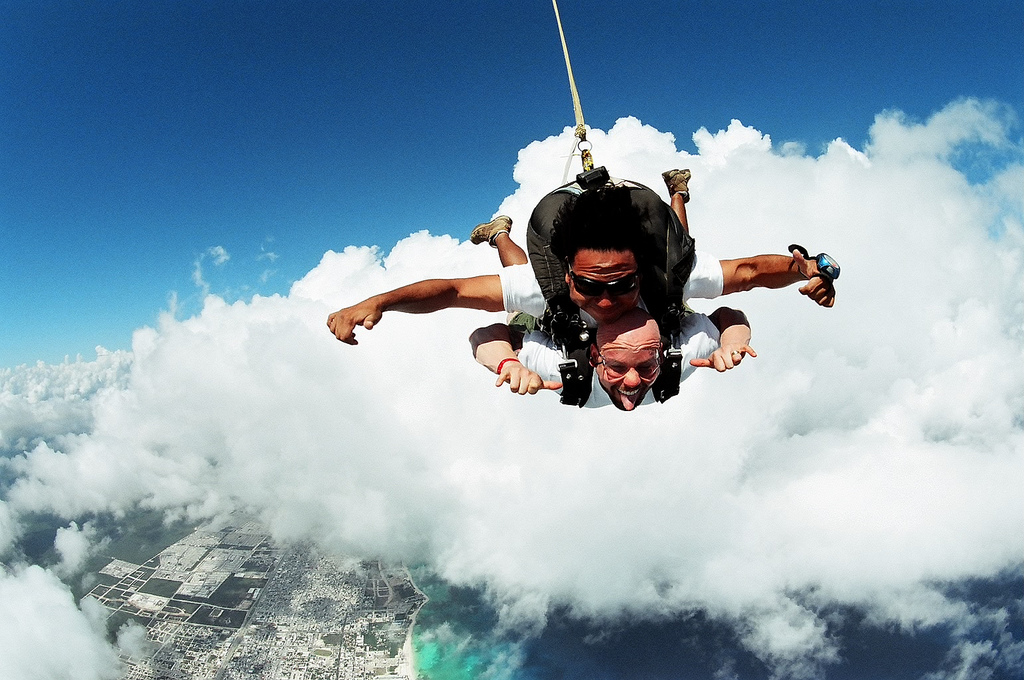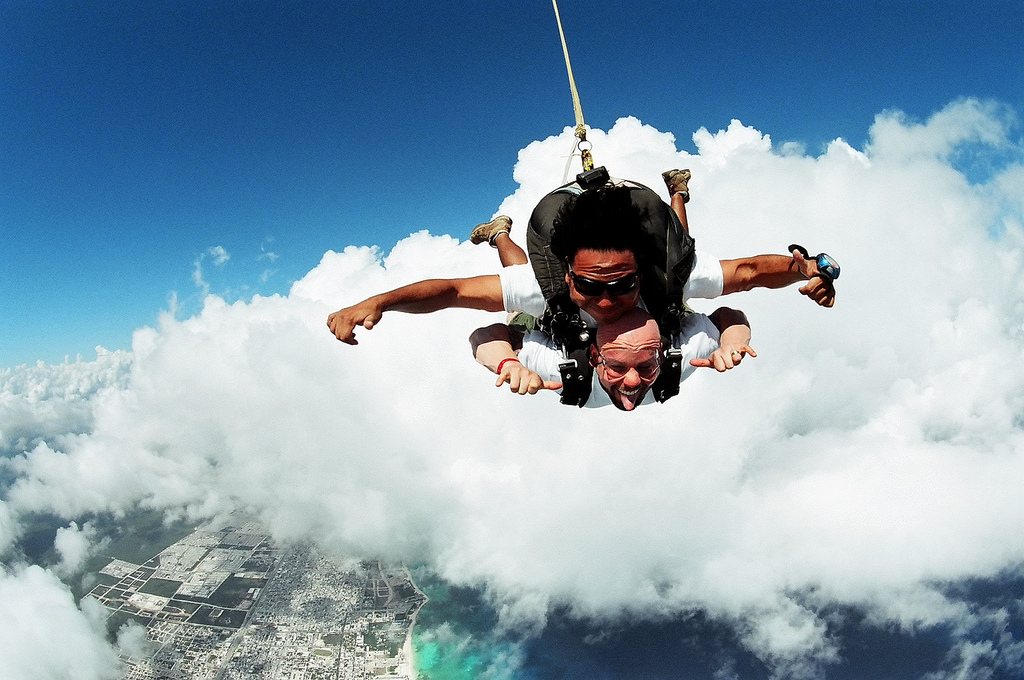 6. Hawaii
If you love to be green, then there's no better paradise to soar into than Hawaii. Not only can you see almost the entire island (including Pearl Harbour, Diamond Head, Kaena Point and the local marine life), skydiving operations in Hawaii use energy efficient aeroplanes.  You can reduce your skydiving carbon footprint by 40%.
5. Le Marche, Italy
You'll get a full beach view as you descend back to Earth on this dive as it's just a few minutes from the Adriatic Sea. The place is well renowned for its friendly, nerve-calming, staff. This will be the ride of your life.
4. Namibia
This immense desert jump, full of caramel coloured dunes and endless blue sky is totally devoid of wildlife, cities and greenery. It's the most unique and weirdest skydiving view you're ever going to get.  Falling 10,000 feet from the sky gives you about 5 minutes to come up with the best desert mirage you can imagine.
3. Mauritius
I bet you never thought you could dive with your 12-year-old sister? Well, you can here. This place's only age prerequisite is that all children under 12 have to suit up before they leave the ground. The little island, off the south east coast of Africa, will throw some amazing views as you fall. It's a bit pricey, but we just hope those extra pounds ensure that the toddlers are strapped in real tight!
2. Fox Glacier, New Zealand
The crazy Kiwis love their extreme sports. Fox Glacier's got it all: the Franz Josef Glacier, lakes, rainforests and the Tasman Sea. If jumping out of an African plane sounds a bit too much excitement for you? New Zealand is the adventure capital of the world, so you can be assured that its instructors and facilities are top of the range.
1. Everest, Nepal
In the event that you inherit a hefty fortune, I'd highly recommend that you blow it skydiving over the highest peak in the world—Mt. Everest. They only take four skydiving trips per year, and you've got to pay out £700 six months before the trip and then an insane £10,000 three months before you take off. Hands down though, this is the most spectacular way to fall from the sky. And I wouldn't be surprised if there was a bottle of champagne waiting for you when you land.