American Idol is one of the most popular reality shows of this generation. It is based on the pursuit of the next pop star. Auditions are held throughout the United States in order to find talented contestants. These contestants then compete in Hollywood until only one man or woman is left standing and he or she is crowned the American Idol. A panel of judges and the American public are involved in the voting procedure. American idol themed parties and other activities are at an all time high.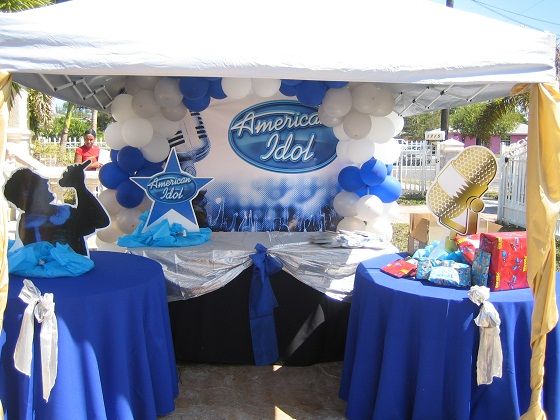 When planning an American Idol party it is important to start with the most basic thing, invitations. The invitations should be directly related to American Idol. Invitations geared exactly toward American idol can be purchased or for those who have an artistic flair they can be made by hand. Provide guests with a little information about the American Idol party but leave the rest of the information as a surprise. Be sure to inform them if they need to bring anything such as music or costumes. Invitations in the shape of microphones or musical notes are especially unique. Banners and other decorations should be put up to mimic the American Idol audition stage and create a party atmosphere.
Any American Idol themed party has to have contests. A trivia contest based on facts about the show is a good game to start with. Ask questions about judges, past winners and the overall rules and regulations of the game to get the party started. Make sure to have prizes to offer the winners. The trivia game can be played individually or guests can be divided into teams. No American Idol party can be complete without a singing contest. Be sure to have a karaoke machine or CD player set up and an assortment of music in order for guests to perform. Also set aside three or four people to act as judges so that he next American Idol can be crowned.
Great food should also be severed. Finger foods such as sandwiches and wings are a great quick snack to enjoy while playing. Chips, dip, peanuts and an assortment of beverages are other party favorites. Last but not least a cake must be served but not just any kind of cake an American idol themed cake. A cake in the shape of a microphone or based directly on American Idol is a good idea.