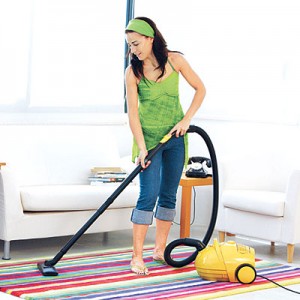 For cleaning the house and the carpet, there are basics to follow. The best one is to keep safety measures to avoid injury or any trouble that may happen. The benefits of cleaning are not only for the carpet but for the entire house.
Each day, people should be careful enough when doing household chores, particularly cleaning. When you begin tearing apart some items or transferring them, it is more important to observe safety measures. This is true especially during spring cleaning. Extra care is needed when handling equipment and cleaning supplies.
 Spring Cleaning for Carpets
Consumers rated the spring season as the best season for carpets to receive professional treatment. But when doing the task for that refresh, it's more important to make your whole house safer and cleaner to live, than just treating the carpet. Cleaning companies understand the great benefits they give to clients.
Deep-cleaning system must use solutions that are safe to pets, kids, including adults. That will reflect the company's commitment in helping clients to maintain their home healthier. For the entire winter, germs and dirt pile up in upholstery and carpet, resulting to health issues. Americans' main concern is to maintain their air condition always in good quality.
Carpets should be considered during this season. Carpets are much healthier compared to wood because they are like filters in absorbing allergens and dirt. It is recommended that carpet cleaning be done as regular as possible. As spring time approaches, allow your rugs to signal fresh spring appeal and look.
 Other Household Cleaning Tips during Spring
 Aside from rugs and carpets, there are other things you need to clean at home. Consider these basic spring cleaning safety measures:
1. There's no need to rush when cleaning.This is the fundamental tip in cleaning. It is more tiring to clean the house during this season. Although you may be rushing or feeling tired, don't forget to observe safety measures. To reduce the anxiety, pause or have a little time to take a break. When you feel exhausted, sit with cool fan, drink water, and rest for a few minutes.
2.
Be careful when moving appliances and pieces of big furniture.
Use the right way of lifting objects to avoid injury. Wear protective shoes when transferring weighty equipment to keep safe your feet. When you feel that the object is too heavy to lift, get someone to help you or do it for you.
3.
Keep safe while climbing the step stool or ladder.
Be extremely careful when doing cleaning task like washing windows where you are standing on a tall ladder. Don't move your body away from the ladder. The best rule is not to allow your belly button to go far from either of the ladder side.
4. Be cautious when stepping on wet floor surfaces. Everybody knows how quick it is to slide or slip on wet tiles or floors. Take right precautions so that you won't fall on the floor. Warn also kids and everyone about the wet floor. Keep children from walking, running or playing on the area where you are cleaning.
5. Avoid carrying lots of stuff at the same time. Don't carry all at once, especially when climbing up stairs. Make sure the other hand can hold freely unto the railing of the stairs.
During this colourful and bright season, how can households go without cleaning the entire home? None should pass the beautiful, expensive carpets for a mess condition, like enjoying a spring party. Start cleaning your carpet; extend it to the whole house area. Definitely you want to hire an expert cleaner for your entire home to smell fresh and look beautiful.