After the launch of Galaxy S5, Samsung revealed the second beast of the year 2014 the Galaxy Note 4. No doubt with the launch Samsung proved that it is only the best manufacturer in the market.
Samsung gradually moving away from the concept design "nostalgic white soap dish" and now their smartphones have become more or less decent look.  Note 3 could boast of corrugated plastic rim "under the metal" at the end faces, here metallic rim, and painted in the color of the smartphone, while the upper-lower bounds cut chamfer that looks quite interesting.
The "Home" button is also a fingerprint scanner. Rear cover – plastic under the skin, and the simulation stitching as in the third model, there have been removed. And in vain, it looked good. But even so, the rear facade smartphone looks quite nice.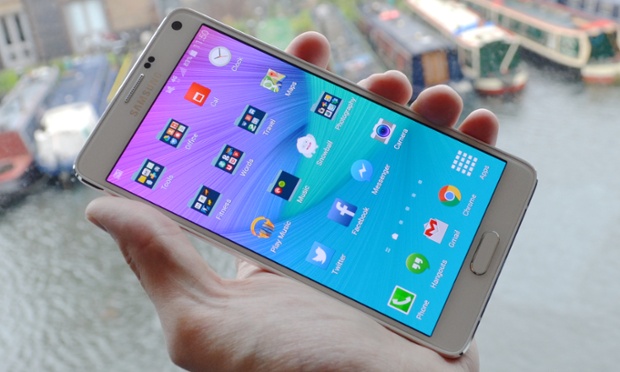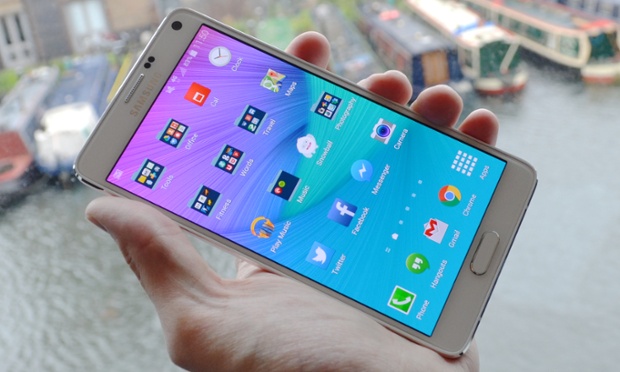 S Pen 
A distinctive part of all smartphones, tablets Series Note – is in its usual place: at the bottom right. And it can be inserted into the slot in two positions: click the up or down button.
Placed under the camera flash and a sensor with which you can measure the pulse and the oxygen content in the blood. Speaker compared to the third model moved to the rear cover (like Galaxy S5). It seems that with this arrangement, the speaker will be smothered surface of the table when it is a smartphone, but no – not suppressed: there is a jumper over the net dynamics has a slight thickening, so the speaker in any case will not be tightly pressed against the surface.
The Bottom End:
Insert the pen, two microphones, port microUSB are present. The left side of Note 4 is the volume rocker. Pressed very clearly, convenient to use. Upper end: the output under a headset microphone another (third), infrared port, through which turns a smartphone into a universal remote control home appliances.
The right side is the power button. Above it is done in the back of the small gap, through which the cover can be removed. Smartphone without the back cover: see the removable battery and microSIM slot and microSD. MicroSD card can be changed without pulling out the battery. The build quality and materials – expectedly excellent, nice phone to pick up.
As is known, Samsung develops and manufactures displays for their smartphones. And displays from Samsung installed in many competing models, with, of course, the cream of the Samsung left to their flagships. Display in Galaxy Note 4 – one of the most advanced to date, if not the most perfect. 2560 x 1440 resolution (Quad HD) gives an amazing density of pixels (515 per inch), and this naturally leads to the fact that the quality of images and fonts – absolutely amazing.
Yes with the better design and performance Samsung Galaxy Note 4 is the best smartphone of 2014. And for the year 2015 Samsung fans are expecting that Samsung would create the same history with upcoming Samsung Note 5.