In the modern world you have to do a lot of things and go through loads of technicalities before you actually purchase the desired property, and start moving in. First, you have to come across the money (and this is probably the hardest part), then you have to find a place that: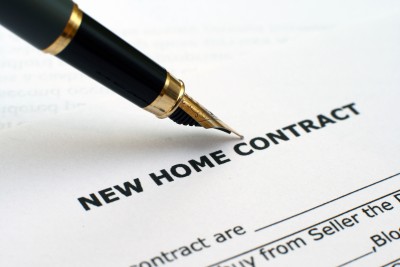 you can afford;
has a good location;
has everything related to construction and all the installations done properly.
To find such a place is no easy task. If you get lucky and you actually come across something that suits you perfectly, then it is time to go into the purchase process. In most cases, people depend on a money lending institution, since they don't have enough cash to pay for the property. After all the paperwork has been done, the final and most important part of the transaction is the contract.
It is of extreme importance to contact a solicitor, or anyone that is an expert in that particular field to give the contract a thorough examination. You should not sing anything without legal advice, since, in some cases, you can end up giving all your possessions to charity, for example. This is extremely serious. You should read the contract, like nothing that you have never read before.
When the contract is signed, you, usually, put down a deposit. Keep in mind that the law that governs this aspect of the property purchase process is different depending on the state you live in. In some of them, you can get your deposit back, and in others, you can't, so make sure that you check this out. There are situations when you place a deposit and you afterwards decide that you don't want to go through with the purchase.
If you have taken a loan for buying the property, it is considered to be a good idea to state this in the contract. That way, if, by chance, your loan gets rejected, the contract becomes invalid. You should, however, have the loan pre-approved, because, that way, if you are bidding for the property, your offer will be regarded as more serious than others. Furthermore, you should make sure that you can get the loan just for your own piece of mind.
There are professionals that deal with helping you go through the whole property purchase process. They will assist you through everything from choosing the adequate money lending body to finalizing the contract, and doing all the paperwork, like, for instance, transferring the property title to your name. Some people choose to do all this alone, and this is OK, if you are in any way informed about the topic. If you are not, a lot of things can go wrong with the purchase. You can end up living in a flat that has either bad plumbing, or bad electricity installations, or both. In these kinds of situations, you end up spending more money in fixing the living (or office) premises, than you have spent in the first place, and due to the unpredictable economy nowadays, excess money spending is not recommended.
After you have signed the contract (or contracts), you have to wait some time for the property settlement. This period also depends on the laws in your state. Since it can vary from 21 days to up to 6 weeks, or, in some cases, even longer, you should be aware of how long this period lasts where you live, before you have signed the contract.
The people that deal with property purchase advice will aid you in determining this period based on the contract itself. Also, if the property is damaged in any way, you should withdraw from the purchase, or ask for property insurance. Make sure that everything is checked and ready for you to move in, prior to signing the contract.
When everything is done, and the contract is signed, the settlement finalized, and you have moved in to your new place, the feeling of knowing that everything is done to insure that you will have a safe and sound time living there, is marvelous. One of the biggest moments in life is getting your own place to live in, so the better it is, the better your life will be.
Attached Images:
 

License: Creative Commons

 

image source
Damian works online improvements for Simple Home Invest business. He is specialized in advanced online marketing tactics.