Although moving in the winter is considerably less expensive than moving in the late spring, summer or early fall, other, seasonal hazards can make a winter move more difficult than you might expect. This article will highlight problematic winter moving hurdles and outline methods to divert them beforehand. Besides, if you're moving within a cold city like Toronto, Vancouver or Boston during the winter months, you'll want to be prepared. So, here are some moving tips to keep in mind.
Prepare Your New Home
The last thing you want when moving day comes around is to walk into a frigid house. Reach out to your agent or the landlord to ensure the new crib is ready for its new inhabitants. Here is an appropriate checklist.
Trust me, the last thing you want to happen on moving day is to walk into a cold, dark house or apartment without any way to fix the problem. Turn utilities on ahead of time, in fact, it wouldn't be a bad idea to turn your heat, water and electricity on a couple days in advance. This will allow you to check to make sure everything is working properly before you find yourself in a rude awakening.
Getting to your new crib and realizing you forgot to clear the driveway or other pathways will leave you wanting to kick yourself. If needed, remove excess snow from these areas. This will make the transition of boxes from the truck to your house / apartment go much more smoothly. Besides, you don't want to injure yourself or get the dolly with something heavy on board caught in the snow.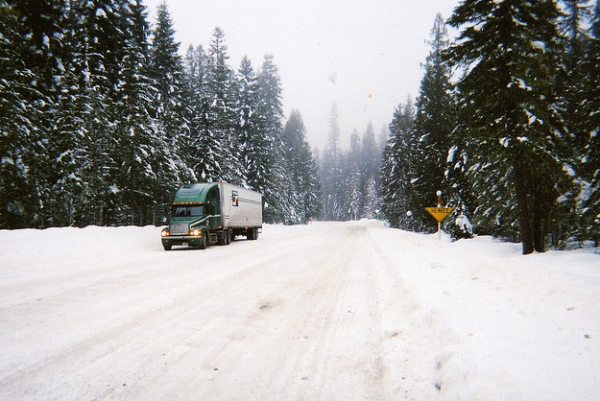 Be Prepared for Winter Storms During The Move
Weather patterns, especially in northern states, during the winter months can be terrifyingly unpredictable. If you're not watching the weather like a hawk, you could find yourself in a whiteout without a backup strategy. Always contact and communicate with your moving company to make sure you're on the same page regarding their moving policy during adverse winter conditions. If you're on a tight deadline and the moving company postpones the move, you need to prepare accordingly. One solution could be for them to pick up your items ahead of time and hold them until the weather passes.
If you're flying solo, you need to travel with care. Many people who rent moving trucks are inexperienced behind the wheel large vehicles. Excess speeds in icy conditions combined with extra weight equals a lot of momentum. Drive slow and plan your route before you hop in the truck. Also, if you're moving within a busy city, it might be a good idea to travel in between or after rush hours. If you're not driving a rental truck but instead are traveling with your own vehicle, get it winterized and make sure it can handle the excess weight. Take winter provision like a shovel and windshield scraper along for the ride. Purchasing a membership to a company like AAA might not be a bad idea, either. Oh, and try not to travel completely alone, bringing a friend or family member along for the ride offers extra security and peace of mind.
Happy moving!