According to the popular magazine Better Homes and Gardens, if you're looking to invest in your home then "front porches are back in business, especially if there's room for a bench or a chair to welcome guests to the front of the home."
Renovations versus a Brand New Space
Better Homes and Gardens also suggest that your front porch measure at least 12 feet by 24 feet if you plan to use it for entertaining. And whether you're renovating an existing porch or building something brand new, make sure that everything about the job from start to finish meets with local building codes.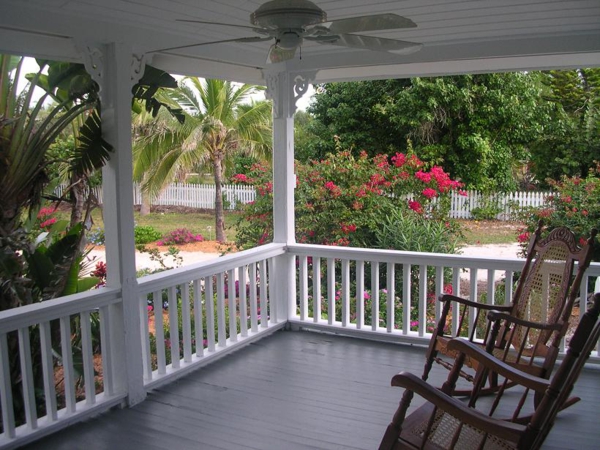 But if you're looking to up the resale value of your home, then perhaps you're better off renovating the existing features than adding something costly like a brand new front porch. Jennifer Kortan, a realtor with Keller Williams Realty in Orono, MN agrees, advising that a front porch, "may help your home sell but you may not be able to sell for more money." (www.trulia.com)
The Purpose of the Front Porch
A front porch is more than just a way to increase curb appeal. It's a conversion space that serves to transition between the outside of your property and the inside of your home. The purpose is the same whether your porch is a small entryway or a covered porch that wraps around multiple sides of your home.
Therefore you should give decorating it the same attention that you would if it were your living room or guest bathroom. The difference is that while only some visit the guest areas inside your home, everyone who passes by your house sees the front porch, whether they step onto it or not.
Tips for Adding Comfort
When turning your front entryway into a comfortable, welcoming space, it's important to add elements that are weatherproof. Here are some things you can add to your front porch to enhance its curb appeal.
Architectural Elements – Decorative features like classic columns, ornamental moldings and geometric trim work add creative touches to your home. Replace plain ceilings on covered porches with beadboard versions that add eye-catching interest.
Ceiling Fans – If you have a covered porch then consider installing a ceiling fan or two. During the warm summer months, they'll keep air circulating so that you can enjoy sitting on your porch even when temperatures soar.
Decorating Lighting – Does your porch still have the same generic light fixture that was in place when you bought the house? Update it with something that complements the new atmosphere. Another way to light up covered porches is to add a skylight or two.
Seating Areas – Instead of lining seats up along the side of your house down the length of the porch, create cozy seating areas. This will come in handy whether you share the space with a family member after dinner or use it as an extra entertaining area when hosting a large gathering.
Container Gardens – Adding potted plants is another great way to turn your front porch into a more welcoming space. Be sure to keep them out of the way of where people are most likely to walk to avoid causing injuries due to tripping and falling. You can also use decorative rain barrels connected to seamless rain gutters to water the gardens.
Recycle Objects – When updating other areas of your house, think about what you can move to the porch. For example, the ugly glass bowl that your husband's Great Aunt Sue gave you last Christmas might find new use for floating citronella candles that repel mosquitoes.
Organize Everything – You wouldn't want people to see the inside of your house if it was disorganized, so the same should apply to your front porch. A plastic tote or set of plastic shelves can be a great way to store kids' toys without having them strewn across the porch or piled behind patio chairs.
The Importance of a Plan
Before tackling the job of redecorating or even completely renovating your front porch, have a plan so that you know what to expect in terms of time, budget, and effort required for the project. If necessary, consider scheduling a consultation with an architect or interior decorator for advice. Even if you don't choose not to use them, they might have good ideas to pass along.
The front porch and other elements that add curb appeal to your home are the first impression people have of you and your family. Even if you don't care about the opinion of others, keeping everything well-cared for helps avoid problems with organizations such as your homeowners' association and help to add to the resale value of your home.
Freelance writer and internet marketer Rick Mercado often works out of his home office in Halifax, Nova Scotia. Between assignments he peruses a variety of websites, from ones like www.raincontrolaluminuminc.com about gutters to legal blogs that give advice about what to do after a car accident. When he's not working he enjoys spending time with his wife. Rick also enjoys being outdoors where he can participate in activities such as kayaking and hiking.