When it comes to choosing the right dance floor for the right occasion, there are several things you need to think about. Often the company you are renting the dance floor from can provide you with some help, although there are some things that you will need to do to help them.
3 Quick Tips to Help You Choose the Right Dance Floor
Choosing a dance floor is easy if you satisfy a few key criteria. Also ask for some involvement in others who are helping you organise the event.
1. Choose the Right Dance Floor to Suit Your Guests
Some customers that hire dance floors have some pretty crazy requests. There are cowboy parties, new car launch parties, black tie charity dinners and hundreds more. One common trend we have noticed is that if you know what sort of guests you are going to be hosting, choosing the right type of dance floor is far easier. Often for black tie events and other formal gatherings, a pearly, reflective white, or the dark, mirror black is the most popular choice. The elegance of one of these two types of flooring creates a truly amazing scene. If you have planned to have any sort of party lights, these dance floors will reflect light, warp and distort it into beautiful streams of color that will amaze even the most seasoned party goer.
If you are hosting guests to a disco, a '70s theme, cops and robbers or any other adult take on a childs party, there are a huge range of options for these too. Often in adult life we don't get to let our hair down too often, so choosing a neon LED dance floor, a checkerboard effect or multi color "Twister" style dance floor would be a great center piece for the party. If you are having a wedding, the pure white dance floor is always a great option. Putting some extra lighting above it is always recommended the get the extra glam you need.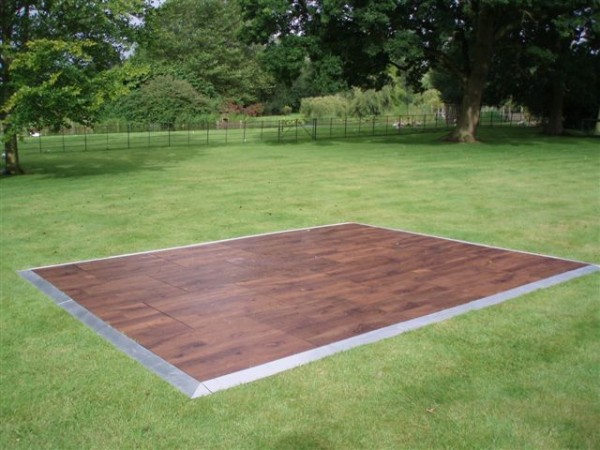 2. Hire From a Reputable Organisation
There are a large amount of companies that do rental party gear – it is a fun business to be in and there is a lot of competition, however it is not all fun and play. Often a company will be started by someone who loves to party, and has been told to do what they love, not what they are good at. Too often there are stories of dance floors being set up incorrectly i.e without subfloors, with gaps in the tiles and even the dance floor coming apart during the event! All of these things would be disastrous to an event and would put a real dampener on the night for everybody.
The safety of your guests should be number one, followed closely by a high level of fun. When you hire a reputable firm to deal with when choosing your dance floor, you get peace of mind, a guarantee of good workmanship and high quality gear. Nobody wants to rush a guest to the hospital for a broken ankle halfway through an event! Dancing can be hard enough for some of us without having to watch out for slippery, poor quality surfaces and poorly installed flooring.
3. Do a Few Simple Calculations Before You Decide
How many people are you having at your event? How many of them will be dancing? How big is the hall you are hiring? Is the floor even enough? What shape floor do you want to have and will it be inside or outside? Some of these questions can be easily answered by the company you hire your floor from, however it will end up costing you more time and money.
If you know the answers to these questions when calling, you should be able to get an accurate quote instead of having to meet contractors at your place and spend your valuable time, as well as theirs. Probably the most frequently asked question is "How many people can fit on what size dance floor?" A rough guide to follow is that for a party of 60 people you would get a 12×12 meter floor, for a party of 100 you would hire a 15×15 meter floor and for 200 you would hire a 20×20 meter floor. Obviously you might get more or less people dancing depending on how formal the event is, how many children are attending etc, but this is a good guide to go with. Having not enough space so all the guests could dance would be missing out on a truly special moment.
Hiring a Dance Floor Will Set Your Event Off Perfectly
If you have been struggling to think about the perfect way to really create something special at your wedding, party, gathering or other classy event, then a dance floor will set you apart from the others. A quality outdoor dance floor really is the gold standard when it comes to having a special event. If you have planned on having a live DJ, a band or even just a great stereo to choose your own music, a dance floor is something you will not regret having.
Author Bio – This piece is written by David Biggers from UK Events, a famous company established in 2009 and supplying high quality products such as Oak parquet dance floors to the events industry in the UK.